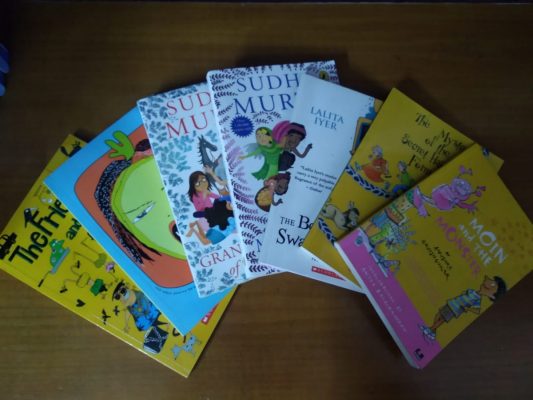 I have a confession to make: I'm an aspiring children's book author. The realization came some 15 years odd years ago. That too, much before I became a parent. So why have I waited for so long and not written anything? Procrastination? Lack of drive? The "I'm so busy" syndrome?
Perhaps all of the above and also because we have soooooooooo many talented contemporary Indian authors who write for children, that somewhere deep inside of me, I think we need more readers than writers 😉
Coming back to why I gift Indian author books!
I love reading Indian author books and believe in championing them for many reasons:
They are very talented and the books they write & illustrate are so creative!
The things they write about, the language they use (with regional flavours) are so relatable eg Idli-amma (Timmi in Tangles)
Their sense of humour is so close to home!
All of us had very few Indian authors to choose from while growing up (I remember reading Malgudi Days only). So we need to create awareness about all the incredible contemporary Indian authors we have now who write for children, and how!!!
We need to change the perception some tweens and teens have about western authors vs. indian authors.
MADE IN INDIA!!!
And like I said, sigh – I'm an aspiring one too 😉
Which is why I believe in gifting Indian author books to kids!
Here is a list of children's books by Indian Authors that I gift very often (looking forward to adding more as per your suggestions). They have been linked to reviews/mini reviews so you get a better idea what they are about.
Farmer Falgu books by Chitra Soundar (3-8 years)
The Clever Tailor by Srividhya Venkat (3-7 years)
Timmi in Tangles by Shals Mahajan (5-8 years)
Moin and the Monster by Anushka Ravishankar (6-10 years)
The boy who swallowed a nail by Lalita Iyer (6-10 years)
Your turn now (6 years+)
The Mystery of the Secret Hair Oil Formula by Asha Nehemiah (7-10 yrs)
Ninja Nani and the Mad Mummy Mix-up (8-10 years)
School Stories by Paro Anand (8-12 years)
The fried frog and other funny freaky foody feisty poems by Sampurna Chattarji (8-12 years)
Grandma's bag of stories by Sudha Murty (7+years)
The Magic Drum and other favourite stories by Sudha Murty (7+ years)
I'm not Butter Chicken by Paro Anand (11years+)
And many many books from Pratham (bought offline from their stalls at Jaipur Lit Fest and other children's literature events in Delhi) for the smaller kids. Mind you, I also buy all my hindi books from Pratham for older kids as well!
I have recently added these books on to my gifting list:
Flying High (3-7 years) – excellent book to introduce non fiction to little kids
Amma tell me about series, Amma take me to series (4-8 years) – wonderful books that teach kids about Indian festivals, traditions, faiths.
I need to Pee by Neha Singh (5-10 years) – very funny, yet very empowering!
She Can You Can by Garima Kushwaha (8 years+) – an inspiring book every child should own
Menstrupedia Comic (9+ years) – One of the best books that teaches tweens everything they need to know about menstruation in a reader friendly way. We got it as a gift and I believe it must be gifted more often…
A Cloud Called Bhura (9-14 years) – A Climate Change thriller for tweens & early teens! My childoo says the lingo of the tween characters is the closest she has ever read that she can relate to!
hOle books from Duckbill (Indian authored entertaining books for all ages starting 5 years+)
The Hidden Children by Reshma K. Barshikar (for 12 years+)
That turned out longer than I thought!!
Which ones have you read from this list? Also please share which Indian authored books do you gift to children in the comments below…
[Note from Team Kids Book Café: For your convenience, affiliate links (MARKED IN PINK) to some of the books have been added to enable you to buy the books from AMAZON, should you wish to! A very small amount of money comes to kidsbookcafe.com when you purchase a book via the amazon affiliate link provided (at no extra cost to you!). Do let us know if you'd like to buy some other children's books that are not listed here yet, by writing to asha@kidsbookcafe.com.]