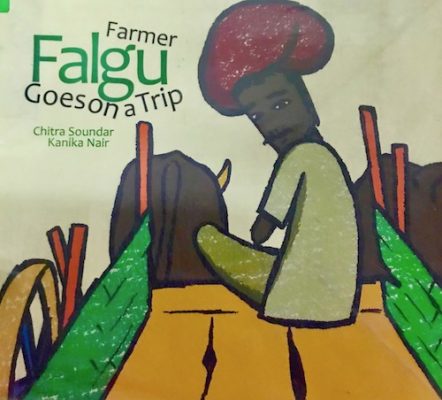 *Part of Children's Bookshelf on Amazon!
Book: Farmer Falgu Goes On A Trip
Author: Chitra Soundar
Illustrated by: Kanika Nair
Type: Hardcover
Ages: 3-8 years
What readers like about this book: This is a beautifully illustrated book that is so India-centric! The story is intriguing – a farmer needs some down time away from his noisy farm! Who'd ever visualise a farmer on vacation! Gives the reader a whole different perspective of how other folks live.
Excerpts from Achira's review in the kbc fb group where she has shown inside pages.
Farmer Falgu is tired of all the noise in his farm and goes out to find silence. He meets different people on his way. The old man starts singing and plays his drum Dum- Dum, the snake charmer plays his pungi phee-phee, the dancers go tap-tap-tap and the bullocks go trot-trot. With them farmer Falgu also starts singing forgetting all about silence. Does he succeed in finding silence, does he get that peace he was looking for!!

I realised this is very true for us adults as well. Silence is a perspective. For me silence is in sitting with the boys reading books or playing a board game or doing some craft. All the noise is welcome really as long as we are together.
Other books in the series:
Farmer Falgu goes to Kumbh Mela,
Farmer Falgu goes to the Market,
Farmer Falgu goes Kite Flying
Write a Review!

Buy on Amazon!