Book Name: Akbar-Birbal and The Haunted Gurukul
Written by: Apeksha Rao
Illustrations by: Doodlenerve
Publisher: Puffin
Type: Paperback
No. of pages: 144 pages
Recommended age: 7-12 years
I'm posting this review on behalf of my 9 year old son, Divit.
I have always been fascinated by Akbar and Birbal stories. I have so many books with stories of Birbal's wit and Akbar's generosity but this one is very different from all of them. This story is unique in a way because it talks about the time when Akbar was a child. 
In a cool winter month, when snow birds fly around and bears go to sleep, 10 year old Akbar was relaxing in the royal fort, exploring new places, playing hide-and-seek with the foxes and best of all, listening to ghost stories around a bonfire on a full moon night.
On a bright day when the sun shone bright, Akbar decided to go camping (glamping to be more precise). A royal tent was set up for him and right when Akbar was stepping into the royal bed, disaster struck. It was an elephant attack but that wasn't the reason Akbar was surprised. It was his best friend Nassie (the elephant) who had attacked him! Now this was no laughing matter. After loads of searching, they found a suspicious mahout. The mahout said that someone paid him 50 gold coins to feed the elephant mahua flowers which made him go crazy and he created such mayhem. And, to everyone's horror, the name the mahout slowly whispered was 'Kamran Mirza.'
Kamran Mirza was Humayun's brother A.K.A Akbar's uncle! So for Akbar's safety, he was sent to the Vishwamitra Gurukul where he first met Birbal. At first, it was hard getting used to the Gurukul lifestyle, but Akbar managed to cope. He also made some new friends, like Abul Fazl who was violently pushed down the stairs by the so called "Gurukul Ghost." So Man Singh (their roommate), Abul Fazl , Birbal and Akbar teamed up to solve this mind-boggling mystery about the ghost and the haunted Gurukul. That silver moonlit night, they followed the terrifying ghost who seemed to be leading them somewhere. They were surprised that the ghost didn't see them, but they went along with it. Do you think the four of them got eaten up? Or perhaps they got put into a sandwich which the ghost devoured? Or maybe, just maybe, did they survive? Read this story to find out.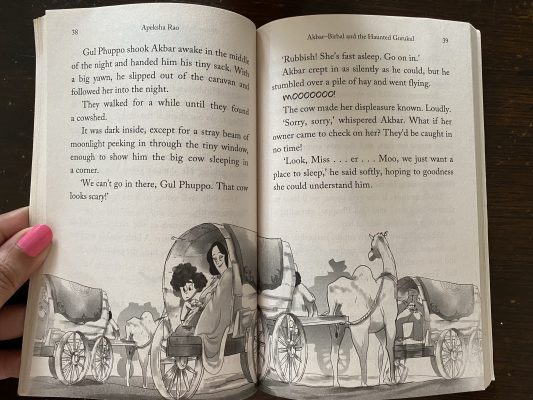 I like books with an interesting plot and colourful illustrations. And this book is just the perfect one. The fact that I got to know about Akbar's childhood and how he met the famous Birbal was indeed very interesting.
If you enjoyed this review and wish to follow a ghost at the Haunted Gurukul, you might want to buy the book from Amazon (kbc affiliate link),
CLICK & BUY NOW!