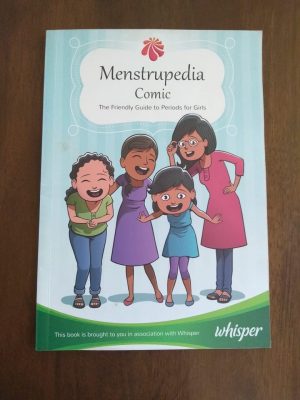 Book: Menstrupedia Comic
Author: Aditi Gupta/ Tuhin Paul
Type: Paperback
Ages: 9+ years
What we like about this book: This is a highly recommended book to introduce tween girls (and boys aged 10+) to Menstruation in a non complicated way. The language is friendly and answers various questions young girls have that they may not want to ask their parents/teachers. Makes the perfect gift to tween girls. Moms of tween boys may find this really helpful to educate their boys as well.
Gulu – The Essential Guide To Puberty For Boys (English) for 8-14 years – is also from the makers of Menstrupedia. There is a Hindi edition as well.
NEW RELEASE: Adi & Anku Learn To Stay Safe – The body safety guide for preschoolers (English) for 3-6 years (28 pages)
Write a Review!

Buy on Amazon!
HINDI BOOK