*Part of Memorable Books of 2018 on Amazon
Book: I Need To Pee
Author: Neha Singh
Type: Paperback
Age: 5-8 years
The mention of pee or poop is enough to elicit giggles in little children.
However this is exactly what the book aims at – removing the notion that having to pee is shameful or something to be laughed at. In fact, the story shows it can be talked about like any other topic.
The story is about a confident and brave girl Rahi, who loves to drink juices and cold drinks. Hence she needs to pee quite often.
This becomes a big issue when she's on a long trip (in the book she goes to Meghalaya).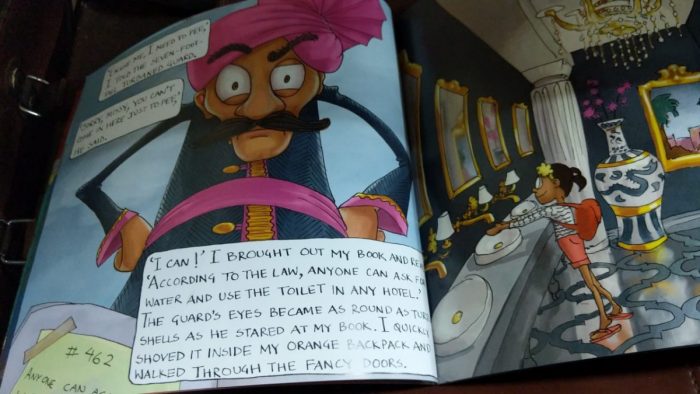 The book explains her encounters on the way – how she demands to use a five-star hotel toilet, forces the bus driver to make a pee-stop, etc. She's one clever girl you know!
To her rescue comes her self- written 'book of important quotes'- "bus drivers must stop the bus for little girls to pee" , "according to the law, anyone can can ask for water and use the toilet in any hotel" and many more.
Finally it gives an insight of a 'dry Indian toilet' in Meghalaya, an eco-friendly version of a modern loo.
The book emphasises on how the need of the day is to provide hygienic public loos, especially for parents travelling with kids. All, in the most funny way ever!
Rahi's unabashed proclamation of her own needs is awe inspiring and expressed in a hilarious way. The illustrations are superb, full page and self explanatory like a picture book.
It's apt for 5 years+ kids, and an absolute must read. In fact, I strongly recommend you have it in your personal library – it's a book kids will love reading over and over again!
We met the author at a children's reading event and got the book autographed by her!
If you liked this review and wish to order this book from Amazon (kbc affiliate link),
CLICK & BUY NOW!