Book: Flying High
Author: Geeta Dharmarajan.
Type: Paperback
Publishers: Katha
Age: 3-7 years
Especially for space loving kids!
We won this Katha book from The Curious Owl and Kids Book Café Review-a-Book Contest .
The cover was enough to get Raina – my 6 year old daughter interested. She has recently started to enjoy non- fiction books, so a book about a real astronaut with real images of spaceships and space super excited her.
The book is about Suni Pandya (Sunita Williams). It has short, easy-to-read sentences. Both of my kids (my son is 3 years old) were attracted to the full page high quality pictures.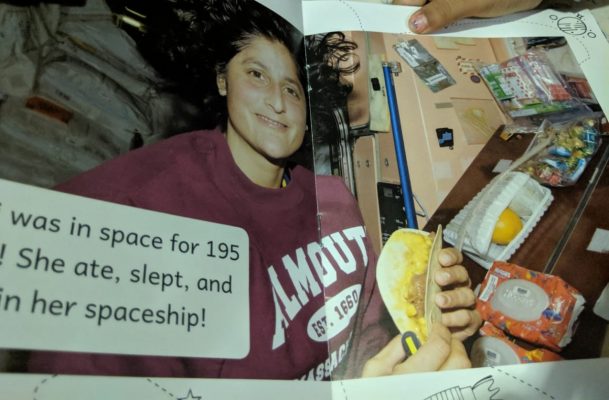 When I asked Raina what her favorite part was, she said, "The picture with the earth where we can see India!"
She asked me quite a few questions after we read the book:
"How did Sunita become an astronaut?"
"What do astronauts do in space?"
"What hard work did she do? "
"What is meaning of hard work?
(The concept of hard work, study hard is new I guess!)
And finally she declared, "Mummy I'll go to space too but I'll come back in one day!"
The last few pages are dedicated to some activities – something that all kids will enjoy. There are a few open ended questions for the kids at the end too, which were so much fun to do.
I used this book as a start to teach about gravity, spacewalk, space stations etc.
Do get this book! Seeing pictures and learning about a real astronaut/space is something that they will thoroughly enjoy.
Other books by this author are available here on Amazon.
If you like this review and want to buy this book from Amazon (kbc affiliate link),
CLICK & BUY NOW!