Title: The Tunnel
Author: Ruskin Bond
Illustrator: Priya Dali
Publisher: Puffin Books (An imprint of Penguin Random House)
Age group: 6 – 8 years
The name is Bond, RUSKIN BOND! Who isn't familiar with India's renowned and most loved writer- Mr Bond, who has been weaving magic for children through his captivating tales. His stories are like a warm hug of Nature and radiant like the winter Sun. We were delighted to receive one such gem for reviewing- THE TUNNEL, and it proved to be a perfect companion for a winter afternoon ( a huge thank you to Kids Book Cafe & Penguin books).
The Tunnel- is a breezy read for children in the age group 6-8 years who are new to exploring the magical world of Ruskin Bond. The story is about a young boy, Ranji, who would often visit the nearby village to witness the steam engine come out blazing through the tunnel. While walking through the village Ranji comes across Kishan Singh, the watchman's hut. Amidst the tall evergreen trees, Kishan's hut surrounded by marigold flowers and a vegetable garden is a pop of freshness. He shoulders the responsibility of inspecting the tunnel to safeguard both humans and forest inhabitants.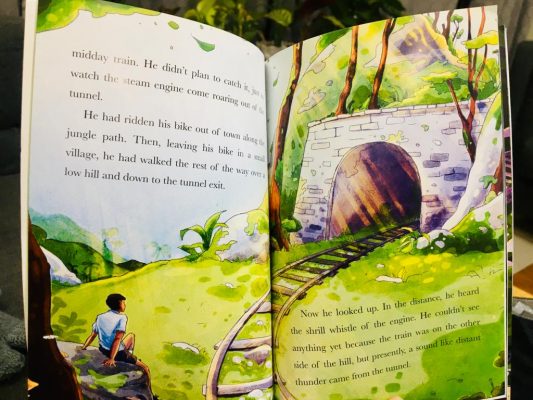 Our favourite part of the story is the vivid description of the nightlife of the forest-the call of a barking deer, the cry of a fox, the quaint tonk-tonk of a nightjar, the rhythmic sawing sound of a leopard cutting through the trees.
The story has the beautiful bond of friendship between Ranji & Kishan and the devotion of Kishan Singh towards his forest, delicately interwoven. The illustration by Priya Dali fascinates you even more and drags you closer to nature.
This story will surely make you nostalgic about your train trips and leave you wanting to take one right away. We shared our train experiences and discussed the tunnels and also the flora & fauna of the majestic forests. A story that opens new gates of exploration is the best kind of story. We loved and lived it; grab your copy to experience the humming of the rails and the hissing of the smoke breathing dragon cutting through the darkness of the tunnel.
Happy Reading everyone!
Other books by Ruskin Bond can be found here on Amazon.
NEW RELEASE OCT 2023: Animals in the House another chapter book for 6-8 years (48 pages)
If you enjoyed this review and wish to buy the book from Amazon (kbc affiliate link),
CLICK & BUY NOW!