Title: Zayn & Zoey – Dinosaur Activity Book
Author & Publications: Zayn & Zoey Books [Curious Concepts Pvt. Ltd]
Type: Paperback
Age group: 3 – 6 years
When you have a kid who loves dinosaurs to the extent, he/she wouldn't mind having one as a pet then this book is for you. Although extinct, these creatures have always excited scientists and kids alike (kids for reasons unknown!). Thank you Asha ji for sending this book for Aarav, his excitement was as tall as a Brachiosaurus.
The activities are intended to help learn in a fun way, emphasizing on reasoning, logical thinking and discussion. We covered a few activities already and they helped discover some unknown fun facts about the extinct reptiles.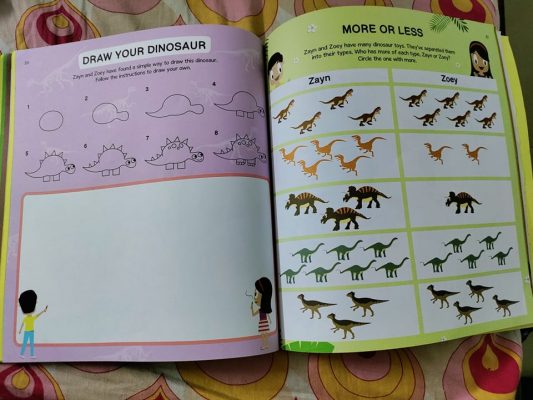 Sticker activities are like a perfect add-on, they are like ice breakers and help build hand to eye co-ordination. With bright and big pictures the pages are super enticing and even I got lured into doing the activities along with Aarav.
Mazes, Crossword, Word Search, Matching the Shadows are a few to mention, draw your own dinosaur pushes the child's creative limits there by encouraging the child to discover his/her creative side. The book feels interactive at certain points and that is what the kids will love and enjoy.
Aarav enjoyed the sticker activity a lot. But the most exciting were the mazes where he felt he was the dinosaurs running those routes to reach the end! His reaction at reach the end was priceless, every time! He also helped figure out which tail belonged to which dinosaur in one particular maze activity and he found it super duper hilarious. He kept laughing after he figured out every dino's tail. He turned red like a tomato with every narration about the twisted long tails and we both laughed our hearts out.
After this book arrived at our home, "Alexa, tell me more about dinosaurs" is an every day affair.
ONLY KBC MEMBERS HAVE AN EXCLUSIVE COUPON CODE KBC15 which will give you 15% OFF. Simply click the red button below that takes you to the Zayn and Zoey shop on their website where you can buy this particular book. Should you wish to explore other Zayn and Zoey books on their website, simply click here. Be sure to use the coupon code KBC15. SHIPPING FREE ABOVE ORDERS WORTH RS 500!  
USE CODE KBC15
If you wish to buy this book from Amazon (kbc affiliate link), kindly click here.