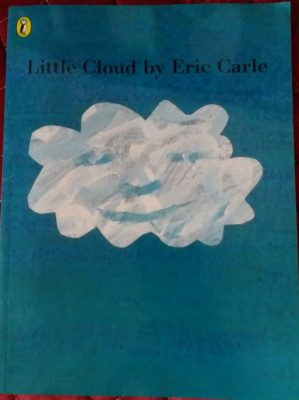 Book: Little Cloud
Author: Eric Carle
Type: Paperback
Age: 2-5 years
Little Cloud by Eric Carle is one of my girl's favourite picture books from her collection (which I have shared here). She likes watching clouds and imagines them to be in different shapes and figures.
She even learned from school that, "When clouds hug each other it starts raining! When it starts raining, plants and trees raise their heads and smile." What a lovely concept! The best part is she relates this concept to this very book.
In this book, the author has very beautifully shown to a young growing mind, how one can visualise different pictures & patterns from clouds. The clouds which are moving take different forms and finally it rains.
This book is special for my daughter. Even without reading, just by seeing Eric Carle's signature figures & art, she can narrate the whole story to me.
Eric Carle is best known for his 'The Very Hungry Caterpillar' (read review here). Other wonderful books by him are Draw Me a Star (read review here), Walter the Baker (read review here) and The Grouchy Ladybug.
I strongly feel that at least one of Eric Carle's books should be there in every kid's book collection. All of his books are available on Amazon here.
If you like this review and would like to buy this book from Amazon (kbc affiliate link),
CLICK & BUY NOW!