We're curating a list of must have new releases by Indian Authors. And yes, most of these authors are kbc members as well! Keep checking out this list as we'll be updating it regularly!
ETA: We're also adding some new releases by international authors our kbc members adore!
DRUMROLL….
Our very own #kbcChildoo Amyra Wadhwa has come out with her next book called Tales of Santa !! Just in time for Christmas!
Our very own #kbcChildoo Kaavya Sirohi has also released her debut book THE WISHING WELL. Details of how to order the book have been shared in the kbc fb group here.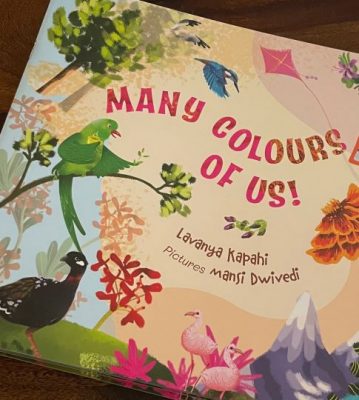 Many Colours Of Us! by kbc member Lavanya Kapahi (author of Kayu's World is Round) for 3-5 years (28 pages)
Catch That Moustache Thief! by Sukumar Ray (Author), Pankaj Saikia (Illustrator), Sudeshna Shome Ghosh (Translator) for 3-5 years (16 pages)
Thammi's Gift by Himani Dalmia, illustrated by Priya Kuriyan (40 pages)
Inni and Bobo books by Soha Ali Khan and Kunal Kemmu
SMARTYPANTS by Anushka Ravishankar – a non fiction series for 4-8 years.
The Magic Couch : Adventures With Thatha by Shilpa Rao for 5-7 years
A Birthday Present for Aaji (Hook Books) for 5-8 years
The Sweet Shop Wars (Hook Books) for 5- 8 years
Passpartout, Is That You? (Hook Books) for 5-8 years
Roshan's Road to Music by Mamta Nainy (48 pages)
The Magic Makers: Looking For Inspiration: How Rabindranath Tagore Penned his Favourite Poem! by Mamta Nainy (48 pages)
The Magic Makers: That Big-Voiced Girl: How Usha Uthup Rocked Her Unusual Voice! by Mamta Nainy for 5/6 years+ (48 pages)
Two Funny Poems : In a Strange Café; If Mice Could Roar by Ruskin Bond for 6-8 years
The Great Escape by Menaka Raman (hOle books) for 7-10 years
Gupshup Goes to Prison (hOle books) for 7-10 years
Reva and Prisha by Shals Mahajan for 6-8 years. But this book needs to be read by every parent.
Read, Write, Race by Arti Sonthalia for 8-12 years. This is also available from Scholastic India (kbc storefront) where there is always a special offer on!
Savi And The Memory Keeper by Bijal Vachharajani for 10 years+. Bijal's books are very close to our heart. Her books are not only engaging, but they are empowering. A climate warrior, Bijal, strikes an incredible connection with tweens through her books. Asha's daughter Aarini (who feels very strongly about all things environment), is a huge fan and an unofficial Bhura ambassador :). Kitten Trouble caused a lot of exciting Kitten Business at kbc!!
Read Deeksha's detailed review here.
Bijal's next release is Help! My Aai Wants to Eat Me for 7 years+ and it sounds like every child will want to have this book!!!!
Pedru and the Big Boom by Nandita da Cunha for 8 years+. Read Divit's review here. Nandita's Sunderbaag is pure heart and one of our fave picture books!
Nandita's latest book My Trip To La-la Land is already getting our kids super excited!
Maithili and the Minotaur: Web of Woe (Book 1 in an Outlandish Graphic Novel Series) by C. G. Salamander and Rajiv Eipe for 10 years+ is another book we are super excited about!! Read Archana's detailed review here.
Rachna Chhabria (of the Festival Stories Through The Year fame) has 4 new releases!
The Giggling Girl for 3-6 years
Chaos in the Jungle and Other Stories for 7 years+
Buddy the Scavage for 10 years+ (slightly older would be better)
50 GREAT INDIANS: Extraordinary Lives, Inspiring Tales for 13 years+
The Egghead Detective Agency: Pika Nani for 7 years+
Paati vs UNCLE (The Underground Nightly Cooperative League of Elders) for 7-11 years
Akbar-Birbal & The Haunted Gurukul by Apeksha Rao for 7-12 years
'Misfit Madhu – a mystery story featuring a girl who codes by Divya Anand (award winning author of I hate my curly hair) for 9 years+
Tara and the Friendship Theorem by Chitra Soundar for 9 years+
Great Minds At Work Series: Ramanujan: From Zero To Infinity: From Zero to Infinity for 10 years+
Sudha Murty's latest – The Sage with Two Horns: Unusual Tales from Mythology 8 years+. Quoting Preethi's Miss M:
The book is about various tales from Mythology (including The Sage with Two Horns)! The stories are interesting and many of them are not heard of before. There is also the story of the pious lady, Kannagi from Tamil Nadu that I have often heard from my appa. I also want to tell you what my faaavvvoooorite story is. It is the Identical Nose Rings. It is about a woman named Sarasvati. Sarasvati looked happy from the outside but was unhappy from the inside of her heart. That is because her husband, Srinivasa Nayaka had a huge flaw, his miserly nature. This teaches Srinivasa Nayaka to abandon his behaviour. That is why I like this story so so so so much!In these stories, I have one favourite character, Sage Agastya. Yup. He's the one who taught the two demon brothers, Illvala and Vatapi a GREAT lesson! Sage Agastya used their own trick to destroy them. How clever!I loved the book because it has a lot of unheard stories and they are all wowmazing! Also, the book cover is shiny and attractive. (I tried recreating the cover design. Hope you like it!)The illustrations are by Priyankar Gupta and the sketches inside are brilliant.
My First Hanuman Chalisa by Chitwan Mittal
When Mommy Was a Little Girl – an anthology for 8 years+
Tales from the World by Geeta Ramanujam for 8 years+
The Chowpatty Cooking Club (Series: Songs of Freedom) by Lubaina Bandukwala for 10 years+. Read review here.
Ritu Weds Chandni by Ameya Narvankar for 6 years+
My Grandmother's Masterpiece by Madhurima Vidyarthi for 7/8-12 years (88 pages)
Discover India: Mountains and Rivers of India by Sonia Mehta for 8 years+
History Hunters Book 1: Chandragupta Maurya and the Greek Onslaught for 8-12 years
Heroes the Colour of Dust by Amit Majmudar for 10 years+
Young Indian Innovators, Entrepreneurs and Change-makers for 9-12 years
Listen to Your Heart: The London Adventure (Illustrated, boyhood memoir series from Ruskin Bond) for 9-12 years
TAJ MAHAL : THE STORY OF A WONDER OF THE WORLD by Tilottama Shome for 10 years+
The People of the Indus for 12 years+
Mythonama: The Big Book of Indian Mythologies
Sahyadri Adventure: Anirudh's Dream for 10-13 years
10 Indian Art Mysteries That Have Never Been Solved by Mamta Nainy for 10 years+
When I Met The Mama Bear : A Forest Guard's Story for 10-12 years
The Story School by Nandini Nayar for 11-14 years (200 pages)
The Boy Who Wrote a Constitution
Chosen by Suyash Dasgupta – read review here.
After Midnight: A history of independent India by Meghaa Gupta for YA and grown ups alike!
The Vanguards of Azad Hind for 12 years+
Sinbad And The Tomb Of Alexander for 13 years+
TIPU, SULTAN OF THE SIWALIKS : A WILDLIFE ADVENTURE for young adults
CHILDREN OF THE HIDDEN LAND by Mandira Shah for young adults
Journey to the Edge of the Earth: True Adventure of Naval Officer Abhilash Tomy: (Full-colour Biography) for young adults.
What Lies Between Two Hearts? by Ranjit Lal (YA)
The Cursed Trip: Inspired by True Events Kindle Edition by Akshay Chhugani
INTERNATIONAL AUTHORS
Marmalade: The heart-warming and hilarious new picture book from number-one bestselling author David Walliams!
The Music In Me by Sophy Henn
DK Life Stories Barack Obama: Amazing People Who Have Shaped Our World for 7-9 years
[Note from Team Kids Book Café: For your convenience, affiliate links (MARKED IN PINK) to some of the book titles & images have been added to enable you to buy the books from AMAZON, should you wish to! A very small amount of money comes to kidsbookcafe.com when you purchase a book via the amazon affiliate link provided (at absolutely no extra cost to you!). Do let us know if you need information about other children's books by writing to asha@kidsbookcafe.com.]