Title: Zayn and Zoey Transport Activity Book
Age group: 3-6 years
Genre: Activity Book (with stickers)
Publication: Curious Concepts Pvt Ltd (Zayn And Zoey Official)
We have recently gone through the wonderful Zayn and Zoey Transport Activity Book. This book covers three types of transport – Road, Air, Water. Lots of mazes, patterns, matching, sorting, coloring, searching activities are present. It covers different areas of the child's education: problem solving, thinking ability, writing, visual skills, etc.
The book also contains 4 simple activities or small projects which kids can do (younger ones with help from parents). Yoga poses are also suggested related to transport. Overall it's a wholesome book with respect to a child's overall development.
I have used many activity books from other publications. The best parts of the Zayn and Zoey ones are:
1. Nice small projects are given for parents to do with kids
2. Theme based (transports) activities which covers every area — number, phonics, words, matching, sorting, coloring. Hence no need to find multiple books. Kids also won't be bored. My son loved Gate Code, Mazes and Color by Number the most.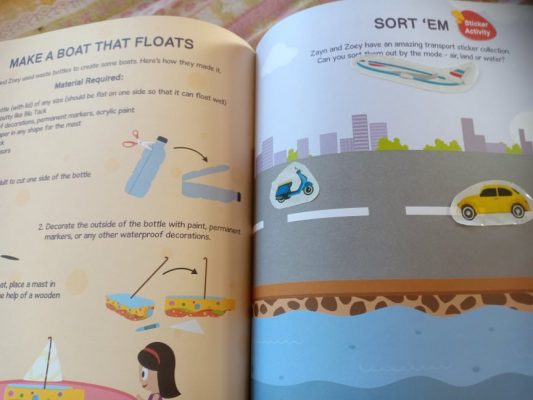 Zayn And Zoey have two other activity books on Seasons and Dinosaurs. I hope they publish some more activity books across different themes.
ONLY KBC MEMBERS HAVE AN EXCLUSIVE COUPON CODE KBC15 which will give you 15% OFF. Simply click the red button below that takes you to the Zayn and Zoey shop on their website where you can buy this particular book. Should you wish to explore other Zayn and Zoey books on their website, simply click here. Be sure to use the coupon code KBC15. SHIPPING FREE ABOVE ORDERS WORTH RS 500!  
USE CODE KBC15
If you wish to buy this book from Amazon (kbc affiliate link), kindly click here.