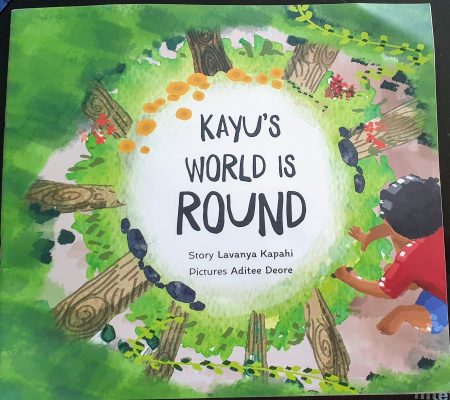 Book: Kayu's World Is Round
Author: Lavanya Kapahi
Pictures: Aditi Deore
Type: Paperback
Age group: 3-7 years
We received this lovely book a few days back as a part of the #kbcKeepCalmAndReadOn reading campaign. This was my list of recommended reads. Thanks so much Asha Chaudhry. My little one loves it.
This is an amazing book dealing with autism/sensory disorders, a topic which is often neglected. I was especially touched to receive this book because we are dealing with some ourselves. It just goes to say that whatever we may think is wrong with our little ones, it's because of our limited and rigid perception of the world.
Every little kid is special and unique with her/his own special abilities. It's up to us to enable them to explore their fullest potential. They can surprise you when you least expect.
In this book, Kayu's mother is worried about Kayu who only seems obsessed with circles. Kayu also finds it difficult to connect with others. But it all comes together for Kayu when his love of circles overlaps his friends' love for cricket.
This book is a great way to let parents know that they should look beyond the obvious when it comes to their kids. It's important to find common ground to establish effective communication. It helps tremendously to speak the child's language especially when sensory processing issues are involved.
I would recommend this book not only for kids but also for their parents. This book is a simple but wonderful approach to understanding an aspect of autism.
Like Kayu in the book, my little one is obsessed with bindis too (though I never wear them!). After reading the book, he roamed around the house with a red playdough bindi on his forehead. He refers to this book as the one with the "bindi page". Thanks so much for the book again.
ADDED BY ASHA on July 2022: Many Colours Of Us! is Lavanya Kapahi's new release for 3-5 years (28 pages)
If you like this review and wish to order this wonderful book from Amazon (kbc affiliate link),
CLICK & BUY NOW!