Title: Kitten Trouble
Author: Bijal Vachharajani
Type: Paperback
Pages: 40
Recommended Age: 5 – 8 years​
This hook book is beautifully illustrated by Rajiv Eipe, the cover design is by Priya Kuriyan and it has been published by Duckbill Books, Penguin Random House – India
My 4 year old is a big dog lover. I wasn't really sure how he would take to a book involving a cat. I need not have worried at all. The book Kitten Trouble created only one trouble in our home – my 4 yr old demanding to read the book again and again, because he found certain bits hilariously funny!
The brilliance with which the author engages the youngest of the readers combined with the wonderful illustrations in the book make this a fantastic read. The story had my child hooked right from the first page, with the awesome shopping list illustrations.
"Mumma, what will they eat now? They didn't get any vegetables!"
But, the part that had him in splits was the kitten blocking Sani's (who is scared of cats) way to the bathroom. He tried coming up with lots of plans on how Sani could reach the bathroom! I suspect he re-read the book a million times only to figure this out!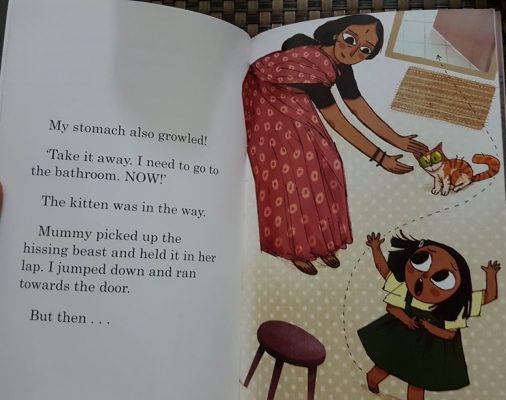 The ending, of course, is what will take the heart away of any animal lover. But, what took my heart away was my little one talking to the scared kitten in the book, trying to calm her down. When a book or a character in a book manages to connect with a young child at that level, you know you've just read a brilliant book!
As a parent, I found the book a perfect next step for a child ready to read slightly longer books rather than simple picture books. It makes the perfect transition from relying on pictures or rhyming words for holding the child's attention, to being engaged by enjoying a fantastic story!
There are other hook books published by Duckbill which are just as funny and engaging as this book is.
Get Hooked: The Hook Book Box Set – a set of 11 Hook Books (440 pages) is also available which works out to be more economical!
If you liked this review and wish to order this funny, purrfect book from Amazon (kbc affiliate link),
CLICK & BUY NOW!