While we have many favourite publishers, the one that has given us the most giggles and happiness is undoubtedly Tota books. I think these books will have my heart forever.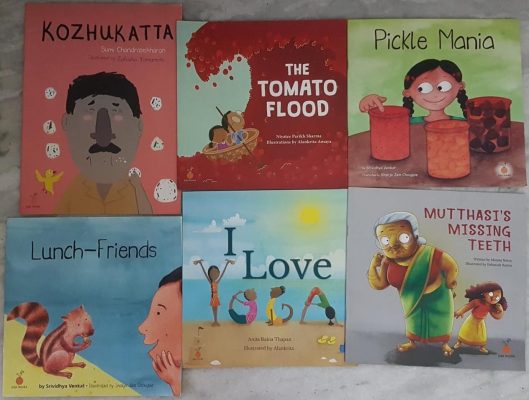 The first Tota book we had was Mutthasi's Missing Teeth, which turned out to be a complete laughing riot. And just when I thought that no book could be funnier than this one, Kozhukatta came into our lives.
The illustrations of Tota books are a class apart. What makes these illustrations and the stories extremely special and relatable are the Indian elements embedded in them. The red chilies drying in the sun in Mutthasi's Missing Teeth, the tamarind and jaggery used in the pickle, in Pickle Mania, the chivda, samosa and burfi that Ponnu talks about in Kozhukatta or the dosa and uttapam made with tomatoes in Tomato Flood (Yes, the books are simply amazing for foodies!).
Mutthasi's Missing Teeth by Mamta Nainy – The book is about a grandmother who loses her false teeth. Anybody who has a family member with false teeth, will know the funny feeling of seeing teeth in a bowl or seeing someone hold teeth in their hand and brush them! But, by far, the inability to speak clearly is the greatest drawback of false teeth, if you don't wear them, you can't speak certain sounds. And that, makes this book hilarious! The conversations between the grandmother and child are endearing, and funny, while the child tries to solve the mystery. My child asks for this book again and again, saying "I've lof my teef".

Kozhukatta by Sumi Chandrasekharan – One of the most funny books we have read, about a man who keeps forgetting everything but tries his best to remember the name of a delicious food he tasted – Kozhukatta and keeps repeating it hilariously all the way home. Kids will love repeating the word and it makes for very fun read alouds.

Tomato Flood by Niyatee Parikh Sharma – A beautiful book that begins with two kids having fun squashing tomatoes in their garden, and ending up with innumerable tomato plants. The problem now for them is what should they do with all the tomatoes? The book contains fantastic images of tomato based recipes (tomato omelette, tomato soup, tomato pasta) and then goes on to encourage community sharing. Additionally, it explains the plant life cycle really well.

Lunch Friends by Srividhya Venkat – A wonderful story about a boy who is heartbroken when the mango tree in his grandmother's backyard is cut down to make space for buildings, causing squirrels and birds to vanish. He used to keep a bite of his food on the window sill for these "lunch friends" but now there was nobody to share his lunch with. He decides to plant a mango seed, and learns that sometimes for something beautiful to happen you have to wait patiently.

Pickle Mania by Srividhya Venkat – This is possibly one of the simplest yet one of the most wonderful books I've come across, because it is such a relatable book for children. A little girl sees her grandparents eating pickle everyday, and is upset when they tell her it is not for children. When, after a lot of pleading, she tries it, she realises it is too spicy for her. So, she sets out to make a pickle specially for kids. This book and its wonderful illustrations will have all kids going Licky Lick and Dippy Dip, while imagining eating a chili / sweet / sour pickle. Fair warning though, the book will also inspire them to want to make their own pickle, and go licky lick!

I Love Yoga by Anita Raina Thapan – The first thing you will fall in love with about this book are the beautiful illustrations of each pose. They are just mesmerizing, with so much attention paid to details in the background and the environment. The text explains the formation of the pose, but in rhyming words – which is just wonderful. The instructions about the formation of each pose are also extremely easy to follow, and we were able to explain it easily to our 4 year old. The benefits of each pose are also mentioned. Overall, It's a beautiful book to include in your morning routine, to ensure that kids (and maybe the adults too) get some exercise and are relaxed and calm enough to begin their day.

There are some other amazing books by Tota Books that we don't have. Sharing a few as recommended & reviewed by our other members
My Grandfather's Funny Eyebrows by Arthy Muthanna Singh & Mamta Nainy (This book has been reviewed by Shipra in our fb group) – "Ever wondered how funny the eyebrows look and how funnily they behave? Zayaan loves his grandfather but he notices that he has got funny looking eyebrows. Looking at his eyebrows he can tell his mood. How they go up-down, right-left with his feelings. It's a chucklesome read! Next time your grandfather is around don't forget to notice them and even copy them for some crazy fun."

Just Like Papa by Nandita da Cunha: We have a review on the site which you can read here.
Ganesha's Sweet Tooth: You can read the review on the site here.
New release: Would you like to eat Gol Gol Gappas? (24 pages) Pls note this book is for 18 months-3 years. Asha, who is a huge gol guppa fan, ordered this one and realised the age appropriateness only after reading it. Amazon mentions 4-7 years which is incorrect.
Mythology series by Anita Raina Thapan – These books are perfect for 2.5 years+ and serve as great introductions to mythology to toddlers and pre-schoolers. The series includes Little Hanuman, Shiva Loves to Dance , Powerful Hanuman and Hurray for Diwali.
ADDED BY ASHA: There is an interesting series of biographies by illustrator-author Falguni Gokhale for 5-9 years. It features inspirational people who have helped in building India.
Kalpana Chawla : A Story of Determination gets ordered very often by our kbc members.
Other titles in this series include: Rani of Jhansi : A Story of Courage , Dhyan Chand : A Story of focus , Bhimsen Joshi : A Story of Passion , Tribhuvan Patel A Story of a Farmer and the Milkmen, Amrita Shergil A Story of a Free Spirit ,
Salim Ali A story of curiosity , Mahadevi Verma A Story of Inspiration.
[Note from Team Kids Book Café: For your convenience, affiliate links (MARKED IN PINK) to some of the book titles & images have been added to enable you to buy the books from AMAZON, should you wish to! A very small amount of money comes to kidsbookcafe.com when you purchase a book via the amazon affiliate link provided (at absolutely no extra cost to you!). Do let us know if you need information about other children's books by writing to asha@kidsbookcafe.com.]