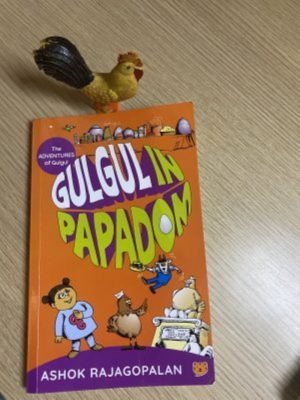 Title: Gulgul in Papadom (from the Adventures of Gulgul series)
Author: Ashok Rajagopalan
Publisher: Talking Cub – An imprint of Speaking Tiger Books
Type: Paperback
Pages: 112
Age group: 6-9 years
I'm posting this review on behalf of my 9 yo – Divit. So here it is, in his words.
Meet Gulgul. She is a nice, healthy and arguably round little girl who has a pet parrot named Paru. She lives a normal life in her planet GR33N and loves to eat, just like me. Her father is a middle-aged man named Jit and her mother Megha, is an inventor.
Her mother recently invented the Kitchikook which can whip up any dish in a minute! Megha attends a lot of conferences and now she has to go to P4-P4-DOM which is a big space station near Gulgul's planet. And this place is unique because the cooks and farmers who live here grow and cook amazing stuff to send everywhere. Since they have bought a Kitchikook, Megha was asked to go there to help them learn how to use the miracle machine.
Of course, Gulgul tags along because just like Adu (my younger brother) she always follows her mother and well, she had no school that day. When they arrived, they were greeted by a flock of chickens who were clucking like "alarum clucks"! Gulgul was at first frightened but then she realized that the chickens were quite friendly. The mother chicken was "Bhel Puri" and the father was called "Pani Puri". The chickens, also called kitch-hens, told Gulgul and Megha about the mother hen who created all of henkind.
Yes Papadom was the planet of Kitch-hens who spoke Henglish and clooked all kinds of amazing food but they loved making sweets the most and were waiting to make the best sweet that was made by mother hen herself. That delicious sweet was called Gulgul. And now when Gulgul herself had arrived arrived in Papadom, the kitch-hens believed that she is the "chosen hen" for whom they have been waiting for years and she has to make the sweet! The way they dress up the chosen hen was so hilarious that my tummy started hurting! Cluck Cluck!
To make the sweet there was a long list of ingredients that were needed and that could be found at the enormous store. But the goat that took their order gave them a nasty surprise. There were no fennel seeds and without fennel seeds they could not make the dish! So they head to the farm and tried to get some fennel seeds. But they needed to go through a lot of trouble including getting through some very angry guard dogs who started chasing them! Will they be able to make the sweet or fail in this prophecy?
I love the book because it is indeed very funny and the way the story unfolds kept me glued to it till I finished it. Gulgul indeed had a super adventure with the kitch-hens. Papadom is an amazing planet where kitch-hens clook (not cook) amazing food, cluck like alarum clucks (not clocks) and do not like to use kitchiklook (not kitchikook) because they like to clook with love. The language and the illustrations are just so hilarious.
If you want to know whether the kitch-hens and the chosen hen could made the best sweet you have to read this super awesome blook (oops! book)
You can read reviews of the other books in this series Gulgul in Jungalu , Gulgul in Sea-Saw Gera and Gulgul in Parapara on our site as well. There are some new releases in the Gulgul series. Check them out here on amazon.
If you enjoyed this review and wish to buy the blook…. errr book from Amazon (kbc affiliate link),
CLICK & BUY NOW!