Blessed are the fathers who are blessed with a daughter
After our marriage I have often seen my wife getting emotional when talking to her Papa, and as a good husband I have always understood and supported her.
But I got a whole new perspective the day my daughter was born. I actually realised what all a girl leaves behind to start a new life, at a new place among new people.
3rd October 2019, was the day when a little angel entered our lives and changed it for ever. The first time I held her in my arms, those tiny sparkling eyes looking at me for comfort, those small little hands trying to clutch my finger tight, in those moments my world changed.
I was a father now. And she was my responsibility. I have to give her the best of everything
She is 20 months old now and is the boss baby of our house. Few weeks back my wife was posted for Covid duty so had hectic working hours, plus considering the risk of infection was keeping her distance.
That was the first time in these 20 months that me and Aanya were all alone (or you can say our "me time" with No rulezzzzz)
We were worried as to how will Aanya manage particularly her feeds and naps which were mainly taken care of by Sakshi. That day Sakshi left for hospital early even before Aanya got up. I was scared as to how will I manage if she cries for mummy, I can't even call her back from duty.
Gaining my courage I went to wake her up with a kiss on her cheeks. And she opened her eyes with a smile on her face. This moment brightened my day. Then we cuddled for a while and moved to our next destination which was Aanya's book shelf.
My little Caterpillar was hungry after a good night's sleep. As she was busy pushing her fingers through the holes of what the Caterpillar was eating I fed her breakfast.
Next we met a very busy spider who was busy spinning her web and I had a gala time listening to so many animal sounds which my little cupcake was making while she read out the book to me.
With all the milk and curry spilt over her, my little pigeon was now dirty. This pigeon needed a bath. So next we choose this hilarious book and enjoyed our time in the bath tub making bubbles and playing with our bath toys.
I dressed her up while listening to our father daughter playlist songs and we danced together.
I was actually enjoying this day and I could see the same in her eyes.
Jumping and dancing in the whole house tired us out and I put her to nap while I prepared lunch.
Soon my little dragon woke up from her nap and wanted to put off the fire in her book.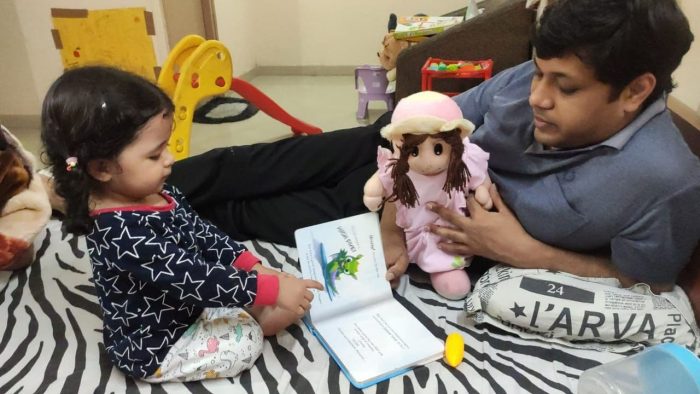 So I got her some balloons and we played with them for a while. We then enjoyed our lunch.
My little peppa was having a busy day. 
She then got her kitchen set and said "Chai chai" and just then doorbell rang and guess what, a tiger had come to tea. She invited him over and happily arranged plates for her toys and Papa and fed us all biscuits and cupcakes and tea, while I offered her some milk and cookies.
Then we went out for a walk in the garden with all due precautions and found a muddy puddle. And my little peppa wanted to jump up and down in it without getting dirty. We managed to do that on the side of the puddle. Though I can image how silly I must be looking jumping there, but anything for my darling daughter.
We came back cleaned ourselves and now it was time for Aanya and her purple crayon.
Though we have received several instructions from her mumma not to scribble on the walls but since this was our No rulezzzz day, I let her scribble wherever she wanted until the crayons themselves wanted to quit and go home.
Then I got her favourite fruit "A for Apple" which she enjoyed while building her blocks.
Till now she had asked me a couple of times "where is my mummy?"
As mumma got time she called us up and told Aani
"Little llama don't you know 
Mumma llama loves you so 
Mumma llama always near 
Even when she is not right there"
And both of them did their happy dance. Aani brought this book and we read it on repeat mode.
Now was one difficult dreaded task. It was time for "P is for Potty"
Aani had already pooped but was reluctant to get it cleaned.
But then, I asked her where does Elmo do potty and she rushed towards the bathroom with the book in her hands and pointed toward the potty seat.
And at that moment I really thanked Sakshi in my heart for buying this book.
Then we played hide and seek and my little george pig would always go hide in the same spot, that too just stand against the wall and pretend as if I can't see her.
Such is the innocence of childhood💕
After this busy day it was time to brush her teeth, put on her diaper, change her night suit and make her sleep.
But my boss baby instantly shouted, "Papa Nooooo"
"Book Book"
There was a monster in our book and we had to put him to sleep first before my little monster sleeps and how could we sleep without saying good night to our beloved moon? 
Then after counting kisses and saying good night to every little thing in our room, my little lama dozed off to sleep……
Then I closed my eyes with a big smile and a contented heart that I was able to manage well all alone and thanked my companions – Aanya's Books.
[Note from Team Kids Book Café: For your convenience, affiliate links (MARKED IN PINK) to some of the book titles & images have been added to enable you to buy the books from AMAZON, should you wish to! A very small amount of money comes to kidsbookcafe.com when you purchase a book via the amazon affiliate link provided (at absolutely no extra cost to you!). Do let us know if you need information about other children's books by writing to asha@kidsbookcafe.com.]