This Children's Day, let's do something different.
Let's build everyone's personal library by being a part of it!
Presenting…
#kbcReadCycle – a campaign of gifting one (or more) of your books to a younger child.
Kids Book Café community is already 1000+ members strong. So what better way to celebrate Children's Day than gifting books to our kbc childoos?! No, we don't want you to buy more books. We simply want you to share books you have loved and the children of your house have outgrown, to a younger child!
That way, you will become a part of another kids book café childoo's personal library!! How incredible is that?!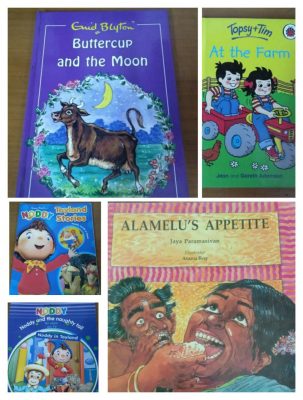 To be a part of the campaign, here's what you need to do!
Select at least one children's book your child has outgrown.
Look for another kbc member who has a child younger than your child. (We have age-wise lists in the kbc fb group. You can always write to asha@kidsbookcafe.com for a member suggestion). INCASE YOU HAVE NOT ENTERED YOUR CHILD'S NAME & AGE ON THE RELEVANT LIST, PLEASE DO – IT HELPS!! Simply check the ANNOUNCEMENTS in the kbc facebook group or SEARCH #LetsGetToKnowOurChildoos in the fb group and you will find them.
If you know the member and their address, send your book to them ideally before Children's Day (Nov. 14th) with a note inside telling the child what your child loved about that book! Mention #kbcReadCycle #ChildoosDay2019 to create a #kbcMemory!). If you want to gift it to a non-member friend – please do! Just add her/him to our facebook group!
If you want it to be a surprise, you can ask asha@kidsbookcafe.com to seek the address for you, which will be done after the receiver's consent (we take our members' privacy seriously).
SPREAD THE WORD: Post a pic of the book you are sending over social media with HASHTAGS #kbcReadCycle #ChildoosDay2019 to encourage other people to join our facebook group and participate in our unique Childoo's Day campaign! Don't forget to tag our facebook group in your posts!
RECYCLE! Try and send the book in recycled packaging! We used all the amazon packaging we had at home :).
Upon receiving a book from another member, please:
Post a pic of the book you have received ACROSS ALL OF YOUR SOCIAL MEDIA (not just the kbc facebook group), using HASHTAGS #kbcReadCycle #ChildoosDay2019 – we need to create lots of buzz around our awesome campaign for maximum participation!! Don't forget to tag our facebook group in your posts!
Post a mini review or a detailed book review on our community site kidsbookcafe.com. This will not only be a nice way to acknowledge your gift, but also will help other parents with recommendations for age-appropriate books!
You get one, you gift one! Be sure to gift another book to some other childoo! That's what makes #kbcReadCycle even more exciting!
Raising Readers Together:
At Kids Book Café our endeavour is to raise readers together by recommending and discovering diverse children's books.
#kbcReadCycle is a personalized, friendly, non-commercial community campaign to ensure all of us help build each childoo's personal library.
We are trying to make it an eco-friendly campaign by encouraging members to send their pre-loved books in recycled packaging.
Special thanks to Anamika & Tarun of Nailbites for creating the #kbcReadCycle logo in a day!
Happy Childoo's Day!