With the pandemic lockdown the screen time of my kid has increased exponentially. Peppa has invaded our lives like never before and we have made peace with Suzy the Sheep and Rebecca the Rabbit.
One way to get my kid to read more is to get him books with his favourite characters. Peppa Pig has a full series, thankfully. Listing some of our favourites here (2 years plus).
1. The Biggest Muddy Puddle in the World: What's there not to like about jumping in a muddy puddle?
2. Peppa's Car Ride: The book is in the shape of a car that kids will like to drive around. The silliness of Daddy Pig and his inability to choose the correct button is just right for toddlers!
3.The Fire Engine: I like this story because it highlights how women can save the day! Kids like it because it has a fire engine, and it shows everyone going down a fire pole.
4. Peppa's Vegetable Garden: A nice book to introduce the concept of how plants grow.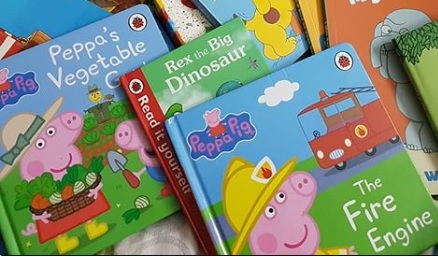 5. Peppa's Busy Day: This book shows how Peppa and George wake up on time, eat breakfast on time, go to school on time, etc and at the end go to bed on time. It helps toddlers understand how to follow a routine. Comes with a clock face that kids can play around with as per the story. Eventually, it helps children learn to tell the time. Excellent book, highly recommended.
6. Peppa's First 100 Words: We bought this when my child was 1 yr old, he is now learning to read and has gone back to this and is using this to read 3 letter words.
7. Peppa Pig's 1000 First Words Sticker Book: This is an excellent activity book and introduces kids to a lot of words. I have gifted this to all the 2 plus old kids I know!
8. Peppa Pig: Marvellous Magnet Book: This allows the kids to place peppa and friends on the book, and play out the story. Very engaging and highly recommended.
9. Peppa Pig: Yum! Yum! Yum! Sticker Activity Book and Happy Holiday Sticker Activity Book: Excellent books to keep 2 year olds busy.
10. Little library: Perfect for little hands to hold, perfect for keeping in your purse while travelling. Bonus is the jigsaw at the back of the books! There are two more mini book box sets – Bedtime Little Library and Fairy Tale Little Library.
ADDED BY ASHA: Peppa Pig Book Collections are also available on amazon. Peppa Pig Read it Yourself (RIY) books are very popular to encourage kids to read by themselves.
PEPPA PIG SOUND BOOKS are perfect for 18 months+ and are really awesome! STOMP AND ROAR , Peppa Pig: Police Car , Peppa Pig: Happy Birthday! are super duper hits.
Peppa Pig: Practise with Peppa: Wipe-Clean Telling the Time – very popular with our parents to teach kids how to tell the time! There are quite a few Peppa Pig wipe-clean books (first letters, first numbers, first counting, first righting) that get ordered from time to time!
First Words with Peppa come in different levels are the perfect books to build vocabulary.
Peppa Pig: Super Stickers Activity Book keeps kids engaged for a super long time!
Peppa Pig: Where's Peppa? (A Lift-the-Flap Board Book) – Vichithra has shared inside pages here.
Peppa Pig: George's First Day at Playgroup: Sticker Book
PEPPA PIG LEARNING TO SHARE (includes stickers)
Peppa Goes Swimming helps kids with their first experience.
[Note from Team Kids Book Café: For your convenience, affiliate links (MARKED IN PINK) to some of the books have been added to enable you to buy the books from AMAZON, should you wish to! A very small amount of money comes to kidsbookcafe.com when you purchase a book via the amazon affiliate link provided (at no extra cost to you!). Do let us know if you need information about other children's books by writing to asha@kidsbookcafe.com.]