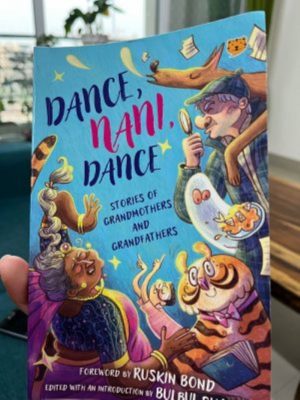 Book Title: Dance, Nani, Dance: Stories of Grandmothers and Grandfathers
Authors: Various
Edited with an introduction by: Bulbul Sharma
Publisher: Talking Cub (An imprint of Speaking Tiger)
Type: Paperback
Pages: 248 pages
Age Group: 9-14 years
Dance, Nani, Dance, an anthology of adorable stories of grandparents from acclaimed authors, takes you on an emotional roller-coaster ride. It features stories that will make you MISS & LOVE your grandparents more.
Only your grandfather or grandmother will find something lovable about that pimple on your nose or that smudge on your fingertips.
Grandparents are our shield, support system, messengers, and biggest cheerleaders. The stories took us down memory lane and helped us relive the nostalgia. The book has a collection of stories penned down by award-winning, acclaimed authors like Ashok Rajagopalan, Bijal Vachharajani, Ruskin Bond, Bulbul Sharma, Swapna Dutta, Nandini Nayar, Deepa Agarwal, Sayantan Ghosh, Nandita Da Cunha, Ashok Banker, Adithi Rao, Varsha Seshan, Harshikaa Udasi, Andaleeb Wajid, Menaka Raman & Jerry Pinto. Every story in the book struck a chord with me or my son. Now and then, we had moments -' Oh, that's what Nani does.
The adorable stories had a hoarder grandma, a clever detective grandparent duo, a great mystery solver Dida and a Dadu with a tiger cub as a pet. While few had us laughing, others made us shed a tear. Though we cherished reading each story, a few touched our souls. My Grandmother and Her Daughter, a poignant story set during the partition, is a heart-wrenching story of a grandmother who helped a lost daughter unite with her family, who had lost her daughter years ago. Also, Talking to Ants by Ashok Banker makes you realize the beauty of this magical bond that continues to weave magic even after they are gone. How the story Dance, Nani, Dance by Deepa Agarwal unfolds will surely leave you teary-eyed. The Surprise Act by Nandita Da Cunha, is loving story about a reluctant grandfather plans a surprise performance at his grand daughter's school on the occasion of Grandparents day.
Grandparents are a link to our happy childhood days
No words can ever suffice the love that grandparents carry for their grandchildren. It is invaluable and priceless, so grab a copy of this endearing book and enjoy it with them.
If you enjoyed this review and wish to order the book that celebrates grandparents from Amazon (kbc affiliate link),
CLICK & BUY NOW!
Disclaimer: Shipra and her son Sharav are part of the #kbcReviewerSquad and received this book as a review copy from the publisher.