Title: When The Four Went Time Travelling (Stories By Amyra)
Author: Amyra Wadhwa
Illustrated by Kanika Kush
Type: Paperback
Age Group: 4-9 years
We all have fantasies that we secretly wish would come true, and for me that has always been time travelling. How exciting would it be to travel back in time, see everything that we have only read of in history books and come back? Amyra Wadhwa's third book, 'When the Four went Time Travelling' allows you to do exactly this.
The story is about a group of friends who go back in time and come face to face with dinosaurs and mummies. It elaborates upon their adventures, how they save themselves from a mean T-Rex and outrun a maniac mummy.
My 3.5 year old fell in love with the book without even knowing what it was about, because it had dinosaur illustrations in it! Amyra has a knack for writing things that will appeal to a child, and this book ensured that even a toddler was glued to the book right from the first line –
"They are collecting feathers, just like I do mumma!"
By starting the story in such a simple yet relatable way, Amyra invites her readers to become a part of the story itself.
Of course, for my dino crazy toddler the best part of the book was the whole adventure with the T Rex, dino slime and tickling. He was so involved yet scared that he was peeping out from the blanket with one eye only!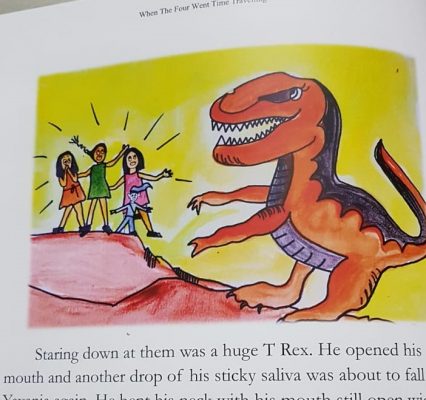 This book, perfect for pre-schoolers and older kids, will leave them with a curiosity about dinos, ancient Egypt, mummies, and time travelling. Be prepared to face questions like,
"Mumma, I'm so sad that we don't have any T-Rex's here, why can't we keep them as pets?".
Overall, a very enjoyable read for both, kids as well as adults. Now, only if I could time travel!
You can read reviews of Amyra's previous books When the Moon Sneezed and When the Cloud Sulked here on our site and order them too!
ADDED BY ASHA IN DEC 2021: Tales of Santa is Amyra's latest book that has 2 interesting stories!
If you enjoyed this review and would like to order this book from Amazon (kbc affiliate link),
CLICK & BUY NOW!