Title: When The Cloud Sulked! (Stories by Amyra)
Author: Amyra Wadhwa
Type: NOW PAPERBACK!!! (earlier, this was an e-book)
Age Group: 3-7
So many books and so little time to read them! Especially, when your child has the attention span of exactly 1.7 minutes, choosing the right book that not only grabs their attention but indicates to them that books can be fascinating, is important. Afterall, books are competing with screens nowadays.
Amyra's second book, "When the cloud sulked", does all this and more. The book contains themes like friendship, teamwork, perseverance, planning and the importance of keeping your word. As a parent, I felt it was such a simple yet beautiful story to explain these themes to a toddler, as every child relates to playing outside and how when it gets dark and grey, you can't play happily anymore.
For my 3 year old though, the best part was getting involved in the whole problem.
"That is a bad bad cloud", he said, "We need to make a plan".
Then he started making elaborate plans which included an aeroplane and lots of digging! Then, when we read the ending, he started clapping.
"That was a clever plan, Mumma. Let's solve another problem."
And just like that, interest in reading another book had been created.
The one area where I feel the reading experience could have been better for us (but keep in mind my child is only 3), is to have either rhyming text or lesser amount of text, so that the attention span is maintained.
Now, here is the kicker. The author, Amyra Wadhwa, is a six year old! Yup, you read that right. I'm writing this at the end of the review, as I did not want it to bias your thoughts. Read this book not because it has been written by a child, but because it is an awesome book! You and your child will love it.
If you haven't read her first book, When The Moon Sneezed, read the review here.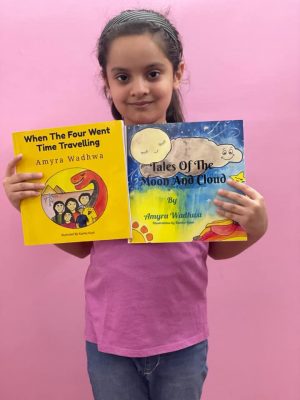 UPDATE ADDED BY ASHA ON APRIL 7: Both of Amyra's e-books have been combined to a brand new paperback format!
If you liked this review and would like to order this book (kbc affiliate link),
CLICK & BUY NOW!