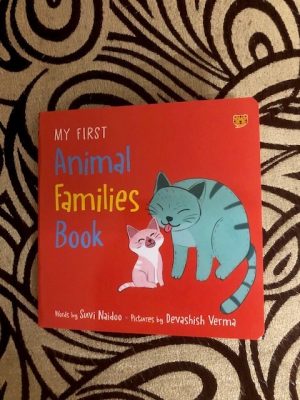 Title: My First Animal Families Book
Author: Suvi Naidoo
Illustrator: Devashish Verma
Publisher: Talking Cub, Speaking Tiger Books
Type: Board book
Age group: 1 – 4 years (adults will enjoy too)
This cute lil board book is an instant hit with my little one. The book introduces the animals along with their baby animals and their siblings and grand parents and aunts and uncles in the most unique way. The book uses Indian kinship names to introduce the family of animals.
And yes, with heart warming pictures. It's here to win your ♥️
Surely to brighten your day when your little one giggles on seeing an Akka Tiger or Baba Rooster or an Aunty Elephant and many, many more. 🙂 🙂
Must have in your little one's library. This one is tightly competing with Moo Baa La La La! by Sandra Boynton, in terms of Baby A's favorite reads.
If you enjoyed this review and wish to buy the book from Amazon (kbc affiliate link),
CLICK & BUY NOW!