Title: Little Cub Says Thank You
Publisher: Talking Cub (Speaking Tiger Books)
Author: Suvi Naidoo
Illustrator: Nirzara Verulkar
Type: Board Book
Age group: 0 – 3 years
Little Cub Says Thank You is a wonderful board book which explains the concept of being thankful so beautifully. It has simple text for easy understanding of the little ones. The illustrations are so detailed, colourful and beautiful that they easily catch the attention of the younger ones. In fact even I was looking and trying to notice all the detailing done in every picture. There is a little Thank You text on each spread with an image to correlate the idea. This helps to keep the little ones engaged while reading.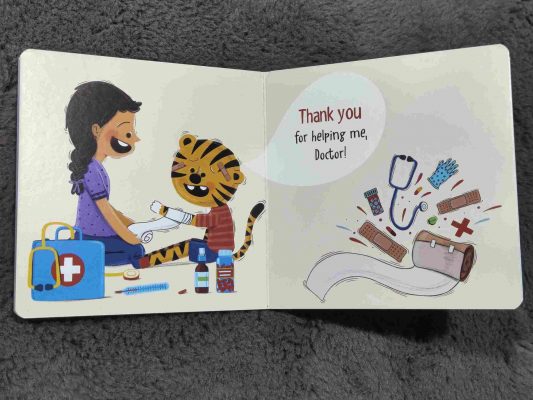 This book very nicely teaches us the good habit of thanking people around us. Little Cub thanks the people around him who are helping him, taking care of him or doing anything good for him. Saying thank you is such a simple and yet valuable thing that we need to teach our kids. This book is very handy in helping us to do so.
My little one, Sanay enjoyed it a lot. He kept on flipping through the pages and looking at the illustrations while I read the book to him. This is a must have book for toddlers whom we want to teach these good manners like saying thank you and sorry (Little Cub Says Sorry is another book in this series). They will enjoy the book and also learn a lesson at the same time.
I would like to thank Asha ji and the publishers for this wonderful book. And I highly recommend it to anyone looking to teach their kids the habit of saying Thank You. 😊
Suvi Naidoo's other board books can be found here.
If you enjoyed this review and wish to buy the book from Amazon (kbc affiliate link),
CLICK & BUY NOW!