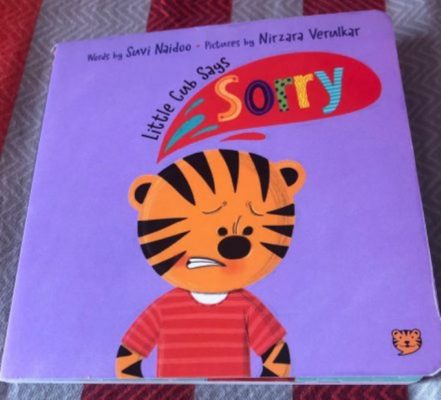 Title: Little Cub Says Sorry
Publisher: Talking Cub (Speaking Tiger Books)
Author: Suvi Naidoo
Illustrator: Nirzara Verulkar
Type: Board Book
Age group: 0 – 3 years
A heartfelt sorry can heal a broken heart. It can mend strained relationships. It can save friendships and more. The word is so simple and yet so powerful. This book rightly justifies the power of this word with such cute illustrations. And a brilliant way to introduce to magic word our little ones.
There are several scenarios illustrated with just one word, sorry. I have tried explaining the situations in the book and telling Baby A when and why the cub is sorry.
I am also using these scenarios in real life for Baby A (our toddler) to assess the opportunity to use this golden word. Just today, when she accidentally broke her father's specs, she said sorry on her own. Both of us just melted and couldn't be more proud of her. Books are truly magical.
If you are looking for magic in your life, invest in books.
You can read a review of the other book in this series called Little Cub Says Thank You here.
Suvi Naidoo's other board books can be found here.
If you enjoyed this review and wish to buy the book from Amazon (kbc affiliate link),
CLICK & BUY NOW!