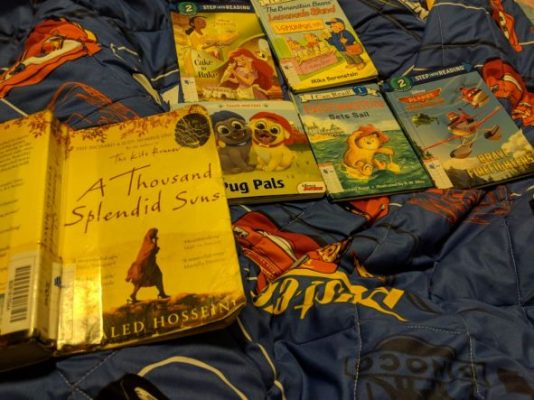 I am always early to rise to get everything done in time. In time for office and school. From sunrise to sunset it's always one chore after the other. And for me, a mother of a toddler mom one would think that as soon as the child is off to school, things ease out. Well, it does just a bit but my schedule is pretty much packed.

After I ship off the husband and child off for the day, I get to the house chores. And then a bit of must do exercise and finally I need to sit down and concentrate on my office work. I work from home but don't mistake that to be an easier task. I have to manage home and office all at the same time. It take loads of energy especially when on return from school my kiddo wants to play ninjago or football. I can barely feel my toes by the time it's evening.

Taking out time for reading also becomes a challenge. I have to really strategize. At 3:30 pm he usually has his snacks and twice a week it's tv time. Certain days he has extra curricular classes. Every day he has a bit of home assignment sheets from school too. Somehow our reading time got pushed off our schedule because other activities became more important.

Now that's not all. I have to see my toddler's mood on top of everything else. He will not sit and read if his energy levels are soaring way too high. He won't sit and eat if it's his tv time. And he definitely won't sit and read if his Papa has just come back from office.

So when do I squeeze reading time? Again it is time for my Abracadabra…
Any time can be reading time.
I started off with having bedtime stories that soothed him and made him a bit sleepy. This was when he was 3-4 years. Our favourites were A Quiet Night In (read review here) and Love You Forever (read review here).
I later on shifted to early evenings when he has already finished his outdoor play and right before his ten minute school assignment sheets.
His bedtime stories were for me to read.
Now at age of 5, I really wanted him to read every day. Once it becomes a daily routine it will not be missed. We picked up different books like Let's Play (read review here) and Rock, Paper, Scissors (read review here).
It did help to prepare a schedule.
Once all the activities are right there on the list and hanging on the wall it is much easier to just do and tick off one by one.
Lastly, it is not cheating if you choose to do Read Out Louds and Videos of Reading instead.
On days where you are just tired, play a story book instead.
These were my very quick reading hacks revealed. Hope these help you. Let me know what you think. Share your experience and tips too.