This has been written by my 7.5 years old son Praagvansh Garg (under my supervision).
"Holidays are magical. So we'll have lots of fun"
This is what I have heard before every vacation we have taken, from my mom. So here we were, about to go on our first international vacation to Singapore and Malaysia and I was super excited.
When we reached Singapore we rested a bit so that we could be energetic for the evening. Curious as always, I asked my dad , "Please tell me where we will go in the evening", to which he replied, "We are going to the Night Safari."
"Safari?? What's that? Is that like going to zoo?", I quickly asked.
"Safari is a jungle tour at night. If you will make noise, animals will come and eat naughty boys like you", said my Dad laughing mischievously.
"EEEEE", I got scared. Then suddenly I remembered that my dad is always in a funny mood and so I thought I'll not be eaten.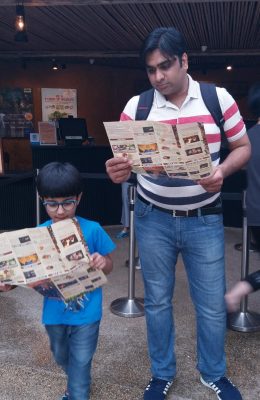 So here we were with our tickets in hand ready to start our adventurous journey with the World's First Night Safari at THE SINGAPORE ZOO.
Few instructions were given to us – Do not get out of the tram, do not make noise and no flash lights while taking pictures.
The entire ride is divided into 6 regions through the jungle. I sat next to my mom holding her hand tight as this was the first time I was going on a safari (that too at night) and it was a whole new experience.
As the tram started moving slowly through the jungle, I could hear the jungle noises and was becoming even more excited.
First we spotted Otters and striped Hyenas were the next. They were busy eating something. To me, it was like being a part of The LION KING.
I got amazed at the night safari ride. As we were passing each zone, instructions were given about the habitat and animal. I learned a lot of new things.
As I was sitting with my eyes wide open, trying to see something, there was an announcement that we will be entering the territory of lions. That was my jaw-dropping moment. Eagerly I waited to see a lion. But to my surprise it was an entire pride feasting on a buffalo.
I clinched my mom's wrist and shut my eyes. All questions arising. "What If the lions spotted our tram and came right at us…?"
A sigh of releif, as we crossed that zone and entered a new one. But I was mistaken, as this time I heard a Roar and that was the moment when I asked my mom,"Mom when will we go back?"
That was the roar of the Asiatic Lion. Never before had I seen a Lion so close, walking and roaring as if planning to hunt someone. I could not believe my eyes!
Slowly our tram moved to the next section and now it was time to meet the Sloth Bear. Two of them covered with mud making strange noises like Baloo of The Jungle Book.
In between we also spotted sambar deer, boar, bison and the elephants with big tusks.
As we were coming to the end, I was actually getting happy that we all were alive and now thinking about the next thing which I had heard my parents talking about – some night show.
It was the time for us to attend the very famous "Creatures of the Night" Show!
As the show began, we were instructed that animals will come from all exits and we were supposed to remain seated as the animals may get scared. I thought the anchor told it the other way. She should have told us not to get scared as animals will come out!
That was one of its kind of a show and I was very happy and enjoying it till the time an otter came under my feet and I shouted like anything! My dad immediately took me in his arms and at that very moment I got so scared that tears rolled out of my eyes and I hugged my dad very tightly.
I settled in 10 mins only to realize that my mom was on the stage standing next to the anchor!
The night was now getting thrilling. One after the other surprises. It seems the anchor wanted volunteers and my mom thought that it may be her chance to make me feel there is nothing to get scared of and also may be a souvenir may cheer me up.
So the anchor asked my mom to go backstage and help the other staff lift a very heavy creature as it seems the creature was sleeping.
I watched my mom go backstage and I had mixed feelings excitement and fear both. To my astonishment, I saw her returning with the staff lifting a huge python in her hands. I was really worried for her. She was smiling and the anchor told us the Rock Python they were carrying was 90 kg in weight and 9 meters long. After a few questions she was sent back with a big thanks and a souvenir which she handed over to me.
I remember myself now getting angry at her saying why didn't she take me with her at the stage to lift the python. I thought I could have helped her and that 90 kg is nothing big.
Enough of excitement, thrill and adrenaline rush for our first safari, with beautiful memories. I still relive that ride every time I see our beautiful pictures of that day.
This was the story of my exciting first visit to night safari written as a part of #kbcKadooMonkeyTales Contest.
Hope you enjoyed the night safari with me.
ADDED BY Team Kids Book Café – 20 of our kbc members won wonderful prizes from Kaadoo Games. Since then we have been Kaadoo's Community Partners! Here is an EXCLUSIVE OFFER ONLY FOR OUR KBC MEMBERS! If you would like to grab any board game from Kaadoo Games – simply go to the kaadoo website here  and USE DISCOUNT CODE KBC30 to avail a 30% discount!
USE CODE KBC30