I am posting these reviews on behalf of my 5 year old Advit (Adu) for #KbcBookBingoJr (4-7 years).
Doing the book bingo this year with Adu was so much fun. He was more involved than last year but the biggest task or challenge was to agree upon the books for each prompt. We took out all books, made a list, then thought some more and disagreed on many and finally after days of deliberation we have made this final list of our favourite books on each prompt.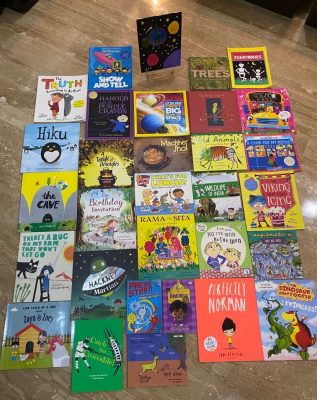 A green coloured book- Catch that crocodile written by Anushka Ravishankar, illustrated by Pulak Biswas
This was the toughest to choose because we were not able to agree on one. A wonderful tale about a lost crocodile who scared everyone in the town. From a policeman to a doctor to a wrestler they all tried to catch the crocodile. They all were trying to catch that one crocodile. But no one thought there could be another way till a little girl Meena took things in her hand. A hilarious tale that will leave you in splits.
A book with a penguin character- Hiku written by Nicole Snitselaar and Coralie Saudo
We have many penguin books but this one has our heart. Hiku is about this little penguin who woke up grumpy one morning and found that his family is visiting. He was not very fond of his name and always thought his family makes fun of him. So he decides to go and hide in his secret place before they all come. While hiding out there, he started remembering all the fun he has had in the past with his family. Hiku soon realised the real fun is to be with his family and a name that can make your family smile is the best.
This book can be ordered from Scholastic India via our kbc storefront as well. Scholastic India always has special offers on.
A Tom Percival Book- Perfectly Norman
We are crazy fans of all Tom Percival Books. Adu chose this one because this makes him believe in one thing – It is okay to be different. What is important is to be brave and enjoy being yourself. Norman was a perfectly normal boy till he developed wings that could make him fly. And did the wings make him happy? Oh yes! He loved soaring high floating in the sky. But then he started hiding his wings from everyone under a coat because he was not sure if they will like him this way. He soon realised it is not the wings that is making him sad but it is the coat with which he is trying to cover his wings. He accepted himself the way he was and understood being normal is being you! All Tom Percival books are pure joy and are must haves.
A book with siblings- Charlie and Lola – I've won, No I've Won, No I've won by Lauren Child
When you talk about a book with siblings what comes to your mind? Yes…Charlie and Lola. We were introduced to these books through Kbc and oh what joy they bring. Of the many that we have, Adu absolutely loves this one- I've won, No I've Won, No I've won. Lola loves to win and she just wants to have her way in every game , every sport they play. It is very funny and Adu is in splits every time we read this to see the extent to which Lola can go to win (he knows he does the same). His favourite is the game of snakes and ladders where Lola climbs up the snakes and becomes a snake charmer to win. Adu is exactly like Lola and wants to win all the time. Whenever there is a fight between Adu and Divit because Adu wants to win, I just have to remind Adu what Lola says at the end- "Charlie, you don't have to win all the time, you know!" Amazing book about a naughty little sister and a caring big brother. Perfect for siblings to laugh, care and love each other.
A book about school- Time for school No Worries by Lara Ede and Rosie Greening
This is an absolutely delightful book that every child will relate to when they are starting school. Opening up of schools and getting back to physical school has been the biggest challenge for all our little ones. In this book, the monsters come together to make every problem seem very little. After reading this book, Adu knew School will be fun, teacher will be nice and helpful, there will be different kids but he will surely be making friends and whenever he needs help there will always be a grown up to help. But the best message is – everybody makes mistakes and they learn from them. Each day in school is like a new learning, a new adventure. There is lots of learn and loads of fun to have. Adu is really looking forward to meeting his friends again and meeting his new teacher soon.
This book can be ordered from Scholastic India via our kbc storefront as well. Scholastic India always has special offers on.
A Rib tickling book- Funnybones written by Janet & Allan Ahlberg
Adu can't stop laughing every time we read this book. The story is about a big skeleton, a small skeleton and a dog skeleton who set out on a dark dark night to frighten somebody!! They are totally hilarious. The big skeleton is always scratching his skull and the small one is giving silly ideas. But the funniest is when the dog skeleton crashes into a tree and turns into a pile of bones. How they try to join the bones to make the dog while singing some silly songs and get it wrong every time is indeed too funny. We have read this so many times but it never ceases to give us a belly bursting laugh. We read the book on a sad day to laugh, on a happy day to laugh harder and a messy day to make it all better.
A book By an Indian Author- A Tangle of Brungles by Shobha Viswanath and Culpeo S. Fox.
If you love witches and all things spooky, you will love this one. When the witch with a wart decides she wants to marry, it was decided to summon Brungle, the king of her heart. And to bring Brungle to life, they had to brew the great brungle stew. In went all things creepy and the song was sung but Brungle didn't come out!! Thankfully the old witch knew how to fix it and out came a tangle of brungles with not one but twelve heads, a dozen tails and neon nails. A brungle per witch is rocking indeed!! A book written with rhyming text and beautiful illustrations. There are lots of collective nouns that we learnt in this book.
An award winning Book- A chair for my Mother by Vera B. Williams (Caldecott Honor Book)
A beautiful story of hope, courage and determination. Rosa and her family lost their everything in a fire a year ago. They survived but what was left of the house was only ashes and charcoal. They moved into a new house where Rosa lived with her mother and grandmother. Setting up the new house was not easy but everyone came forward to help. What was missing was a chair for her mother to rest after a hard day of work. She kept collecting coins in a jar and soon there was enough to buy the chair! Heart warming story of hard work and determination that makes you believe that one should never lose hope!
A book with a female Protagonist- The Birthday Invitation written by Lucy Rowland & Laura Hughes
This makes a perfect book for birthdays. I had got this for Adu on his 3rd birthday but he still loves to read this dearly. Ella wakes up one morning all excited because it's her birthday the next day. She sets off with her invitations to invite her friends for her special day. Unfortunately one falls to the ground but fortunately a wizard gets it. The invitation flew through many hands from the wizard to the pirates to a parrot to a princess to a knight to a pilot and finally lands back in her pocket. Do you know what this meant?!! Read the book to find out! A perfect book to set the rhythm of the special day, full of imagination and beautiful illustrations.
A book that breaks gender stereotypes – The Viking who liked Icing written by Lu Fraser and Mark Mckinley
Again this was a category that we couldn't agree on so I had to look for a new one to make peace. The story is about two viking siblings- Leaf the brave viking girl and her brother, Nut who was just her opposite. Leaf loved to swing her sword, was perfect with her bow and arrow, loved climbing mountains and was great at swimming in the icy lakes. But Nut didn't like any of these. He loved and was really good at one thing-Baking Cakes!! But was that what a Viking is expected to do?? A beautiful story that encourages one to follow their dreams irrespective of the gender. Being yourself is the only key to happiness.
A scholastic Book – The Magic School bus- Wet all over
We are huge fans of Magic school bus series. Adu wanted to learn all about the water cycle because his elder brother was doing it in school. So we joined Ms. Frizzle and her class to learn all about water. These books are amazing because they explain the science concepts in the most beautiful and fun way. The magic school bus is magical and can transform itself into anything and take the kids anywhere. In this book, the kids become water themselves to learn all about it. It is fun to see how they rise up in the sky when they become water vapour. Adu loves to imagine he is one of them. The whole cycle of water moving through different states of matter is explained in a very simple way in this book that Adu could understand easily.
This book and the entire MAGIC SCHOOL BUS SERIES can be ordered from Scholastic India via our kbc storefront as well. Click our special kbc storefront link and type The Magic School Bus: Wet All Over- A Book About The Water Cycle. in search. Scholastic India always has special offers on.
A Zayn and Zoey Book- Life Cycle of a Hen with Zayn & Zoey
We totally and madly love Zayn & Zoey Books. These books make non fiction so interesting with just the right amount of information, fun facts and engaging activities. Life Cycle of a hen is from the life cycle set which talks about the different stages in the life of a hen. Starting from laying eggs to the eggs hatching and small chicks coming out, to them growing into young adults called pullets, it takes about six months for the pullets to finally grow into adult hens. The fun facts at the end are so amazing. Did you know a hen with a white earlobe lays white eggs and the ones with a red earlobe lays brown eggs?!!
ONLY KBC MEMBERS HAVE A SPECIAL COUPON CODE KBC15 which will give you 15% OFF when you order directly from the ZAYN AND ZOEY website. Simply click this link that takes you to the Zayn and Zoey shop on their website.
A non-fiction book/encyclopedia- Wildlife of India by Sonia Mehta
This book is from the Discover India series. With Daadu Dolma, Mishki and Pushka we travelled across various habitats to learn about many animals, few of which are endangered. The book is divided into sections – Creatures of the land, Creatures of the water, Feathered Friends, slithering around and also talks about the National Parks in India. Each section covers wide variety of animals, some of them we hadn't heard of till we read this book. Did you know of these cheeky fellows called The Lion Tailed Macaque which is a type of monkey? They are endangered because of deforestation. The books has fun facts and there is an activity on every page which makes non fiction a fun read too.
A mystery/ Adventure book – Press Start – Super Rabbit Boy Powers Up by Thomas Flintham
Boing Boing! Super Rabbit Boy is all set to find the super power up that the evil King Viking is looking for. But Super Rabbit Boy has to reach there first else King Viking will finish the animal land. Crossing the bridge of boredom, climbing the mirror mountain, fighting with all gobbling goblins, making his way through the deep dark forest he finally reaches the secret dungeon where super power up was kept. An adventure awaits him there and with Plib the Plob he unlocks all the powers up to finally reach the super power up. Super fun and keeps Adu go boing boing all through the story. He can read this at any time of the day.
This book and the entire PRESS START SERIES can be ordered from Scholastic India via our kbc storefront as well. Scholastic India always has special offers on.
A book on Space/Solar System- National Geographic Kids – Little first Big Book of Space by Catherine D. Hughes, illustrated by David A. Aguilar
National Geographic Kids books are absolute treasures. And this book is no different. Beautiful pictures get the attention right away and the precise information makes it the perfect read. We learnt that the same side of the moon always faces Earth. We were beyond thrilled to learn that most of Venus is covered in Lava, the rocks that come from volcanoes. Venus has a volcano called "Maat Mons". Adu was super excited to know that Pluto was named by an 11- year old girl. Every page keeps the excitement high and makes you fall in love with outer space.
A book on Any Festival- Ram and Sita- The story of Diwali written by Malachy Doyle, Illustrated by Christopher Corr
We love this book for the beautiful illustrations. The story of Rama, Sita, the ten headed Ravana and Hanuman is told in the most simple way to convey the importance of Diwali to kids. The entire story was no less than a superhero adventure for Adu. Rama fought against the demon king with ten heads to finally defeat him and free his beloved Sita. Diwali, the festival of lights is celebrated to mark the day of Ram and Sita's homecoming to Ayodhya. Reading this every time makes us believe that good will always win over evil.
A Book about a place in India- Machher Jhol by Richa Jha, illustrated by Sumanta Dey
I had bought this book just seeing the name and cover. Machher Jhol as a dish is so very special for every Bengali. But when we read this book, we understood how this machher jhol was extra special for Gopu. A boy who had that courage and love for his father to brave up to go out alone and get the machher jhol (fish curry) made for his ailing father just to make him feel better. Story of the beautiful bond of father and son in the most loved city of Kolkata has my heart forever.
To order this book or any other acclaimed book by Pickle Yolk Books, please be sure to use kbc's Special Promo Code KBC50 to avail a discount of Rs. 50 on any book you purchase from the Pickle Yolk Books Shop (on their website).
A Book That Talks about Food- What's for lunch? Written by Sarah L. Thomson , illustrated by Nila Aye
I had got this book for Adu because he has always been a very fussy eater. I wanted him to know the importance of each food that we eat. The book beautifully explains about the various nutrients that are essential for making giving our body a balanced diet. The importance of each item is explained with wonderful illustrations. The fun part is that there is a list of food items against each nutrient which gives the kids an idea on what they are eating and how it is helping them to grow. This is from Let's Read and Find Out Science series and they make great reads with the simple text and engaging illustrations.
A Bilingual Book- Four Friends- A Panchatantra story which is retold by Kala Sasikumar and illustrated by Proiti Roy
This is Adu's very first bilingual book (Eng/Hindi). This is a story of friendship about four friends- deer, crow, mouse and tortoise. How they help each other and work as team using their presence of mind to free the deer from the clutches of big hunter teaches us to always fight and never give up. The language is very simple and the illustrations have a folk painting style which makes it so bright and catchy for young readers.
An inspiring Book-The Brave Parrot written by Chinna Chilaka
This is a karadi tale book and the illustrations are just amazing. This is the story of a very brave parrot who lived in a jungle with many animals and birds. But when a bolt of lightning hits a tree and spreads into a full fire, all the other birds fly out to save their lives. But this little parrot refuses to leave the tree on which it lives. She just can't bring herself to leave the tree where she was born and that gave her shelter all this while. She uses her imagination and gets water drop by drop from the nearby river to douse the fire. Will she be able to save the tree?? Like they say when there is a will there is a way. The story of love and friendship, of responsibility and courage is what this story is all about. Adu loves this because this books tells you to never lose hope and keep trying.
A Book by your favourite illustrator- There's a bug on my arm that won't let go written and illustrated by David Mackintosh
Have you ever felt there is a bug or a fly who just loves to hang around you?? There is this little boy who is exactly caught in such a situation. There is a bug on his arm that is just not ready to leave him yet. His dog couldn't help, the cat decided to ignore, his friend chose not to come out to play and he was left alone with the bug. No matter how hard he tried, it just loved this little boy. The book reminds us it is important in life to stick around for what belongs to you-like this bug.
A book by your favourite author-Show and Tell by Rob Biddulph
Rob Biddulph is our very favourite author and we enjoy all the books we have. But this one is special. A story about a show and tell event in school where every child tries to do his or her best. Kids have really gone that extra mile – there is a tin of blue spaghetti, a laser sword, a bunch of venus flytraps, a racing car, Big Ben, a volcano, the Moon and there are adventures waiting. Who do you think wins the prize? The message in the book is that even though tiny things may look boring they can have magic in it.
A new author you were introduced to – The Cave written by Rob Hodgson
This is a story that comes with a big surprise at the end. The story is about a cave where lived a little creature who never came out because of a wolf. And the wolf is always waiting outside the cave asking the little creature to come out and play. But nothing that the wolf says is enough to make him come out. Finally when he starts feeling hungry, the wolf is able to lure him out with a sprinkly doughnut. Hold on to your chairs because what happens next is unexpected. At this point we laugh out holding our tummies…
A book that helped address an issue- The Truth according to Arthur written by Tim Hopgood, illustrated by David Tazzyman
Let's meet Arthur who is very much like any of our kids. He knows he has made a mistake by riding on his big brother's bike and scratching his mom's car but he doesn't want to accept it. He tries everything – bending it, stretching it, hiding it, disguising it and finally ignoring it! He makes such funny stories but no matter how hard he tries, he just knows the best way is to deal with it head on. The best way is to accept the truth. A great book that talks about fibbing in a fun and relatable way. When I see Adu is trying to hide things, all I have to say is – Come on..be my Arthur and tell me the truth. Books have such impact.
A book on Potty Humour- The Dinosaur that pooped a Princess written by Tom Fletcher & Dougie Poynter, illustrated by Garry Parsons
I never knew talking about potty can be so funny till I had these boys. Turns out potty humour is the best one that can always make you poopily happy.
Dinosaur who pooped a princess is Adu's very loved book because of many reasons. It has a dinosaur, there is a boy whose steed is the dinosaur and it has many characters from various rhymes and fairy tales. The story is about a boy looking for a princess who needs saving and he has set out with his steed-the dinosaur. The dinosaur keeps eating everyone they meet on their way. He gobbles up the ginger bread man, the three little pigs, prince charming, dragons, the troll, the witch and the giant from Jack and the beanstalk. By the time they reach the princess's tower, the dinosaur has a ginormous belly but the princess is nowhere to be found. How can they reach the very top of the tower? The dinosaur thinks fast and poops the most magnificent spray of poo fountain and they shoot up to the tower. Fairyland comes out in the smelly poo shower. The princess is angry at all the mess, moves her magic wand and all the poo vanishes. Ohh wait.. it's not over…. you have to read the book to find out what happens next because by now we are rolling on the floor laughing.
An interactive book with an unconventional format- Wild Animals – A mix -and-match book by Sophie Corrigan
This is such a fun book to make some funny crazy mixed up animals! The book comes with panels – we just love to mix and match them and create our very own funny animals. This book is super for kids when they start blending letters and learn to make words! Fun and learning together.
A picture book with more than 40 pages- Harold and the Purple Crayon written by Crockett Johnson
Meet Harold, the little artist who decides to go on a perfect moonlit night. So he sets off with his purple crayon. This book is all about his imagination of how he is traveling through the night. Adu loves this book because he loves his pretend plays and feels Harold is just like him.
A hook book by Duckbill- Homework written and illustrated by Lavanya Karthik
Homework is about this little boy and his tale of how diligently he has done the homework given by his teacher. The homework was to find an egg and keep it warm and safe, to wait and watch till the egg hatches. So set out to look for the egg – he searched high and low, deep and far until he found just the perfect egg!! An intriguing tale of a child's version of why he didn't have to get the homework to school because…. oh we can't tell you that!
A book on being eco friendly- Trees- A lift the flap eco book about protecting our planet illustrated by Carmen Saldana
This is a ladybird eco book which has responsibly sourced recycled board, plant based inks and minimal plastic glue.
This one is about trees and their importance in maintaining the ecological balance in nature. It talks about the different parts of trees, different types of trees, how the trees change their appearance across different seasons and most importantly how deforestation is leading to global warming and the effect it has on people and animals. The last section is about how we can help by planting more trees, using or wasting less paper. It is a lift the lap book which makes it fun to read and has minimal text thus making it simpler to understand.
A book that was gifted to you-The Hackney Martian Written by Paul Brown, illustrated by Rowena Blyth
This story is about Sam who sees a meteor one day and thinks that nothing interesting happens to him. Just then, out in space Max the Martian, gets caught up in a meteor shower. Spinning and tumbling through space, Max lands with his spaceship on a tree where Sam lived. Sam suddenly had interesting things happening and he knew he has to help his martian friend to hide him from everyone. The two of them set out on a very exciting journey through underground tunnels, past guard's office, through laser beams to finally reach the Vault in the tower of London and get that diamond which is essential for Max to mend his spaceship and return home. It is indeed a beautiful tale of friendship and the adventure they have together.
[Note from Team Kids Book Café: For your convenience, affiliate links (MARKED IN PINK) to some of the book titles & images have been added to enable you to buy the books from AMAZON, should you wish to! A very small amount of money comes to kidsbookcafe.com when you purchase a book via the amazon affiliate link provided (at absolutely no extra cost to you!). Do let us know if you need information about other children's books by writing to asha@kidsbookcafe.com.]