Before Asha knew of Charlie and Lola books, she discovered the TV show on a channel called CeeBeeBees when her daughter was 2 years old. Once she saw a Charlie and Lola episode, she realised the high quality and humourous content (both in terms of animation and storyline) was perfect to address any of the Terrible Twos dramas she was going through or likely to face in the near future. Plus, it made the perfect screen time introduction.
And then Asha discovered the books and realised that Lauren Child – the creator of Charlie and Lola series – was a Godsent to every parent, for each book was on a relatable topic and addressed every possible issue a toddler/pre-schooler would face. In the most hilarious way!!! The stories revolve around two siblings – Charlie (older brother) and Lola (younger sister). Lola is the impatient toddler/pre-schooler and the drama queen who goes through every issue one can possibly imagine! Charlie is her patient brother who comes up with creative ideas to address all her issues – with logic, through an incident or story and she understands that he is right and mends her ways! The storylines/topics are relatable, the plots and incidents are super engaging – actually funny, and the illustrations are award winning. Each book is brilliant and perfect for 3-7 years – though one can even read them out loud to two year olds as well. If you have two kids – you must have some Charlie and Lola books. If you love funny books with bright vibrant illustrations – look no further. And of course if you need to send a positive message in a creative way to your smallie – thank Lauren Child 🙂
The opening lines of every Charlie and Lola book are:
I have this little sister Lola.
She is small and very funny.
So as you can guess, the entire book is narrated in Charlie's voice and when he wants to share Lola's perspective, he says [this is an example]
Lola says,
"I will not ever never eat a tomato"
We've curated a list of some of some of popular ones that get recommended in our facebook group from time to time. Do share the ones you have and enjoy – we'll include your quotes as well!
I Will Not Ever Never Eat A Tomato – for fussy eaters.
This is an award winning book – it has got the Kate Greenaway Medal!
Asha has this book as Aarini doesn't eat raw tomatoes, but she bought it recently when Aarini was already a teen! In her words –
Charlie begins by describing what all Lola refuses to eat (comes down to everything – typical of fussy eaters). So Charlie gets creative and describes every piece of food in an exciting way. He calls carrots, "orange twiglets from Jupiter" – the page shows him in space eating carrots with an alien! Similarly peas are "green drops from greenland"….! In the end she agrees to eat up!! Such a wonderful way to engage fussy eaters and get them to eat :). I wish I had this book when Aarini was a smallie 🙂
I Am Not Sleepy and I Will Not Go to Bed – for children who don't want to go to bed.
Amardeep has this book. Quoting her:
When we were struggling with bedtime, this book came to our rescue. Lola's hilarious excuses to postpone bedtime, and Charlie's boundless patience, make this a very fun read. A completely non-preachy, fun way to approach bedtime. Fair warning, your child will want "pink milk" after reading this one!
Charlie and Lola: But Excuse Me That is My Book – about getting possessive about a book, encourages kids to share and helps introducing kids to new books!
Amardeep on this book:
This was a book that was recommended to us by Asha when my child refused to share anything. The book though mainly about being possessive about a book, has helped my child be more open about sharing, as well as broaden his reading choices. It has even helped has address being stubborn to an extent, as Lola insists on reading only one book and nothing else. This is one Charlie and Lola book that I would recommend all toddlers to read.
I Am Too Absolutely Small For School – helps with those first-day at school jitters.
Amardeep has this book as well. Here's what she says,
This is an absolutely delightful book that shows Lola feeling anxious about attending school for the first time, and making funny excuses to not have to. Charlie patiently explains why she should go to school. But the best reason to attend school, is one that Lola finds out for herself on her first day of school, when she makes tonnes of new friends! We read this book often nowadays, in preparation of physical school re-opening, and I find it perfect to convey that school is more than just academics – you will have tonnes of fun there too.
I Can Do Anything That's Everything All On My Own – Amardeep has this one.
Charlie and Lola: I Will Be Especially Very Careful – about being careful
Charlie and Lola: One Thing Board Book – a picture book that makes counting and sums fun
Slightly Invisible – about being inclusive
Opposites : board book – learning word opposites
Shapes: Board Book – learning shapes
Numbers: Board Book – learning numbers
Charlie and Lola: I've Won, No I've Won, No I've Won! – about being fair. This book comes highly recommended by Gauri Aras & Asma. Quoting Gauri,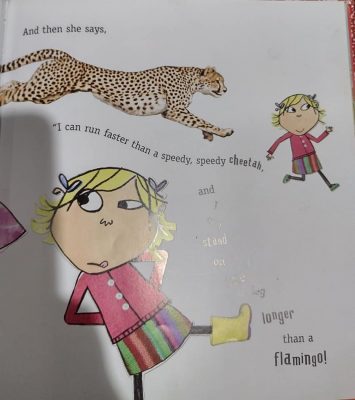 I was searching for books on siblings when we were going through a phase where my younger one wanted to tear and break whatever her dada (elder brother) was playing with. This is when Asha Chaudhry ji suggested Charlie and Lola books and I am so thankful to her We picked up I've won No I've won. This book talks about how little sister Lola wants to compete with elder brother Charlie for everything to win. The cute banter between siblings will melt your heart. My son immediately associated himself with Charlie and often say his sister is funny and cute like Lola. The book ends in a real interesting way leaving a lot of room for discussion. This is a book which imparts a very important lesson without being preachy.
Help! I Really Mean It! – about honesty
Charlie Is Broken! – about being helpful and kind
Charlie and Lola: Whoops! But it Wasn't Me – about honesty and owning up to your mistakes
Charlie and Lola: We Honestly Can Look After Your Dog – about honesty and responsibility
Charlie and Lola: My Best, Best Friend – about friendship
Charlie and Lola: You Can be My Friend – about making new friends
You Won't Like This Present as Much as I Do! – about being self-less. Also available on kindle.
Charlie and Lola: Look After Your Planet – about the importance of recycling
Charlie and Lola: I'm Really Ever So Not Well – about the importance of caring for loved ones
Charlie and Lola: Help! I Really Mean It! – about asking for help when you really need it and not playing WOLF, WOLF!
I Am Really, Really Concentrating – about focussing on that one thing you could be good at
But I Do Know All About Chocolate
Charlie and Lola: We Completely Must Go to London
Charlie and Lola: Snow is my Favourite and my Best
Charlie and Lola: We Are Extremely Very Good Recyclers about recycling toys, plastic, everything!
Charlie and Lola: My Party Sticker Book
Charlie and Lola: I Completely Must Do Drawing Now and Painting and Coloring
Charlie and Lola: My Completely Best Story Collection
Many thanks to Amardeep, Gauri, Asma for helping us curate this post. A special shout-out to our in-house intern #the13yearold for doing all the heavy-lifting 🙂
[Note from Team Kids Book Café: For your convenience, affiliate links (MARKED IN PINK) to some of the book titles & images have been added to enable you to buy the books from AMAZON, should you wish to! A very small amount of money comes to kidsbookcafe.com when you purchase a book via the amazon affiliate link provided (at absolutely no extra cost to you!). Do let us know if you need information about other children's books by writing to asha@kidsbookcafe.com.]