Book Title: Dancing With Birds
Author and Illustrator: Bulbul Sharma
Publisher: Talking Cub, an imprint of Speaking Tiger Books
Type: Paperback
Recommended Age: 3-6 years
My 5 year old loves birds, but thanks to reading National Geographic and Usborne books, he knows more about puffins and penguins than he does about the birds around him! When we received this wonderful book, Dancing With Birds, I knew it was perfect for my bird lover.
Written in rhyme, the book introduces the readers to birds that they see around them like the lorikeet, owl, crow, woodpecker and many more. Through beautiful rhyming words, we dance along with the birds, literally hopping from tree to tree, while at the same time learning a lot about them!
The book has been written in a very easy to read language, and my 5 year old could easily read the entire book by himself. The illustrations of the birds make the book so beautiful and make sure it appeals not only to children but everyone (My 70 years+ mother, me and my 5 year old have all equally enjoyed this book!). 
The amazing part of the book is how it seamlessly weaves in facts about the birds and their behaviour into the rhyme. Take this paragraph on owls for example, –
"Look up, look down, look all around,
says the wise owl, 
Hooting
As it goes hunting
it twirls its feathery head
but never before dawn goes to bed"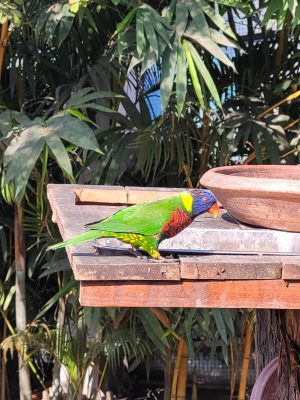 My 5 year old thoroughly enjoyed the book, and pushed us to visit the Bird Park in Chandigarh. There he happened to spot a lorikeet, which is the main bird character in the book. Needless to say, he was absolutely delighted and whispered,
"I'm dancing with the birds, I'm dancing with the birds"!
When a book sparks so much joy in a child, you know there is something very special about it!
If you too are a bird lover and wish to order this book from Amazon (kbc affiliate link),
CLICK & BUY NOW!
Disclaimer: We are proud to be a part of the #kbcReviewerSquad and received this book as a review copy from the publisher.