Title: My First Fun Animals Book
Author: Suvi Naidoo
Illustrator: Devashish Verma
Publisher: Talking Cub, Speaking Tiger Books
Type: Board book
Age group: 1 – 4 years
My daughter, Rahael, is 20 months old as I write this review, we have been reading together from the time she was a few days old and our copy of My First Fun Animals Book written by Suvi Naidoo and illustrated by Devashish Verma threw a surprise that I did not expect. Bear with me while I briefly tell you why I am impressed 🙂
The book brings to the child 8 animals/birds using common household objects or pieces of clothing that a young toddler is gaining familiarity to in his or her environment. On the page where the ants are in pants, she enthusiastically tugged at her own pants while looking up with a lit up face!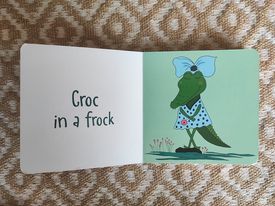 The author uses short phrases of simple rhyming text to support the illustration encouraging the young toddler to point and recognise and to also try vocalising. What I particularly enjoyed was that there was enough happening in the pictures that encouraged conversations beyond what the words prompted directly. I find that this open-endedness of a book allows for language rich conversations with the child.
The illustrations are funny – a bear obviously does not sit smugly on a chair sipping chai nor does a giraffe ride a scooter wearing a scarf but I wasn't sure if Rahael at 20 months would get the humour. Lo and behold, I was completely taken aback when she laughed seeing the illustrations. The book revealed to me that my young toddler was beginning to tell the difference between reality and absurd. (On a side note, since then she has also begun to enjoy Blue Hat, Green Hat by Sandra Boynton which also bases its humour on a similar premise of impossibility). To me, books have been so instrumental in observing, recognising and aiding her developmental needs.
As a parent with a love for illustrations, I loved the drawings! They were simple yet beautiful. However, I did feel the cover graphics (composition, choice of font size, caps vs sentence-case, etc) was unappealing compared to the beautiful inside pages. However, it didn't matter to my daughter and since the first read we have read it every day multiple times.
A book loved at first go? For sure, yes! I'm mighty pleased and have promptly added the book to our weekly rotation.
This new book on the block is published by Speaking Tiger Books and I want to take this opportunity to appreciate the kind of quality books they've been publishing. Speaking Tiger Books have published one of my favourite titles that I like to share with my daughter for an open ended conversation – The Tree Book by Mehlli Gobhai.
A big thanks to Kids Book Cafe for sending us this review copy of My First Fun Animals Book by Suvi Naidoo and illustrated by Devashish Verma. It was an absolute delight and is a great pick for toddlers 1.5 years and above.
There is another book in this fun board book series. You can read the review by Shraddha here.
If you enjoyed this review and wish to buy the book from Amazon (kbc affiliate link),
CLICK & BUY NOW!