Title: My First Funny Jungle Book
Author: Suvi Naidoo
Illustrator: Devashish Verma
Publisher: Talking Cub, Speaking Tiger Books
Type: Board book
Age group: 1 – 4 years and beyond!
PORTMANTEAU! Well that's a French word I literally searched on Google after reading the amazing MY FIRST FUNNY JUNGLE BOOK (Words by Suvi Naidoo Pictures by Devashish Verma) Why?? Because have you ever heard of or seen an ELEPANDA or a CRONKEY? Well, you will, once you read this book!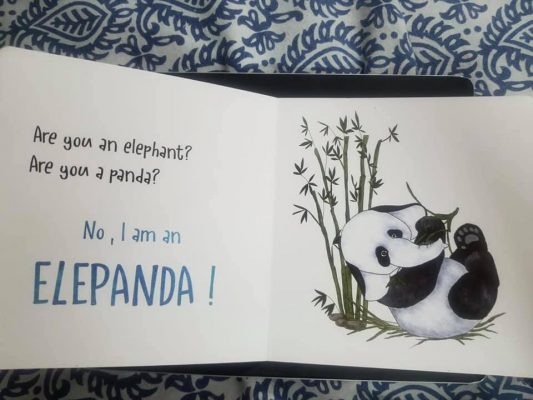 The author has let her imagination fly and created an interesting team of hybrid animals by giving them quirky names and pictures. Remember ELEPANDA? CRONKEY? While the former is shown as the hybrid of ELEPHANT and PANDA, the latter is a mix of CROW and MONKEY.
I enjoyed reading it to my kid. And I really loved this idea of blending two names and still making sense. That's what PORTMANTEAU means!
Guess what, my kid and I have started blending names and words too. It's a part of our daily exercise now. My kid recently came up with her own set of interesting words. Can you guess what OCTODOLP would mean?
If this concept of mixing words interests you, I must recommend this book for the fun that awaits you and your child.
You can read Ann's review of MY FIRST FUN ANIMALS BOOKS in this series.
Suvi Naidoo's other board books can be found here.
If you enjoyed this review and wish to buy the book from Amazon (kbc affiliate link),
CLICK & BUY NOW!