Title: My Raksha Bandhan: Promise To Protect
Authors: Priya Kumari and Komal Garg
Type: Paperback
Age group: 4+ years (author recommendation 3-7 years)
Raksha Bandhan has been a very special festival since it was my 5yo son A's first festival when he was hardly around 2 months old. When we came to know we were expecting our second child we were very happy we could celebrate this festival at home with both of our kids (irrespective whether we had a boy or a girl). Coincidently Raksha Bandhan was my daughter S's first festival as well which we celebrated when she was about less than a month old. So when we received this book as a prize for the #kbcmyrakshabandhanreadaloud contest we were super excited to read it.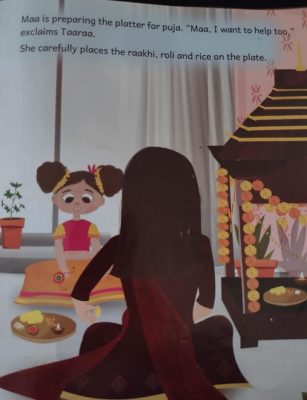 The book is written by Priya Kumari and Komal Garg. It is very colourful and describes how a little girl celebrates Raksha Bandhan at home with her brother. The story behind the festival is explained in a beautiful way. There is a very nice twist as well in the way the little girl and her family celebrate Raksha Bandhan.
This twist is my son's favourite part of the book but I don't want to spoil your surprise so not elaborating on it. He even narrated the entire story to his grandparents after reading it!
In the end there is a glossary which explains the terms used in the book in a simple language. We thoroughly enjoyed reading this book. Thank you kbc for the wonderful contest and the prize.
If you enjoyed this review and wish to buy the book from Amazon (kbc affiliate link),
CLICK & BUY NOW!