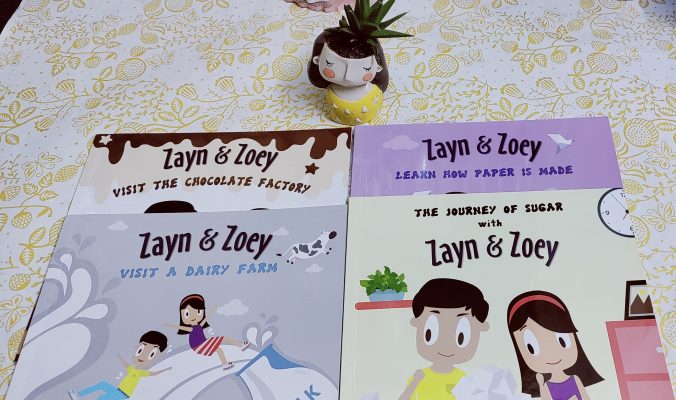 Title: Zayn & Zoey Natural To Processed Set
Author & Publisher: Zayn and Zoey Books (CURIOUS CONCEPTS PVT LTD)
Type: Paperback
Age Group: 3.5/4 – 8 years
Do you have a super curious child like mine? Who has a million questions from the time he/she wakes up to the time he/she sleeps?! They can be super curious about how, what, where, when, so on and so forth! Which is why these are just the perrrrfffeeeccct books you should have in your collection.
The Zayn & Zoey – Natural To Processed series is a set of 4 books. Each book covers the topic in simple language with illustrations that are bright and easy to understand. The process of sourcing the natural product to the final product is explained in step-wise, easy to understand graphics too. It's more like a dialogue exchange or conversation between the twins and the factory personnel.
What makes these books super intriguing for us? Lots of things! You see, the entire way the process is illustrated with simple, clear images and a beautiful catchy story line that's different for each book. There are fun facts and easily doable activities at the end of the book which are the icing on the cake.
Zayn & Zoey Visit The Chocolate Factory:
Who doesn't love an extra dose of love in the form of chocolate? This was the first book we read out of the set and Aarav's expression was like 'Alas!! chocolate grows on trees?' The story is set up around Mother's Day and the twins visit this chocolate factory to understand how it's made. Traditional method of conching has been explained showing transition to the modern methods used.
The Journey Of Sugar With Zayn & Zoey:
Today's children are pretty observant and so are Zayn and Zoey. Passing by a sugarcane field makes them curious about what kind of plant it was. The process begins with Aunt Ana telling them it's sugarcane, further explaining photosynthesis. And then they visit the sugar factory to know more about sugar making. While Aarav was a frequent consumer of sugar juice before the pandemic, this book clarified to him the whole process in terminology which is simplified for kids' understanding. This is another plus point about Zayn & Zoey books.
Zayn & Zoey Visit A Dairy Farm:
The dairy section of a super market can sure be super confusing! Imagine the many kinds of cartons of milk labelled homogenized, toned, pasteurized, etc, etc. Same happened with the twins when they went grocery shopping with dad and they had to pick whole milk. From there, they plan a trip to the dairy farm to understand how milk from the cows reaches the supermarket – packed under so many labels. From how milking was done in olden times to how it has transformed over the years; what are the different ways milk is treated, packed and labelled is explained amazingly. After reading this book, we changed our milk preferences at home.  
Zayn & Zoey Learn How Paper Is Made:
This book changed the course of how Aarav uses paper. He's become very conscious and even keeps reminding us that paper means trees and we should use paper mindfully. In this book the twins come across a protest about recycling paper to save trees. The school organises a visit to the paper factory, where they witness how wood is shredded, pulped and rolled into paper of different sizes and thickness. They also learn about recycling paper which can help save trees.
Of course, these books stirred up so many more questions in the 5yr old, but with answering every question we learned more together. If you haven't still got these in your stash the add them quick. They make an amazing way to learn.
ONLY KBC MEMBERS HAVE AN EXCLUSIVE COUPON CODE KBC15 which will give you 15% OFF. Simply click the red button below that takes you to the Zayn and Zoey shop on their website where you can buy this particular book. Should you wish to explore other Zayn and Zoey books on their website, simply click here. Be sure to use the coupon code KBC15. SHIPPING FREE ABOVE ORDERS WORTH RS 500!
USE CODE KBC15
If you wish to buy this book set from Amazon (kbc affiliate link), kindly click here.