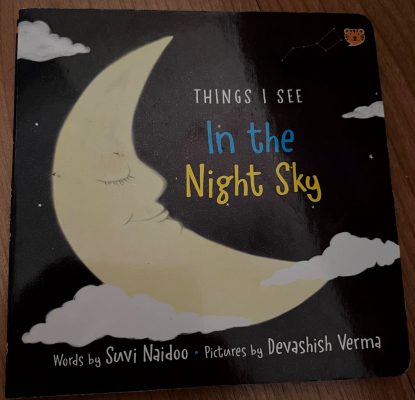 Title: Things I See In The Night Sky
Author: Suvi Naidoo
Illustrator: Devashish Verma
Publisher: Talking Cub, Speaking Tiger Books
Type: Board Book
Age group: 0 – 3 years
It is a simple book that will teach your child the concept of night times. You should definitely add Things I See In The Night Sky to your night time reading schedule.
Through the use of various things that are visible only in the night, the book reinforces the night time concept quite strongly and at the same time helps the kid learn about the various items appearing in the night like nocturnal birds.
You can easily build up a story with the help of the content on each page, like the page where the author is talking about night birds flying in the sky, you can teach and interact with the kids on what all animals and birds come out in night.
On the half moon hiding in the sky you can talk about various phases of moon and we really enjoy doing that.
We like the visuals in the book too and he is particularly excited by the lightning and shooting star page. This is now a part of our regular bedtime routine.
If you enjoyed this review and wish to buy the book from Amazon (kbc affiliate link),
CLICK & BUY NOW!