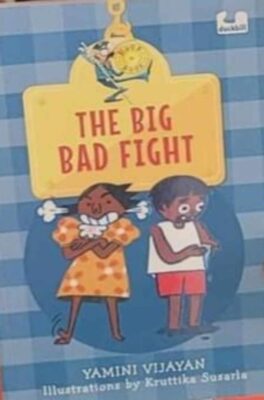 Title: The Big Bad Fight  (Hook Book)
Author: Yamini Vijayan
Illustrations by: Kruttika Susarla
Publisher: Duckbill Books (an imprint of Penguin Random House India)
Type: Paperback
Pages: 40
Age group: 4-7 years
Rajveer and I have read The Big Bad Fight many times already and find it very engaging.
It's a story about two children, Anna and Kichu who are best friends and have a fight over a game of Snakes and Ladders (relatable much 🙂 ). In this state of anger and conflict they both end up doing some hurtful things thus causing a rift in their friendship followed by silence/avoiding each other for a long time. Will they mend this rift? Will they realize they were both wrong in some ways and forgive and forget? Will there be any thoughtful/heart touching gestures to repair the hurt and bridge the gap? To find out answers to all of these, get your copy today!!
The story touches upon many relatable themes of friendship, sportsmanship, repairing broken bonds etc. Thus ample opportunities for conversations around taking losing in one's stride since winning and losing are two sides of the same coin. Also, how sometimes we may end up hurting those we care about and it's repairable since the bond is stronger than temporary friction. We also talked about why there are much better ways of controlling anger than lashing out and how sometimes we end up being hurtful to those we love the most/feel the most comfortable with and how there may be a need to find a way to handle things better when things don't go our way.
Let's keep in mind Rajveer is 4, so I had to kind of agree winning is more fun but accepting that all we can do is try our best and have fun spending time with friends/family more than the outcome! Also the book highlights both Anna and Kichu are collectors of incredible things like stamps, coins etc. This touched a little bit of a nostalgic nerve since I don't see too many kids doing it these days and I don't blame them since how much do we write physical letters anymore or use coins for that matter. Sigh!!
We did have some wonderful conversations around how his Mama had a wonderful stamp collection and his great grandmother an enviable coin collection. Think it may be time to introduce him to such concepts so he can decide if he wants to be a collector. Can only hope it's not rocks or dead insects or the likes.
The book also gives you a glimpse of small beachside town/village and its charm! Thus all in all, it's a fun and enjoyable read which can ignite some insightful conversations! I will take this as a cue to order more Hook Books!
There are other Hook Books published by Duckbill which are just as funny and engaging as this book is. You can read reviews of other hook books, KITTEN TROUBLE here. And Shoo! Crow here. Not to miss,
I Want A Pet!, Cyrus the Whyrus, Passepartout, Is That You?
Get Hooked: The Hook Book Box Set – a set of 11 Hook Books (440 pages) is also available which works out to be more economical!
If you enjoyed this review and wish to buy the book from Amazon (kbc affiliate link),
CLICK & BUY NOW!
Disclaimer: Payal is part of the #kbcReviewerSquad and received this book as a review copy from the publisher through kbc.