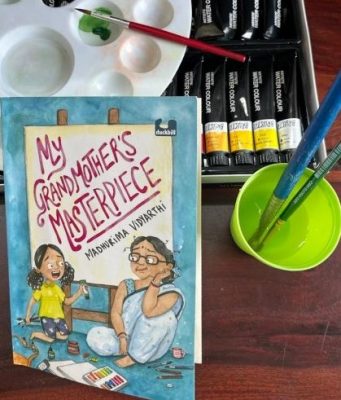 Title: My Grandmother's Masterpiece
Author: Madhurima Vidyarthi
Illustrator: Tanvi Bhat
Type: Paperback
Publisher: Duckbill (Penguin Random House India)
Pages: 88
Age group: 7 – 10 years
I am posting this review on behalf of my soon to be 8 yo son, Sharav.
My Grandmother's Masterpiece is Madhurima Vidyarthi's debut book, and the perspective that it adds to your reading spectrum is worth appreciating. It's a simple to read chapter book for young readers. It is a powerful, inspiring book about how Nini's grandmother, Minima, became a famous artist. It all started at the school painting exhibition where Riju's painting, was judged to be better than Nini's. Nini came home annoyed and thought it was all because of his special paint box with 52 colours from London. Now, all she wanted was colours from London. Nini's best friend, Minima, tried to calm her down by saying-
'You're a very lucky girl to have so many nice things. When I was a girl, I liked to draw and paint, but no one bought me any paints or brushes or drawing things.'
And after this, how the story unfolds is endearing to read. It was heart-warming to see how little Nini plays a pivotal role in helping Minima realise her dream. How two strong and determined women (Nini and Minima's daughter-in-law, Ma) come together to extend their support to Minima in fulfilling her long-forgotten dream will make your heart swell with pride.
On the other hand, Dada (Nini's grandfather) laughs off at Minima's desire to draw and paint will make you ponder how a woman's prime duty was to take care of the family first. Though, I loved when he also came in support of Minima towards the end.
It's inspiring to read about Minima's journey- taking the first big step to join art class, then from copying pictures to creating her MASTERPIECE. Her dedication and passion convince us that nothing should ever stop us from realising our dreams, not even our age.
I read this book with my granny, who told me that such discriminations were true. Earlier, women were rarely encouraged to work and many did not even have the privilege to study. Wait, I forgot to mention that Nini's tantrums and innocence add a smile to your face. I completely agreed with Nini on two occasions – first, there's no getting away from Ma. She knows exactly what you were doing, where you were and all the things you had not told. Second, Baba (father) – is two people mixed up in one. One is Baba-at-Work, busy and always on the phone. The other is Baba-at-Home; this one laughs a lot, jokes and plays carrom.
The illustrations in black and white add to the smooth flow of the narration. I loved Minima's picture the most. But, I wished to see Minima's masterpiece in the book. However, the brilliant story makes up for it.
Do you want to accompany Minima on her journey to accomplish her dreams? If yes, then get this masterpiece home at the earliest.
I am forever grateful to Asha Aunty & KBC for always sending us brilliant books to review, books that always win our hearts.
Happy Reading, everyone!
If you enjoyed this review and wish to buy the book from Amazon (kbc affiliate link),
CLICK & BUY NOW!