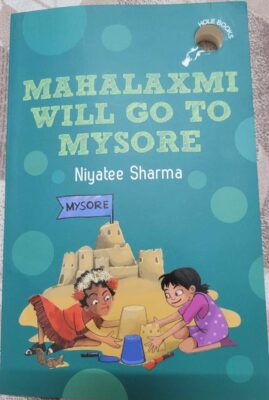 Book Title: Mahalaxmi Will Go To Mysore (hOle Book)
Author: Niyatee Sharma
Illustrator: Suvidha Mistry
Publisher: Duckbill, an imprint of Penguin Random House
Type: Paperback
Pages: 80
Recommended Age: 7 years+
I have a six year old son, who has recently transitioned to reading chapter books but he prefers reading books with colorful illustrations. When we received 'Mahalaxmi will go to Mysore', a hOle book, I was worried that he might refuse to read it since it has black and white illustrations only! However, the cover art of the book, depicting two girls (one with flowers in her hair) making a sand castle, made him curious enough to read the book. He was curious about "Mysore" – "What is it? Where is it? It must be a beach since they are making sand castles!" So, we first looked up where Mysore was on the India map, and then started reading the book.
Grade II is going on a class trip to Mysore, however, Mahalaxmi's parents refuse to send her as they find the expense "unnecessary". Ira, who has bonded with Mahalaxmi over the year despite their language, social and cultural differences, is upset that Mahalaxmi would not be coming to Mysore. She tries to understand why her parents might feel that a class trip is "unnecessary", and in consultation with her teachers comes up with an idea to help Mahalaxmi. But, will they be able to keep it a secret from Mahalaxmi? Will Mahalaxmi accept their help?
The book sparks discussions on many topics – mainly that of financial and social inequalities, along with prejudice and themes of friendship. What was really heartening was the way the characters in the book overcome their differences, and unite together for a cause – helping one of their own.
One of my favourite things about the book are the illustrations, and how they do such a good job of supporting the narrative of stark differences between Mahalaxmi and others, that is highlighted constantly throughout the book. For young children, these material differences – type of tiffin box, type of crayons can be a big deal, if equality is not a constant topic of discussion at home. The book helps have these discussions.
There is just one aspect of the story that did not sit well with me. When Ira tells her mother that Mahalaxmi's parents had refused to pay for the trip, calling it "unnecessary", (since they did not have extra money for it), her mother tells her that, "Perhaps, Mahalaxmi is an RTE (Right to Education) child", and supports her answer by saying that Mahalaxmi walks home, while all the other children go home in AC buses or cars. I found it unnecessary and prejudiced in itself to assume that if a person can't afford money (or refuses to pay for an optional class trip), they must belong to the RTE quota! Further, as a parent, I do not want my child to know about this quota (at this age), and neither do I want him to differentiate people based on it.
All in all, this is a beautiful book on equality and friendship, the way the author has depicted tiny little humans working together, selflessly is noteworthy. In today's day and age, where no one stops to think about anybody else, the author has seamlessly narrated a story about how one small child's selflessness and determination to help, can do wonders!
All of Duckbill's hOle books come highly recommended for the topics they cover and of course, their humour.
The bookset of 25 hOle books is also available and works out awesome for gifting throughout the year!
NEW! The Library of hOles Box Set Product Bundle – Import, 22 May 2023 – This box set has 33 hOle books!!
If you enjoyed this review and wish to spend time with Mahalaxmi's friends, you might want to buy the book from Amazon (kbc affiliate link),
CLICK & BUY NOW!
Disclaimer: We are proud to be part of the #kbcReviewerSquad and received this book as a review copy from the publisher through kbc.