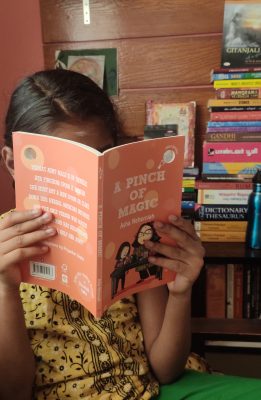 Title: A Pinch Of Magic
Author: Asha Nehemiah
Illustrator: Priyankar Gupta
Publisher: Duckbill (hOle Books)
Type: Paperback
Age Group: 6-9 years
What makes a children's book more appealing is how well the writer gets to the level of a child. In this book, the author, Asha Nehemiah packs in as much craziness as possible along with a balance of sense and sensitivity, quite efficiently.
We got this book as a prize for #kbcAPinchOfMagic contest and I must say, this story is as much interesting and funny as much as the prompt for the contest was.
A Pinch of Magic is a fun story in a South Indian setting revolving around a little girl, Veena, trying to help her aunt, Malu, who is in trouble. Malu who is a solopreneur selling herbal medicines is in trouble because of her broken pinching spoon without which she can't measure to accuracy to get her medicines right.
How Malu & Veena find their way to the solution even while one of the products has gone horribly wrong is what makes for the rest of the story. My daughter Miss. M found the story magical in a way Malu could come up with cool herbal products and especially their naming part.
Also, there was this particular mention of a postal address in the story that made us both burst out with laughter. The illustrator Priyankar Gupta's black & white sketches by the margin were perfect add on giving us a visual narrative of the story along with the pages.
I wish I could resist myself from saying this as it may be a spoiler but then, I can't stop mentioning it. When asked Miss. M for her most favourite part of the story, pat comes reply, the Guru. When asked why, she says because she is a woman.
It's a subtle portrayal but it doesn't go out of a child's observation. Now if you are someone to wonder what's that special about a Guru being a woman, well even I had the same doubt and only upon M's explanation I realized that most of the portrayals or even living examples of Gurus that she has come across are men and she is very clear about the difference between teacher and Guru.
So that is the success of a book, to teach even without teaching explicitly.
Also, not to forget, the typesetting of the book is so good for young readers, especially for kids who are shifting from picture books to chapter books.
We don't always need a storybook with morals at the end. Stories like this pack in values in the way of character portrayals or the settings, subtly yet very much observable and relatable.
Makes for a fun weekend read. Go for it. Happy reading.
All of Duckbill's hOle books come highly recommended for the topics they cover and of course, their humour.
The bookset of 25 hOle books is also available and works out awesome for gifting throughout the year!
If you enjoyed reading this review, you will surely enjoy reading this book. It's available on Amazon, so
CLICK & BUY NOW!