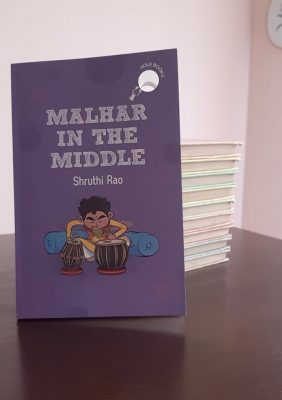 Title: Malhar In The Middle (hOle book)
Author: Shruthi Rao
Illustrator: Lavanya Naidu
Publisher: Duckbill Books (Penguin Random House India)
Type: Paperback
Age group: 7-10 years
I'm posting this review on behalf of my 7 year old son Abrar, as narrated by him:
I have recently read a hOle book "Malhar In The Middle" written by Shruthi Rao & illustrated by Lavanya Naidu. It is about a boy called Malhar, who wants to become a famous tabla player and perform along with his brother Kedar and friend Chetan. The trouble starts when they go to a big concert and Malhar notices that the singer is sitting in the middle of the stage. He asks if the singer is more important.
The book is filled with instances that made me laugh, but the funniest was the time when Malhar was being woken up by Kedar and they made their plans for BBS. Kedar was my favorite character from the book, who is very supportive of his brother, even though their interests clash at times.
What I liked about the story was that it's funny and emotional at the same time. It's balanced in illustrations too – there is a picture just where there should be and that makes the book even more interesting.
After reading Malhar's story, I feel that we should not give up easily on what our ideas and thoughts are, even if they are different from the existing rules.
I would recommend it to everyone!
All of Duckbill's hOle books come highly recommended for the topics they cover and of course, their humour.
The bookset of 25 hOle books is also available and works out awesome for gifting throughout the year!
If you enjoyed this review and wish to buy the book from Amazon (kbc affiliate link),
CLICK & BUY NOW!