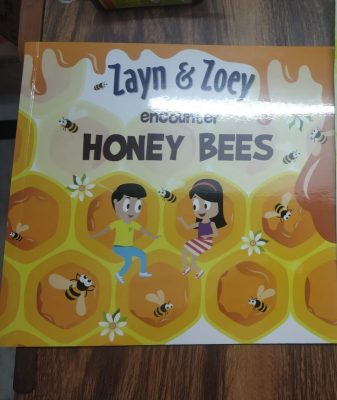 Title: Zayn & Zoey Encounter Honey Bees
Author & Publication: Zayn & Zoey Books [Curious Concepts Pvt. Ltd]
Type: Paperback
Age group: 3/4-8 years
Zayn & Zoey, sweet brother and sister twins are visiting Grandma's farm and playing outside. Suddenly Zayn rushes inside with pain in his voice as he got stung by a honey bee.
What follows next is an interesting conversation between grandma and kids who starts enlightening the kids about various bee facts in the midst of cleaning, wiping and comforting Zayn's swollen finger.
This attractive book is full of beautiful illustrations which keeps kids engrossed along with some mind-blowing facts which I am sure even adults are not aware of – Just like, is it a beehive or a bee nest? Why are the cells of hive Hexagonal in shape, etc.

Just like Zayn and Zoey got curious to know more about honeybees, my kid too got hooked and completely engrossed to know more about these little creatures.
Apart from information about Honey bees, this book also touches upon a few other types of bees and life-cycle of a honey bee.
And if this was not enough towards the end there are set of activities which kids can do to enjoy and cement their learning.
We did a colorful activity of making beehive with sponge and making bees with thumb impressions dipped in yellow paint. My kid enjoyed doing this.
We thoroughly enjoyed the book, hope you also do so!!
ONLY KBC MEMBERS HAVE AN EXCLUSIVE COUPON CODE KBC15 which will give you 15% OFF. Simply click the red button below that takes you to the Zayn and Zoey shop on their website where you can buy this particular book. Should you wish to explore other Zayn and Zoey books on their website, simply click here. Be sure to use the coupon code KBC15. SHIPPING FREE ABOVE ORDERS WORTH RS 500!
USE CODE KBC15
If you wish to buy this book from Amazon (kbc affiliate link), kindly click here.