I have a 3 + year old kid and if he could write, I am sure this will be his favorite monkey tale. He tries his best to narrate this story many times and hence I decided to share this with all of you on behalf of him during this #kbcKaadooMonkeyTales Contest.
There is always the first time – for my little kid, the first visit to any national park was Borivali National Park. He was then around 1 year old and he loved watching deer and monkeys. His favorite was a Mumma monkey with her baby. He was giggling with joy watching another mamma-baby pair.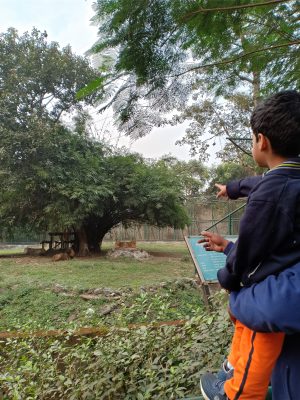 Next visit was when he was 2.5 years old. We visited Tata Steel Zoological Park and Dalma Wildlife Sanctuary. Everywhere he enjoyed a lot while watching different animals, jumping and giggling. Since everywhere monkey is one of the common ones, it caught his eye. He found monkeys with different shapes and sizes. Some were sitting with their babies, some were jumping from one corner to another, and some were swinging from the branch of the tree.
Actual fun started when he was back at home. He loved those monkeys so much he started pretending to be like a monkey. Every now and then "hoop, hoop, I am monkey baby and you are my monkey mamma", saying this he would start jumping from one place to another. Soon he figured out our clothes drying stand can be used like a tree-branch to swing. Voila! That became his daily fun activity; no need to tell you about the situation of my stand!
Next activity was climbing trees. He somehow imagined mumma's leg as a tree trunk, he would hold and climb on my one leg and would stay like that. Swinging from table to bed, riding on mumma's back soon became some other favorite monkey activities.
I knew Darwin's theory explains the evolution from ape or monkey to human. However, I have never imagined in my life to be a witness of reverse evolution! The after-effects of the national park and sanctuary visit are still going on and on.
ADDED BY Team Kids Book Café – 20 of our kbc members won wonderful prizes from Kaadoo Games. Since then we have been Kaadoo's Community Partners! Here is an EXCLUSIVE OFFER ONLY FOR OUR KBC MEMBERS! If you would like to grab any board game from Kaadoo Games – simply go to the kaadoo website here  and USE DISCOUNT CODE KBC30 to avail a 30% discount!
USE CODE KBC30