I am posting this fictional story on behalf of my daughter Lakshana Menon (8 years old) for the #kbcADayWithDaddy Contest .
I was writing names of things my father had to bring next week on my board. As soon as I was done writing on the board, I happened to tap on it three times and suddenly it cracked in between and revealed me a secret door!!! I was very surprised and excited to see the secret door, I thought and decided to spend a whole day inside the secret door with my dad.
I waited for my father to arrive, When he was home I tapped on the board three times and it opened again. When we were going inside we saw a paper and on it was written….
"Whoever finds this secret door they will be the owner of it (so he/she must be reading this paper). When you go inside you are in the world of magic."
Thanks, Eva, The old owner of the Secret Door
We went inside and there was a mesmerizing sight – the walls were painted in golden colour, there were beautiful decorations and there were doors that were labeled. It was already noon and I was very hungry, I decided to eat lunch with my dad. I searched for a room labeled with the name food and we could find one!
Cafetaria
We went inside the room and saw an empty fridge, inside it there was a pen and paper. I wrote the word burger and as soon as I finished writing we found many burgers on the table nearby. Magicccccc!!!!!!We both quickly finished lunch and went out of that room. I thought of checking on the other rooms and my dad agreed. The next room we went was labeled as…
Big Aquarium
We went inside and there we saw a lot of big tanks. Inside were sea animals – we fed them, we played with them, we learnt their language. We went ahead and saw a room labeled…
Jungle
You won't believe how cute, weird, cool and happy animals we saw! We observed all their activities, we learnt their language, we saw how their babies came out of the eggs and so much more. Dad told we are getting late and have to explore more rooms, so it was to time to say good-bye. I sadly said good-bye and went outside. Then we went to the room labeled…
Dino World
We took the invisible suits from the room and wore them so that dinosaurs wouldn't be able to spot us. There was a time machine and we noticed a button named dinosaurs. As soon as we pressed the button on the time machine we found ourselves in dino world! The first thing we saw was T-Rex preying on my favorite dinosaur Triceratops!!!!! I did not like this at all. We went ahead and saw T-Rex was eating everyone and all dinosaurs except T-Rex were dead. All of a sudden an asteroid dropped from above and all the T-Rexes died. We went outside the room sadly.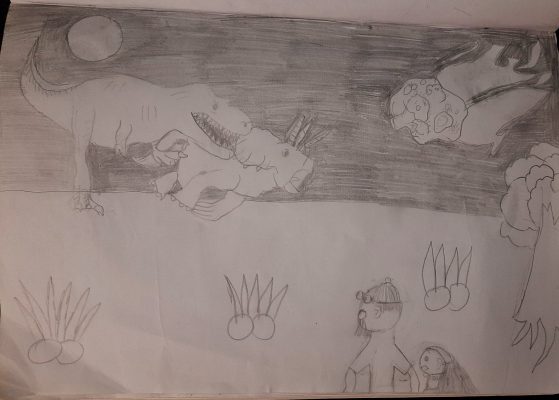 Planeterium
This was the next door we entered where we saw the whole world of the galaxy, learnt about stars, constellation, planets, dwarf planets. Dad explained me about everything we saw there. He is full of knowledge and knows everything.
Next room was our most favorite…
Library
We went in the room library and saw a lot of books arranged across 4 floors!!! That room even had a special computer, if we put a book in the computer drive, the book automatically changes to audible book and it just plays till we are asleep. We spent most amount of time here, we read books, sketched, did pretend play.
This is exactly how I want to spend time with my dad – explore all the places we both love (without magic of course). My dad is super busy always and I don't recall an entire day I spent with my dad. But my mom says when I was small dad used to come early from office and play with me. I really wish his work in office reduces and he spends more time with me. Just me and dad spending time whole day playing , drawing , doing all the things we both enjoy – that's all I want.
I am always dad's girl 😊.Shhhhh….Don't tell mamma
THE END