This post is on behalf my daughter, Mrittika, who is 5yrs of age. It was really difficult to decide on only thirty books from her collection! Thanks to KBC we read a lot of books in the past few days and could ultimately make the final list for the thirty books and she also helped me in writing down the mini reviews of each book for kbcBookBingo2022.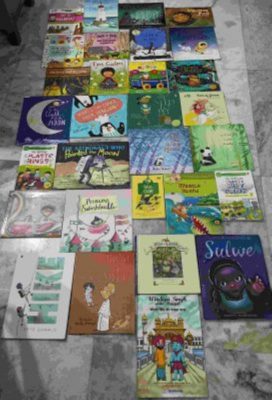 A green coloured book: Little Lost Panda by Ellie Wharton
It is a story of a little panda who gets lost in the forest when he runs so far ahead of his mummy that he loses his way. A little bird comes forward to help him find his mummy and they meet different animals along their way. Finally, a little red panda comes forward to help him. It is a sweet little story in which the little ones are introduced to different animals and their description. The book also talks about friendship.
This book can be ordered from Scholastic India via our kbc storefront as well. Scholastic India always has special offers on.
2. A book with a penguin character: All the way home by Debi Gliori
This is a story about a little penguin and his adventures with his papa when the mumma is away swimming. The mumma has left behind papa penguin with the egg in the papa huddle but when he leaves the papa huddle he is swept away by a strong wind and loses his way. He keeps the egg safe and tries to find his way back home. Is the papa penguin successful in finding his way back home? We find this story very heartwarming and this is our favourite bedtime story.
3. A Tom Percival book– By the light of the moon
This is, again, one of our favourite books! Ivan had to shift to a new place but he was not happy with the shift. He was missing his old home and one night he was longingly looking at the moon when a light seemed to come down from the moon. He went to see what it was. The light introduced himself as Moji and took Ivan with him, which changed everything for him. Recently we have shifted to a new place and this one immensely helped Mrittika to settle down in the new place and accept the changes.
4. A book with siblings: The Hugs & Kisses contest by Paul Kortepeter
Oliver Boxwood and Emily are brother and sister. One fine morning he sees Emily giving a daffodil to their mother, Victoria Rose and in return she got a big hug. Oliver gets jealous and starts teasing her saying that their mother loves him the best. They decide that they will have a contest where the one who will get the most hugs and kisses from their mother before sunset will be her favourite child. This is a fun take on sibling rivalry where both the siblings fight between themselves to be their mother's favourite child. While reading the book we had a good laugh as this is the situation now at home everyday. A must read for every child with or without a sibling to understand the true meaning of parent's love.
5. A book about school: Thatha at School by Richa Jha and Gautam Benegal
At Oviyam's school it is grandparent's day and all the grandparents are invited for the big day. Oviyam is not happy with the invitation as her Thatha always wears a dhoti and she is ashamed with her Thatha's choice of clothing. Her Thatha is excited about the celebration at school and when the day comes Oviyam goes to school with her Thatha but leaves her Thatha alone in the classroom, and runs away.
This is one situation most of us have gone through in our school days and maybe even our little ones feel so at times. A lovely story to talk about self acceptance to your children and connect with them.
To order this book or any other acclaimed book by Pickle Yolk Books, please be sure to use kbc's Special Promo Code KBC50 to avail a discount of Rs. 50 on any book you purchase from the Pickle Yolk Books Shop (on their website).
6. A rib tickling book- What's for Lunch Papa Penguin by Jo Williamson
Papa Penguin and Pippin run a café where they have fish for breakfast, lunch, snacks, dinner and also have fish ice-cream. Suddenly, one day, Frank decides that he will not have fish. So, Papa Penguin and Pippin start on a journey to find new menu for their café and on their return everyone waits patiently for the new food on the menu. And when Frank is asked what he would love to eat from the new menu, his answer will leave everyone laughing out loud! This is a nice book for picky eaters and a hilarious one too!
This book can be ordered from Scholastic India via our kbc storefront as well. Scholastic India always has special offers on.
7. A book by an Indian author: The story and the song by Manasi Subramaniam and Ayswarya Sankaranarayanan.
This is based on a Tamil folktale. It was believed that in places where oil lamps are lit, when the lamps are lowered and the flames are put out, the lamps visit the local temple and gossip about the day's happenings. In one such village, Parvathi, the daughter of the flower seller was getting married to Kamban, a tradesman. She was the pride of the village and got beautiful gifts for her wedding. Thayu, the oldest, wisest woman of the village gifted her a story and a song and made her promise that Parvathi will share them with everyone. But with time Parvathi forgot to share the story and the song as she was occupied with lot of things. The story and the song were getting bored inside Parvathi and were trying to find a way to come out. One day they managed to come outside and planned to take a revenge on Parvathi. Were they successful in taking revenge on Parvathi? It is a beautiful story which makes us realise if we have a story or a song inside us, we must share them with everyone, and not keep them bored inside- let them come out, let them fly, let them be shared!
8. An award winning book: The Jungle Radio: Bird Songs of India by Devangana Dash (Winner of the South Asia Book Award, 'Honor Book' 2020)
One day while relaxing, Gul heard odd noises coming from the radio, which she found difficult to hum. She was curious about where the sounds were coming from and went out for a walk. She was then introduced to a whole new world of sounds! The book is written in verse and will introduce one to close to thirty different bird sounds. The rhyming words will keep one humming! After reading this one Mrittika tried to identify the local bird sounds and was excited when she heard the tapping sound of a woodpecker!
9. A book with a female protagonist: Sulwe by Lupita Nyongo
Sulwe's skin was the colour of midnight. None of her family members had the same skin colour as her. Everyone called her sister "sunshine", "ray" and "beauty" where as Sulwe was called "blackie", "darky" and "night". She was hurt by their words, so she used to hide from everyone. She tried every way to make her skin tone lighter, her mother's comforting words also didn't comfort her. One night, a shooting star came to her visit her and told that the Night has sent the star to visit her and then took Sulwe on a magical journey which opened her eyes. Was Sulwe able to love herself ultimately? This is a nice book on self-acceptance and the mother's words in the beginning touched me.
"Real beauty comes from your mind and heart. It begins with how you see yourself, not how others see you".
I have heard a lot about my complexion and when Mrittika also started talking about the same, I knew it was the right time to introduce her to this book and she understood that complexion doesn't matter at all.
10. A book that breaks gender stereotypes: Princess Swashbuckle by Hollie Hughes
This is a story of a frog princess from a far away land who wants to be a pirate but her parents, the king and the queen, want her to marry a prince. She doesn't wants to marry and keeps on rejecting the offers. Finally, one day she leaves her home to listen to her heart. Will she be able to be a successful pirate? A nice book where it shows that being a princess doesn't mean just waiting for prince charming but one can follow their dreams and try to find their true calling. This book was just apt for our present situation. We have recently shifted to a new place and some little boys here keep telling Mrittika that girls can't fight, neither can they play with cars or balls, instead girls should only play with dolls and kitchen sets. She had started to believe them, so this book has been an eye-opener for her. Maybe it's just a story but it has been enough to build her self-confidence.
11. A scholastic book: Brave and the fox by Nicola Davies
The long, dark winter had gone at last and Brave, who lived with her granny in the village at the foot of the Blue mountain was getting ready for her first hunting trip. Granny gave her a bag to carry with her always and said this is all a brave girl needs to carry, "fire, water and food". They get the sled ready and leave to hunt. After a long day, when the sun was setting, they knew it was time to make a camp. They both built igloos for themselves but when Brave woke up in the morning she saw that the ice her igloo had split from the main block of ice and they were drifting away. Along with her was only a small fox. She knew she has to try to get back to the Blue mountain all alone, only with the little fox for company. The story is all about courage and determination shown by Brave and the illustrations support the story very well. At the end of the story, it talks about global warming too.
This book can be ordered from Scholastic India via our kbc storefront as well. Scholastic India always has special offers on.
12. A Zayn and Zoey book: Zayn and Zoey Learn about endangered animals Zayn and Zoey go on a visit to a tiger safari park and their guide is Mr. Shankar. He talks about the endangered animals they will be meeting in the reserve forest. Zayn & Zoey are as usual full of questions. In this book we learn about endangered animals, the different types of endangered animals, how they are protected in wild-life reserve forest, how deforestation and pollution are affecting the wild-life and how we can protect them. In the book there is a whole list of endangered animals with a detailed description. We were shocked to learn that bees are also in danger due to human actions!
ONLY KBC MEMBERS HAVE A SPECIAL COUPON CODE KBC15 which will give you 15% OFF when you order directly from the ZAYN AND ZOEY website. Simply click this link that takes you to the Zayn and Zoey shop on their website.
13. A non-fiction book/encyclopedia: How did that get in my lunchbox? The Story Of Food by Chris Butterworth
For this prompt we had lots of books from Usborne but we decided to select this one. This book is an easy one for the little ones to understand and is written in a very simple language. The book starts with the opening of a lunchbox and explains each and every food present in the box, starting with bread and ending with fruits. It mentions how they are grown, at what time they are planted, when they are packed, etc. At the end it also explains the different groups of food we need to eat every day and which is important for children to know. This one is clearly one of our favourites from the non-fiction group.
14. A mystery/adventure book: The mystery of the nasty grey cloud by Sonia Mehta
The Econuts consisting of Dewy, Waggy, Pebbles, Woosh, Petals are getting ready for a big quiz on Environment in school. But the next day they are shocked to see a grey nasty cloud overshadowing the city and people were falling ill with cough and cold. No one knew where the clouds came from, so the econuts take the matter in their hand to solve the mystery. Will they be successful in solving the mystery? The book talks about air pollution and makes everyone aware of the bad effects of air pollution and what we can do to reduce it. There are other books in this series.
15. A book on space/solar system: The astronaut who painted the moon by Dean Robbins This is the true story of Alan Bean. He had trained for a long time to be an astronaut and had also trained to be a painter. He loved to play with colours and make vivid pictures. He was the fourth person to walk on the moon. He has not only described his experience as an astronaut but has also been successful to paint the outer space beautifully. His paintings show how stunning the outer space looked through his eyes. A must have book for all space lovers.
This book can be ordered from Scholastic India via our kbc storefront as well. Scholastic India always has special offers on.
16. A book on any festival: Dasher by Matt Tavares
In beginning Santa's sleigh was pulled by a single horse named Silverbell. This is a story of how the other reindeer were chosen for drawing Santa's sleigh. Dasher was a little doe of the reindeer family in J. P. Finnegan's travelling circus and menagerie. They were ill treated but couldn't escape from there. Dasher's mother used to speak of the North Star, under the light of which they were free to roam before they were captured. They dream of the place and want to go there but don't have the courage. One day Dasher leaves the place! Will she be able to find her way till the North Star and will she be able to free her family? The book talks about Santa Claus, about dreams to be fulfilled and to be brave in taking your decision.
17. A book about a place in India: Off to Gujarat by Sonia Mehta (the publisher recommends this DISCOVER INDIA SERIES for 7/8 years+)
Mishki and Pushka have come to visit Earth from their planet and in India they meet Dadu Dolma who takes them to visit the different states. Gujarat goes back to the bronze age, so it is part of the oldest civilization. The author has painstakingly described minute details about Gujarat. The book talks about the history of the place, its geographical position, it's rich heritage, culture, the dressing style of the people in the area, the places to visit and the famous people from the state. The book ends with a folklore from the state. It is a really informative book and a must read before visiting the places.
18. A book that talks about food: Maccher jhol by Richa Jha and Sumanta Dey
Gopi finds his father ill for the third day in a row and knows that if only he could get maccher jhol for his father, that will be the medicine for him. So, he sets out to buy fish, and takes the dishes to his grandmother. The way the author has done the detailing right from the point of selecting the fish to the final steps of cooking them in mustard sauce will make one drool and become hungry, dreaming about maccher jhol! The illustrations are also mind blowing, taking one through the streets of Kolkata. We really enjoyed reading this book and Mrittika being a fish lover, loves listening to the story.
To order this book or any other acclaimed book by Pickle Yolk Books, please be sure to use kbc's Special Promo Code KBC50 to avail a discount of Rs. 50 on any book you purchase from the Pickle Yolk Books Shop (on their website).
19. A bilingual book: Wadiya Singh visits Punjab. Retold by Sonalika Gurukul.
Wadiya Singh's friend, Zazoo, visits him from another planet, the Sparkle. Wadiya takes Zazoo along with him and they visit different places in Punjab and have the famous sarso ka saag and makai ki roti. While reading the book we felt that we were visiting Punjab along with Wadiya Singh and Zazoo! This book is written both in English and Hindi and is a good way to teach kids some Hindi!
20. An inspiring book: Rani of Jhansi, A story of courage. Written and illustrated by Falguni Gokhale
Manikarnika was born in Varanasi. As she was curious and loved to learn, her father taught her to read and write and also trained her in sword fighting and martial arts. She was also a superb rider. When she got married to Gangadhar Rao her name was changed to Rani Lakshmi Bai. They had adopted a son, but suddenly the king fell ill and died. Rani Lakshmi Bai had to take over the charge of the kingdom until their son was old enough to rule. She was wise and fearless and looked after her people well. At that time the British were ruling over India and they didn't want to recognise her adopted son as the next heir to the throne. They ordered Lakshmi Bai to leave Jhansi but she didn't want to hand over her kingdom and instead wanted to fight for her and her son's right. Rani Lakshmi Bai's story is one of courage and determination and shows us how to stand up for one's right. She is a true inspiration and shows us how not to bow down to pressure. Her character is one of my most favourite and the most inspiring ones from history, so I wanted to introduce Mrittika to her as early as possible.
21. A book by your favourite illustrator: Stick man by Julia Donaldson, illustrated by Axel Scheffler Stick man lived in the family tree with his family. Early one morning he decided to go for a walk and he is mistaken for a stick by a dog who finds him to be a perfect stick for playing. The stick man tries to say he is not an ordinary stick but nobody listens. This way he is mistaken for a stick by everyone and goes far away from home. He is heart broken as he wants to be with his family for Christmas but isn't sure if he can reach them in time. Will he be able to reach his family? To find out, do read this interesting story which is written in rhyming words and has been beautifully illustrated by Axel Scheffler. The story makes one understand how important our family is and we shouldn't neglect them.
This book can be ordered from Scholastic India via our kbc storefront as well. Scholastic India always has special offers on.
22. A book by your favorite author: Noddy's special treat by Enid Blyton.
It was a special day at Toy town as the winner of the draw was going to be announced and the winner would win a train journey to the sea side. Everyone was excited and Noddy really really wanted to win! When Mr. Plod, the policeman, announced Noddy's name he was super excited and found that he has won two tickets. Mr. Plod told Noddy he had a few days to choose a friend to take along with him. Martha the monkey and Mr. Jumbo started pestering Noddy to take them with him and Noddy found it very hard to decide who to select. So, who did Noddy finally take with him? Could he find his true friend? The first author Mrittika was introduced to was Enid Blyton and till now she loves listening to the stories and when asked who is her favourite author she quickly chose this one!
23. A new author you were introduced to: I'm Calm: A book to help kids overcome anxiety and stressful situations by Jayneen Sanders
This books deals with how to be calm in stressful situations, overcome anxiety and also to help others be calm. Little Theodore has been taught by his teacher the ways to stay calm and tries to follow them in his house when others are not calm and shows his family the different methods. This book will be helpful for children as well as grownups. I am thankful to KBC for introducing us to this fantastic author.
24. A book that helped address an issue: The Bookworm by Lavanya R.N.
This story is about a boy named Sesha, who is always seen in the library reading books. He is always silent and no one has ever heard him speak. He has a special brown covered book where he keeps writing. People make fun of him but he doesn't care. One day two bullies in his class trip him and for the first time everyone hears him speaking. On hearing him speaking differently everyone starts making fun of him. But, one incident in class changes everyone's view about him! What is that incident? This book helped us immensely. Mrittika's cousin stammers a lot and unknowingly she also started to stammer, in a bid to copy her cousin. From recommendations in the KBC group I got this book for her. When she read the story she understood how the other person will feel and gradually she stopped stammering, and the stammering of her cousin doesn't disturb her now. She now knows that everyone is different and we shouldn't hurt their feelings.
25. A book on potty humour: I need to pee by Neha Singh
This is a story of a girl named Rahi whose mom is irritated about her need to pee in the middle of a ride, as the girl drinks a lot all through the ride. Wherever Rahi travels she carries her Book of Important Quotes, which helps her in every situation! While traveling to her aunt's place in Meghalaya she went to a hotel to use their toilet, stopped the bus and even visited the public toilet! We absolutely loved the last quote made by Rahi, "children should always have a safe toilet experience". This book is a fun take on the need for clean public toilets. It also mentions about dry toilets which was a new concept for Mrittika.
26. An interactive book with an unconventional format: Stories with two ends: Miracle island
This is a story about two poor fishermen, Dang and Diew, who are very close friends. They loved going on adventures and used to dream of becoming rich one day and owning a big ship of their own. One day they find a small island which turned out to be a treasure Island and there they found many jewels. There they faced a giant tree who gave both of them two big jewels and told them not to take the small jewels that were scattered all over the island. After this, the story has two ends, one is a bad end and other is a good one. So, while reading the book the little ones can choose the ending they wish and see the consequences themselves.
27. A picture book with more than 40 pages: Hello Lighthouse by Sophie Blackall
This is a story about a lighthouse on the highest rock of a tiny island which sends out light to guide the ships on their way, and its lighthouse keeper who tends the light all day and night, and warns the coming ships of upcoming danger. He stays in the lighthouse cut off from the rest of the world and meets people only when they come to give him new papers for the log book, oil to refill the lamp or fresh food. He is joined by his wife in his journey as a keeper but one day he receives a letter with the seal of the coast guard and understands that his life is going to change. Mrittika had visited a lighthouse in Kovalam and this book helped her to understand about a lighthouse better than what we could explain!
28. A hook book(by Duckbill): Shoo Crow by Kavitha Punniyamurthi and illustrated by Priya Kuriyan. Velu and Akif are troubled by crows of Rajipuram as they turn out to be more clever than they ever thought. Both of them try several ways to shoo them away from the maize field but they are unsuccessful. They were at their wits' end when suddenly their uncle, Pichu mama arrives. Pichu mama was always trying out something new and this time he was learning the harmonica. How does Pichu mama's music skills help Velu and Akif? Read this fun book to find out how they finally trick the crows! You can read a detailed review of the book HERE.
29. A book on being eco-friendly: The mystery of the plastic rings by Sonia Mehta. Dewy, Waggy, Pebbles', Whoosh and Petals are a team of five and called themselves "The Econuts". One day while weeding Pebbles' garden they found a packet full of plastic rings which they had not seen before and the packet also had a name mentioned on it. They take the packet to Pebbles' mother who says this is the person from whom the house was bought almost 50 years back but she was not sure about the plastic rings. So they took them to Dewy's great grandmother who says those are curtain rings which were used at that time! The Econuts then study about plastics and are shocked to learn that they cannot be destroyed and are a big hazard to the ecosystem. They are worried about what to do next. In this book we learn about the many ways to save our mother Earth and also the possible ways to stop using plastic and be more eco-friendly.
This book is part of The Green World Series by Sonia Mehta – this is an awesome environment series for 5yrs+ – extremely popular with our members! It comes as a product bundle too – The Econuts Mystery series bookset (5 books) for 5 yrs+
30. A book that was gifted to you: Hike by Pete Oswald
This is a picture book with no words. One morning a daughter along with her father goes on a hike. The whole story is described so beautifully through the illustrations that one falls in love with the beautiful moments spent by the daughter and her dad. This is a perfect book for Father's day! There were a lot of amazing books that Mrittika has received and we love each one of them, so it was a little difficult to decide one book for this prompt but we finally picked this book. Thank you Divya, for this beautiful book.
[Note from Team Kids Book Café: For your convenience, affiliate links (MARKED IN PINK) to some of the book titles & images have been added to enable you to buy the books from AMAZON, should you wish to! A very small amount of money comes to kidsbookcafe.com when you purchase a book via the amazon affiliate link provided (at absolutely no extra cost to you!). Do let us know if you need information about other children's books by writing to asha@kidsbookcafe.com.]