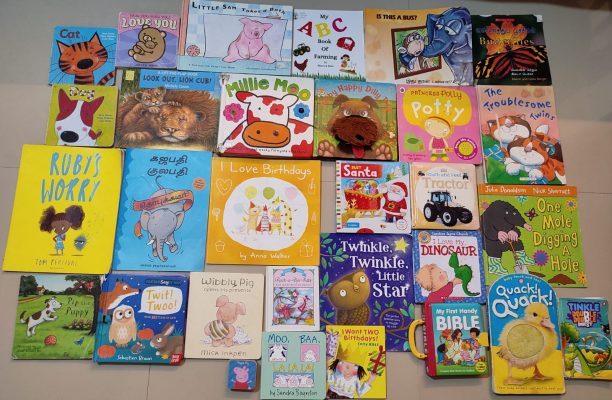 Here I am sharing my 18 month old daughter, Jael Jebezia's books related to the BINGO prompts. We loved finding matches from the books we already had, hunting for books based on the prompts. She enjoys her reading time and already we can see that she becomes calm once we start reading, no matter how disturbed she is. She is also trying to engage independently and is learning new words from books. Here, I would like to mention that we bought around 15+ books to participate in this initiative and we feel grateful for the group, the members and such innovative initiatives.
I have an 8 year old son too, who loves reading so he spends most of his time with books. Seeing him reading, this little one also wants to read and we have rarely seen her tearing books.
1. An Orange Coloured Book : Cat by Bookstart
This is a rhyming book with new words like cat rolling, cat wobbling etc. The pictures are super cute and we carry this book when we go out. She loves this book as she likes to hear the rhyming words in different tones with actions.
2. A Lift-The-Flap Book : Look Out, Lion Cub by Michele Coxon
This is a lovely book to lift the flaps and check for the lion cub and other animals based on the words written like
"Lion Cub tries to reach the top of the tree like a…?"
With Giraffes inside the flaps! She loves to lift and check what is under the flap when I read.
3. A Sandra Boynton Board Book : Moo, Baa, La La La by Sandra Boynton
The first time I heard about Sandra Boynton Books was when a KBC member commented they ordered one for last year's BINGO! We didn't want to miss out on reading books by such a famous author and ordered this book. Now I can tell any parent with toddlers that this is one must have book! My daughter enjoys the sounds and within few readings she was able to relate the sounds with animals!
4. A Book with a Vehicle : Touch and Feel Tractor by DK Publications
This is a touch and feel book where different parts of a tractor are shown like chunky tyres, sparkling lights etc. One thing we love doing is to touch the sticky brown soil where it really sticks.
5. An Elephant Book : Gajapati Kulapati by Ashok Rajagopalan
We purchased the tamil version for my son, but my daughter loves it as well. She loves hearing the story from the Nanny who takes care of her in morning, and it works well for us as the nanny can read only in Tamil.  This is a must read book as there is a lot of fun in it and kids love the funny noises to be repeated to them.
6. A Rhyming Book : Dog by Bookstart
This is a rhyming book about dogs like dog racing, dog stretching etc . As the only animal that she knew about initially was a dog, she liked this book for the dog pictures and the rhyming words. This book we used to carry while going out, so it has been super helpful.
7. A Peppa Pig Book : Peppa Pig: Little Library
As this is a very small book, my daughter easily turns the pages and we talk about our family after reading it. She also likes to repeat Amma, Appa, Anna and Paapaa!
8. A Book by an Indian Author : My ABC Book of Farming by Bhavya Ram
This book has Farming related words for the alphabets A to Z. A very good book to introduce gardening or Farming to young children. Our little one knows few things from that and she loves seeing the book.
9. A Scholastic Book: Butterflies by Melvin Berger
This book has simple words and nice pictures to talk about the life cycle of a Butterfly. It is also a Bilingual book with words in Tamil & English.
This book can be ordered from Scholastic India via our kbc storefront as well. Scholastic India always has special offers on.
10. A Bedtime Book : Twinkle Twinkle Little Star by Igloo Books
I bought this book to suit this prompt and also because I badly wanted to set a routine for her. Seriously, reading before bed time helped us tremendously in setting a bedtime routine and now twinkle twinkle little star is also her favouite rhyme. This is not a rhyme book, but I loved the way the author related the rhyme to the story and brings about a longing to sleep.
11. A Dino Book : I Love My Dinosaur by Caroline Jayne Church
This book is very relatable for my daughter as she has a dino soft toy! This is a touch and feel book that shows dinosaurs as friendly animals and so children will love reading it and it generates curiosity about dinosaurs in them.
12. A Book with a Number in the Title : I Want TWO Birthdays by Tony Ross
A good and funny book which we enjoyed reading. Jael knows that birthdays are something special as after her first birthday she attended a few birthday parties in rapid succession. Hence, she could relate to that word in the book. The book is suitable for 3+ mainly.
13. A Book with Siblings : The Troublesome twins by Ford Ellen
This book is the story about the naughty twin kittens Timmy and Tammy. Few other animals Tiger, Owl, and Bull are also included and is a good story to read to children who love animals.
14. A Rib-Tickling Book : Is this a Bus?
The story is in English & Tamil and it talks about different Vehicles and their differences. While an Elephant & Monkey are waiting for a bus to come, to go to a fair, the elephant misunderstands other vehicles as a bus! Finally, the monkey makes the Elephant get into the Bus and it is fun to see the pictures and narrate that part. The little one now understands how the different vehicles are and we ask her the same question while on the road, "Is this a bus?".
15. A Non-Fiction Book : My First Handy BIBLE by Cecile Olesen
As we regularly read Bible at home & in church, we want our children also to get introduced to the Bible early. This handy bible was gifted by a neighbour to Jael and we are planning to make her carry this to church soon. Chosen incidents from the Bible are there with good pictures & few words, where we parents can share more based on the child's age. She is happy that she also has a Bible to read & carry!
16. A Book on Toddler Tantrums : Ruby's Worry by Tom Percival
A great book to make kids understand about worries and encourage them to share their thoughts. We adults can learn from this book too! Though she couldn't understand the book fully, we try to read the book with emotions that make her understand.
17. A Bath Book : Little Sam takes a Bath by Marjolein Varekamp
This is a pull-the-Tab, Peep-Hole Book. An engaging, different book where the mother encourages the dirty little Sam Pig to take a bath with a surprise in Bath tub! Jael loves to take a bath and so we talk about taking bath, soap, cleanliness etc.
18. A Puppet/ Pop-Up Book : Yappy Happy Dilly Dog by Eilidh Rose
This is a Puppet book with a dog and the content is good. She wants to try wearing the puppet as we do and says dilly dog.
19. A Push-Pull-Slide Book : Busy Santa by Campbell
This is our first push-Pull Slide Book and my son was like Wow this is a great one & he loved showing it to his sister & now she has started doing the pushing and sliding on her own.
20. A Sound Book : Princess Polly Potty by Ladybird
For now she likes to play the music and we have read it a few times. Planning to use this book to make her understand potty training & wearing normal pants. Also it talks about the child bring down the pants, using the potty and pulling them up.
21. A Book by Nick Sharratt : One Mole Digging a Hole by Julia Donaldson and Nick Sharratt
A Good Book to introduce Numbers. As my little one loves to listen to us when we repeat from 1 to 10, she likes this book. As a math teacher, I can assure that introducing concepts through such books will be fun & easy learning for children.
22. Bestest Read Aloud Book at Home : Hug You, Kiss You, Love You by Joyce Wan
Another book we bought after reading reviews in the KBC FB group and yes it is one of the bestest books we have read to our girl and we have a good bonding time while reading this. Before completing one year she could say the words Hug you, love you!
This book can be ordered from Scholastic India via our kbc storefront as well. Scholastic India always has special offers on.
23. A Book that kept you busy on your Own! : Quack Quack by Priddy Books
This is a Touch and Feel book. Our little one loves to touch & hold soft things for long time! She loves this book and engages independently as those furs of different farm animals are very soft & inviting!
24. A Book by your Favourite Illustrator : Pip the Puppy by Axel Scheffler
This is Another favourite book with animals with really good Pictures.
25. A Book by your Favourite author : Wibbly Pig opens his presents – Mick Inkpen
We have one more wonderful book "Butterfly" from this author and loved both the books. This book has big lovely pictures & very few words in a page, which is more than enough for a toddler to think on their own and visualize a story.
26.A New Author you were introduced to : I Love Birthdays by Anna Walker
This book has become her recent favourite and we are already tired reading it repeatedly. When we start , she says the next word:
As My Name is…. Ollie
I Love … Birthdays
27. A Book that was gifted to you : Mother Goose Rock-a-Bye Baby
We got this book as a gift and as I remember this is the first book we read to her when she was less than a month old. It has Lullaby based songs/rhymes in it. I & my son used to sing the songs for her from this book.
28. A Book you read in repeat mode : Millie Moo by Priddy Books
This is her Favourite from 6 months. It is a Touch & Feel book with clues to guess the animals in contradictory dress ups.  If we say Millie Mooooooooo she will be happy and will go and try to pick that book.
29. A Book meant for an older child that you enjoyed : Tinkle Double Digest
A comic book both my kids like, and yes she has pulled it from her brother many times. Seriously, I have no idea why she loves this book.
30. A Book you tore : Can you say it too? Twit! Twoo! by Sebastien Braun
It is a lift the Flap book that she has enjoyed from when she was around 5 or 6 months. As the Flaps are little big, younger kids can lift easily. It's like playing Peek-a-boo to find animals. She loves to use those flaps.
[Note from Team Kids Book Café: For your convenience, affiliate links (MARKED IN PINK) to some of the book titles & images have been added to enable you to buy the books from AMAZON, should you wish to! A very small amount of money comes to kidsbookcafe.com when you purchase a book via the amazon affiliate link provided (at absolutely no extra cost to you!). Do let us know if you need information about other children's books by writing to asha@kidsbookcafe.com.]