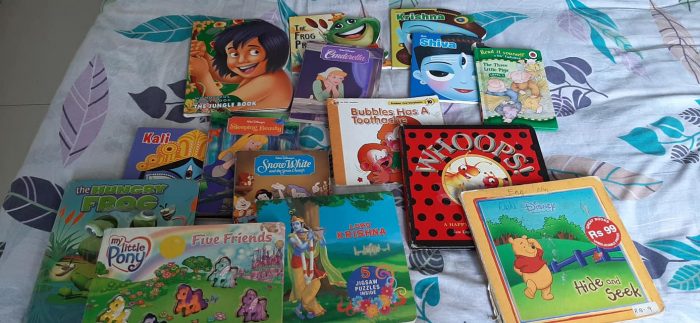 Here are Urja's favourite 15 books that she has read in past 15/20 days. This is for the #kbcKeepCalmAndReadOn Campaign.
The Jungle Book – the classic that is Urja's current favorite. It talks about the value of friendship. She loves the bright big pictures of this book. Identifies and relates to characters of Mowgli, Bagheera (her fav), balloon and share Khan. As a daily read she reads at least 3 times in a day. This book has has immensely helped her vocabulary and creative imagination. She has in fact started making small stories around these characters.
2. The Frog Prince – a book that portrays that magic happens! Short sentences, nice visuals for small babies to keep them engaged. Frog is one of her favorite animals and she just loves it and hence the book.
3, 4 & 5. – Kali, Shiva and Krishna – introduces babies to Indian mythology with few short sentences description of deity and events associated with them. I picked these books after reading recommendations on Kids Book Cafe and it's worth it. As I wanted to introduce Urja to Hinduism and hindu mythology, so this trio of books have been a good start.
6. The Three Little Pigs – the classic ladybird book gifted to us by Aarini and Asha during #kbcReadCycle Campaign. Nice illustrations and repetitive words which help children to pick up words quickly. This is her second favourite currently because she is in love with pigs and pandas right now!
7, 8 & 9 – Snow White, Cindrella and Sleeping Beauty. This was passed on to Urja from my cousin Padma whose children have outgrown for these books. What I likeed in these books by Disney is that they have slightly modified the original story to convey one of the positive traits like being kind/ generous or value of friendship to the child and make it a moral story then just a fairy tale. The books come along with character figurines which help in role play and in various creative pursuits. Currently in lockdown periods these books with figurines have been very helpful. Urja relates and connects the stories well.
10. Bubbles has a toothache – this book is from the Bubbles series of stories to introduce children to oral hygiene and importance of brushing. Nice big pictures and easy words for your child to repeat. This series has books on values, hygiene and life skills and introduces babies to these things in a fun way.
11 Shri Krishna – comprising of 5 short stories of Krishna's life in a fun way with nice pictures and puzzles for recreation of that event.
12. Whoops – a cut out book which introduces you to the life of insects. Nice shiny paper in background which shines is what Urja loves most about this book. It also has introduced her to wonderful world of insects in a fun way.
13. The hungry frog – interactive puppet / cutout book with nice googly eyes that keeps child entertained and engaged. Short and repetitive sentences in a story of a frog which takes you through his day and hunt for lunch. Urja loves this book for the googly eyes. 
14. Five Friends of My Little Pony series – beautiful cut out book which Urja loves. Book is from my little pony series and can used to introduce numbers to the child. Also unicorn is her first love.
15. Winnie the Pooh and Friends: Hide and Seek – a lift the flap book that shares importance of out door play, friends and fun.
16. To the Moon – It's a new book which we have received and is very interactive. Though Urja has likes the book she has done some damage and hence not in pic.
[Note from Team Kids Book Café: For your convenience, affiliate links (MARKED IN PINK) to some of the books have been added to enable you to buy the books from AMAZON, should you wish to! A very small amount of money comes to kidsbookcafe.com when you purchase a book via the amazon affiliate link provided (at no extra cost to you!). Do let us know if you need information about other children's books by writing to asha@kidsbookcafe.com.]