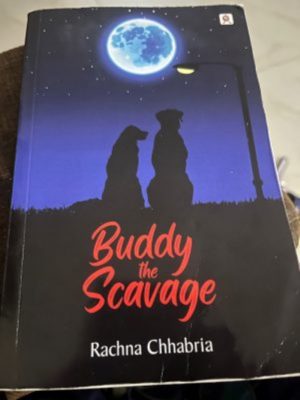 Book Title: Buddy the Scavage
Author: Rachna Chhabria
Publisher: Zero Degree Publishing
Type: Paperback
Pages: 204
Recommended Age: 12 years+ (10 years+ for advanced and mature readers)
Buddy the Scavage is an adventure story of a two year old chocolate Labrador Retriever named Buddy. Buddy was left abandoned on the Bangalore streets when the second wave of Covid hit. Buddy lived with the Mehra family and had best companions in 10 year old old Tanya and her Dadi. The two had pampered the beautiful dog. But that was before covid hit.
During the pandemic, Tanya's parents had lost their jobs and had no means to look after Buddy (besides, animals also carried the risk of virus). Apparently, lots of pets had been abandoned during the pandemic. And unfortunately, Buddy was amongst them.
Buddy was left on the street in half a conscious state. He was discovered by the Wild Pack – led by Tri (Scarb) and was soon included into this gang for his quick reflexes. And here starts the adventures of his life…
He was assigned the scavenging job, which involved getting food for the whole pack. Diva, a kind and beautiful member of the pack, trained Buddy in his duties. Since it was pandemic times, only essential stores were open and sources of food were scarce. The act of finding and grabbing food needed swiftness and understanding of potential sources with their timings. For example, the garbage truck only came on certain days with a separate bag of meat. The butcher shop, while cutting and pounding meat, would only leave it unattended for a couple of minutes to place the first set in fridge. And then there were other street dogs struggling through these harsh times.
Buddy was a quick learner but couldn't jump too high and had no skills for street fights. Each of the group members, Mungus – the fierce and the strongest one, Daisy – the youngest one, Rufus and Frido – the fast and ferocious, took turns in teaching him all necessary skills for him to survive.
Buddy proved to be a great asset on the day the Rover Gang and Wild Pack got into a fight. Buddy displayed the kind of strength and agility he didn't know he had in him. Everyone was shocked and surprised. This particular fight caused severe harm to Tri and Mungus. It would take them several weeks to recover. To find out what happens next, you will need to read the book!
I feel, Buddy represents everyone who is out there on his own for the first time. His struggles, his willingness to prove himself, surmounting the strength and courage required, is something I could personally connect with. He was lucky to be able to find the right set of pack to hang out with. That's what matters most when you are away from home and family – your friends. And those friends become your second family and sometimes even more. This book is also a reminder that siding with the right is of utmost importance.
The story is narrated by Buddy. One thing I want to really applaud is that the language is rich and that adds fun to good literature.
Anyone who loves dogs will love this book. It will definitely connect with pet dog owners. Now, every time I see stray dogs, I immediately picture Buddy and his group.
I would encourage all our older KBC kiddos to read this and get inspired, especially to all those who are going to leave the nest sooner or later.
You can find other books by the author here on Amazon.
If you enjoyed this review and wish to buy the book from Amazon (kbc affiliate link),
CLICK & BUY NOW!
Disclaimer: Bhavneet is part of the #kbcReviewerSquad and received this book as a review copy from the publisher.