Book: Fables by Ally
Author: Aliya Shetty Oza
Type: Paperback
Age: 6-9 years

I am posting this book review on behalf of my 6 year old son, Praagvansh.
So we got this cute little book from The Curious Owl and Kids Book Café Review-a-Book Contest .
We were both equally happy to receive it and finished reading all the stories in a week's time.
What I loved most about the book was that the author and illustrator is a grade 3 student. Kudos to her efforts! My son who is extremely interested in illustrations was very happy to read a colourful book full of pictures by a child just a couple of years older than him.
Now coming to what Praagvansh says about the book…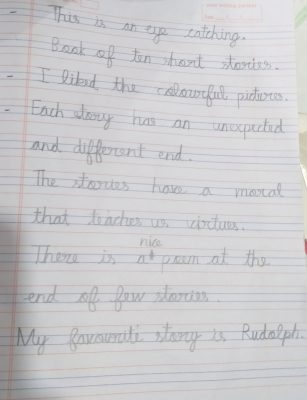 This is an eye-catching book of ten short stories.
I liked the colourful pictures.
Each story has an unexpected and different end (from what we have usually read in old fables).
The stories have a moral that teaches us virtues .
There is a nice poem at the end of a few stories.
My favourite story is Rudolph.
As a mother I feel this book should be read by all those kids who love art and are into illustrations. And of course those who even write their own short stories.
An inspiring book , to inspire other kids of same generation to write and let their imagination take wings.
Other books by the author are: Feline versus Canine
This book and her other books are available for free download on her website or for viewing online at www.shortstoriesbyally.com