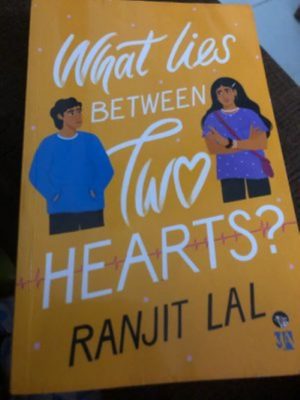 Title: What Lies Between Two Hearts?
Author: Ranjit Lal
Cover Illustrator: Rashmi Tyagi
Publisher: Speaking Tiger Young Adult
Type: Paperback
Pages: 178
Age group: 13 years+
This book is a complete movie-masala on a teenager's life. A bit filmy, a bit realistic, a bit sad, a bit optimistic, a bit motivating and a bit nature oriented. So grab your popcorn and sit through this emotional roller coaster with Rajat. While reading this book, I went through all the phases of fear, humour, triumph, heartbreak, patriotism, sibling love and more.
The 10 chapters in the book are each a story in itself with loose ends that tie up beautifully in the last chapter and more so in the Epilogue.
It is about a boy, Rajat, born with a severe heart condition, leaving him only 5 years of life as per the doctors. His parents are over protective and often overbearing. His life is limited to books on nature, insects and cars; taking rest and doctor visits. His only and true friend and confidant is his elder sister Ruchi, who is 10 years elder to him. While his parents often insist that he rest, it's Ruchi who helps him lead a bit of a normal life by teaching him life lessons on the sly. She teaches him to cook, takes him to swimming classes till his neighbor aunty unknowingly rattles to his parents. His hero is his elder brother (about 20 years elder to him), a sharp army officer who is well respected in his community.
Rajat is always deemed different and never gets to a lead to normal life because of his heart condition. His school is not so fun either, as he trails behind in all the fun activities. He is bullied and has no friends there. His treatment also has its own course of ups and downs.
He decides to go on a school trip to one of the forests. All was well, till the kids had to trek uphill to see the tigers. But he was asked to stay put at a point so one of his classmates volunteered to stay back with him. She was very impressed by his in-depth knowledge about nature and insects and ended up being his first girlfriend.
Like every love story, there is a heartbreak and ache from the first love.
As time flies by, his heart gets weaker and he is asked to homeschool. The limited interaction he had in school gets further reduced to online schooling with his teacher alone. This tutoring continues and when his father changes countries for his work, this new location brings its own set of sweet challenges.
For the first time, he ends up making real friends with two extremely beautiful and talented Pakistani twins of his age. Does this friendship bloom any further? Are the parents okay with this bond? Especially, when their elder child was shot by a Pakistani sniper…
The novel sees through various facets of life of this boy, like the meeting with the multi-millionaire baba who produces ashes out of thin air, patriotism factor in the family as his brother faces enemies at the border, being homeschooled when his heart descends to act up, change of country with absolutely no one to talk to, going through depression and dark thoughts, falling in love with the wrong girls and then two of the them together, taking up the challenge of designing of a brand new car and more such themes.
One fine day his heart starts acting up and he suddenly flatlines. He requires surgery – a unique heart transplant. Do they find the right heart for him? Does the surgery succeed? Does he find love and lead a normal life? Well, do read the book to find out more.
My take, it's a great read for teens as well as parents of teens, for sometimes, our normal is not our kid's normal. This novel does shed light on some of important aspects of teen life.
Note: The author is very detail oriented and all the topics he covered are rich in details. I learnt about Praying Mantis, tigers' bond, car designs and more.
If you enjoyed this review and wish to buy the book from Amazon (kbc affiliate link),
CLICK & BUY NOW!