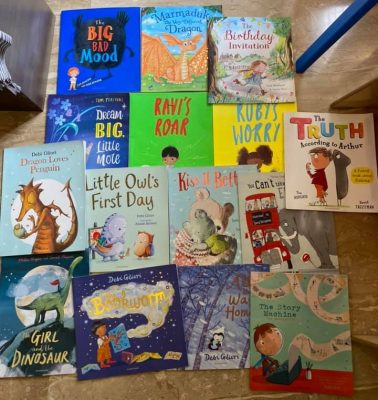 All of our kbc members and their childoos are huge fans of Bloomsbury books. They are books with heart, they gently address issues from worries to tantrums to fibbing. They make us laugh and cry. They are memorable and some of the most cherished picture books in everyone's bookshelf (some of us have dedicated sections in our bookshelf !!). They feel like a warm hug from a trusted friend. Which is why reading one Bloomsbury Book a day keeps us all happy!
We asked everyone to share their favourite Bloomsbury books. So here goes! Most of these are for 3-7 years but some heartfelt ones can be read aloud early on as well.
DEBI GLIORI'S BOOKS We could start a Debi Gliori fan club in kbc would be an understatement! Her books are all heart and make the perfect bedtime reads.
TOM PERCIVAL'S BOOKS – Tom Percival needs no introduction at all. His books serve as the best tools to address issues. Both parents and children love his books and how!
Dream Big Little Mole by Tom Percival is another heartwarming tale of wanting to be special and do your best. Little mole dreams of doing big things. Flying, swimming, climbing! And when he discovers he can't, it dawns upon him to try his hand at something he's good at, digging! And so he sets out to dig the biggest tunnel ever. Grumpy animals in their underground homes chasten this little mole, until, a happy accident when he finally digs his way above ground, changed it all! I often hear both my little ones say, "mumma, I want to be the best!" and part of me wonders, why at the tender ages of not even 3 and 5, they feel this need to perform. I'm constantly psyching myself out, and wondering, am I pressuring them? Are they receiving less assurance and appreciation for the things that do matter, like being kind and thankful? And then at some point it hit me. I do always tell them, it doesn't really matter what you do or if you're good at it, what matters is doing your best and giving your all at whatever is you choose to do. I'm hopeful that it's the right approach, but of course, not always sure. Parenting isn't easy. And trying to guide this gentle but honest path to telling children to dream of doing whatever they wish for, is tricky. I want them to dream the impossible, but I also don't want them to feel the pain of not being able to accomplish what wasn't achievable in the first place. Aaah. Just one of those learning curves for us too, no? This sweet little book gave me as much to think about as the bacchas. Just like all of Tom Percival's books!

Herman's Letter for 4/5-8 years on coping when a close friend moves away.
The Sea Saw for 3 years+ In Asha's words:
It is such a moving story about a little girl's teddy getting lost. It's not about death, but dealing with loss of anything close to you. The beauty though, is that the story shows you, nothing is ever truly lost…
The River also on loss and grief
By the Light of the Moon – a reassuring book about moving to a new home.
Goat's Coat for encouraging kids to share
Sabah has reviewed Meesha Makes Friends and recommends it for 2.5 yrs+
Meesha Makes Friends by Tom Percival. I mean who doesn't love his books? If there is an author that doesn't try to 'fix' feelings, and instead reinforces the need to accept and cope with them, it's him! Now biggie is the silent and reserved type of person. He doesn't make friends easy. When he does, he loves fiercely, but at this tender age, its all or nothing for him, and often I see him yearning for just friends, not only a best friend. This book, was like a balm to those often unsaid wishes and wonders.Meesha loves to build. Even friends! But she struggles with communicating with people that don't understand her interests. It leaves her positively lonely. Until, one day, she finds the person that DOES find her play exciting. A tentative bond opens up the world of friendship for Meesha. And I hope, it will, for biggie too.
Had to say a big thank you to Achira Goswami Bhowmick. #KBC rocks. We love our copy of The World made a Rainbow by Michelle Robinson illustrated by Emily Hamilton. A perfect way to explain the current lockdowns to little ones.A lyrical story of a little girl who misses her family and friends due to stay at home in covid pandemic. She is sad and her mum comes up with the idea to make a rainbow to cheer up not only her but also others who see it. Making a rainbow reminds her about the things she misses. But her mother hugs her and also art has the power to heal. A wonderful book that teaches us to be patient and wait for the rainbow at the end of a rainstorm. We made our own rainbow as well!! And then we sang What a wonderful world song!!
Patricia Cleveland-Peck's You can't take an elephant series is a RIOT. A laughing riot! Beautiful and funny illustrations with the most hilarious storyline – these books make awesome gifts (especially to yourself!). These books cheer everyone up!
BOOKS ABOUT BAD MOODS/FEELINGS:
I Don't Want To Be Quiet! Many of our parents highly recommend this book. Excerpts from reviews:
Amardeep: "It has rhyming, humorous text and will have your child in splits.. and also allow you to have a conversation on how there is beauty in silence. It also helps in showing how to be calm and quiet (sometimes!)"
Satvika: "My 3.5 YO loves it! A humourous way to explain to little minds that while making noise is sooo important and fun, being quiet and absorbing the beautiful sounds of our wonderful world is special too – with lots of banging, clanging, humming and drumming!"
Heliana: "This book is such a great help to bring back focus to talk softly, listen more in order to learn more and discover more beauty and understand more of our inner and outter world this way. Absolutely recommend for all kids who go through phases of yelling or just being loud."

I Don't Want To Be Small Excerpts from Sabah's incredible review in our fb group.
My little one is pea sized, and at 2.75 years, a whole lot tinier than my more strapping 5 year old. And she selectively hates it! I say selectively because she loves being tiny so papa can spin her and Mumma can walk around with her held up high. All other times, she vehemently says, I want to be big like bhaiya!

I Dont Want To Be Small by Laura Ellen Anderson (for 2.5-6 years) has been the absolute perfect book to address these feelings she experiences. A book about a little boy who wants to be big, and feels absolutely frustrated missing out on the good stuff because he's tiny. Just like Tom Percival's books, we love that this one doesn't tell the kiddo to not feel upset or blanket-ly accept what they see in themselves as a flaw. Instead, it shows them how, with a little bit of love and support, everything is achievable, no matter the size or the task. There's this part where he suns himself like a flower in hope to grow taller, and it just completely melts your heart. We love I Don't Want To Be Quiet by the same author, but possibly love this more!

Moustronaut by Mark Kelly is another lovely book on being small and special!
My Feelings Board book (14 pages) recommended by Achira.
How are you feeling today?: A picture book to help young children understanding their emotions by Molly Potter for 4-6/7 years
How Are You Feeling Today? Activity and Sticker Book (PLEASE NOTE THIS IS PUBLISHED BY FEATHERSTONE – but it was recommended along with How are you feeling today and therefore has been clubbed here). These two books have been highly recommended by Kanishka Vedi. Quoting excerpts from her review:
One day my 7 yo had a meltdown. She had this big feeling that everyone in the world have their pet with them except her. She thought it's because of some mistake she did. Kids don't have emotions balancer or controllers.. They don't even know what these big feelings are and how to handle them. She tried on her own for the whole day and gave up in the evening.. came to me and just started crying. During the day she threw tantrums, got angry about everything and what not. No amount of consoling was helping. I tried to help her by explaining her all the reasons but it wasn't enough. It was as if God's gift arrived in the form of this book – 'how are you feeling today?

We started reading this book. I asked her this question 'how are you feeling today' and showed her pictures to which she could relate to. With this book she was able to identify her big feelings. She could understand that it's completely OK to have big feelings. So we turned to the pages like angry, sad, jealous and read about what she could do with the feeling. This book has lots of options for kids to do when they feel something. Like if you are angry – draw lots and lots of clouds to help anger float away, run super fast on the spot until you are really worn out. If you are sad- find a cost and comfortable place and have a really big cry ('coz sometimes you need to), dance in a silly way to some cheerful music. Just like us..- children have bad days- they loose temper- They are tired- They get emotional for no reason. It doesn't make them bad. It just makes them human I highly recommend this book to all parents. This is one stop guide for my girl to understand and handle her feelings. Of course we help, but with this book she feels independent. There is a sticker book as well that does well along with the main book.
All of Molly Potter's books come highly recommended.
PURE HEART!
What happens when you only "take" in a relationship? Be it a friendship, family, home or a community? Ultimately, you won't be wanted. And not only that, the friendship, family, home or community won't survive or be happy either!

This book, Home sweet Hamish, conveys a very important point – why being a 'taker', those who can't do their bit for the family or community, is harmful.

It also helps kids understand that a family or community can thrive only when everyone pitches in- you can't have members of a family constantly giving, and other members constantly taking. If there is to be a balance, and harmony, there has to be give and take.

Hamish is a cow, a big, smelly, hairy cow. Who, enters squirrel, rabbit and cats home and creates a mess, throws things around and refuses to clean up. The animals get fed up and throw him out, but soon feel sad about it. They come up with a plan to sort their problems (the plan is a huge fold out!) which involves coming together as a community. The ending is heartwarming!
I still remember the story of frog Prince which we all read as kids. But story of a frog princess!!! We have read stories of pirates and pirate kings. But a pirate queen!!Yes that is what I found very interesting about this book.

Princess Swashbuckle written and illustrated by Hollie Hughes and Deborah Allwright is one such story of a froggy princess who seems to be a froggy pirate queen to rule the waves of the sea. But mum and dad want her to marry a handsome frog Prince and be happy. Is that what will make her happy?? She thinks hard and realises being happy for her is beyond marrying a prince. Decision made, bags packed, she jumped aboard a pirate ship- Stinky fish! The pirates were in need of a captain and Swashbuckle needed a ship! Together they set out to do nice things and help creatures around. All pirates are not that bad! They were one helpful pirate gang who were soon known for all their good deeds!Do you think princess Swashbuckle had found her happiness? Or was she missing something? Yes she missed her mum and dad! So she sent them some gifts- a never empty spoon, a pot of laughs , a pile of smiles and cheesecake from moon! And oh how happy her parents were. They knew their princess is meant for bigger things so they welcomed her back to be the pirate queen aboard the royal ship! She pursued her dreams and she found her own happy!Not a fairy tale where prince is the hero and the princess is damsel in distress! A story to believe in your dreams and chase them head on!
The Astro Naughty Naughty Baddies Achira has this one:
The story is about 4 very very naughty baddies who are too mischievous..one more than the other. And all their naughtiness reached a different level when they saw a poster from the President promising a reward to one who can prove aliens do exist in real! So plans were made to get some aliens and claim the promised toytastic reward! What unfolds is completely hilarious. They plan to go land on moon to grab aliens but well that didn't seem like a naughty enough plan. So they set off to dress themselves as aliens and land at the palace to claim the reward. What happens next!! Do they get the reward? Or they get caught and the naughty plan fails?
The Naughty Naughty Baddies is another book in the series by Mark Sperring.
The Don't Panic Gang! by Mark Sperring. Amardeep has this one.
ACHOO!: A laugh-out-loud picture book about sneezing Written by Simon Philip and illustrated by Nathan Reed. Achira was gifted this one by Arundhati and has shared a review with inside pages in the kbc fb group here. Excerpts:
We love funny books and this book is such a riot. Achoo!! is a book that lets your imagination go wild.

Divit has an allergy to dust and most of the mornings he wakes up sneezing. Sneezing is so common and sudden for him that sometimes he even forgets to cover his nose. Adu always tells him to use the inside of his elbow if he doesn't have a tissue around but poor D has such a sudden allergy that he sneezes even before he realises it. So when I read the synopsis of the book I knew we would enjoy this a lot.

We all know our manners and say thank you, please and sorry at the right time. We also cover our mouth when we cough and cover our nose when we sneeze but what if we forget to do that! What if you let loose your one sneeze! Sid does exactly that and what follows will make you roll with laughter. From an elephant in a canoe to an acrobat on a trapeze he imagines all the wild things that comes out of his nostrils when he forgets to cover his nose.

The illustrations are beautiful and funny at the same time. I am sure now every time D has a twitching in his nose he would not forget to cover his nose! And Adu is going to be extra careful around D because God knows what will come out if he forgets to cover his nose again.
"Along came a different" by "Tom Mclaughlin" is a book on inclusiveness. I was always sceptical that how such complex social issues can be explained to little children but this book does that using the concept of shapes and colours in such a simple way that I am amazed. The last line of the book "Being different is the best thing ever!" sums up the essence of the book perfectly. Apart from the social message that the book conveys it is also useful to help children learn different shapes, colours and counting.
Books with life lessons!
What George Forgot In Amardeep's words:
What George Forgot is the story of a boy, George, going through his morning routine – from waking up, making his bed, bathing, brushing, getting dressed, eating breakfast, etc. But, he knows he's forgetting something. What is it? Will he figure it out before he steps out of the house? This book is amazing if you are struggling to establish a morning routine with your little one, get them to brush, bathe and dress without a fuss. It is also really good if you are trying to encourage your little one to be more independent as it shows the main character doing everything independently, including eating by himself (promotes self feeding). It also promotes environmental protection (switching off the tap) and good hygiene.
Marmaduke The Very Different Dragon
Nothing! Achira has shared a wonderful review of this book: Excerpts from her post on the fb group:
"This beautiful book is about Lila who is always in her world of imagination. When her mum asks her what she is doing- her answer is always "nothing"! But in her mind she is fighting an octopus or running around with animals or chasing the giants or she is the queen of super speed!! When she meets her grandpa, she tells him she has been very busy all the time. Doing this or that! Will her grandpa be able to go into her world with her!! This is her story- Lila and her world of imagination!I just had to get this for Adu..when I read it to him he just said hmmm at different places and then he went about being the Hulk who saves the world. In a while he came back and asked me would you like to be the good guy or bad guy in my play? Am glad he is letting me be a part of his world! And am happy I understood shutting himself doesn't always mean he has a worry. He is happy in his world of pretend play. Thank you Lila! If you have a Lila or Adu at home you might just want to have this gem!"
"Bear looks after his house really well, keeps it clean and has a best friend (a stuffed toy) named Henry. Suddenly, he starts seeing spider webs everywhere in the house. He was not happy having a spider in the house, and starts searching for the spider to shoo it away. In the process, his stuffed toy gets torn, and he receives help from an unexpected friend. Ultimately, he realises that sometimes we may not feel like sharing our space with a friend, but it's not only nice to do so but it can be fun and a blessing in disguise!
Neil of course loves this book as it has a spider. I love it because of the simple way in which it explains the concept of adjustment and sharing space."
Bear Out There is the other book in this series by Jacob Grant.
Books by Yasmeen Ismail
Time for Bed Fred! – Amardeep says, "It's about a dog who hates going to bed and will do anything to avoid it, but all the running around ultimately makes him sleepy. It may be useful to read the book and while reading explain everything that your child did during the day, and how all of that may have made him tired and ready for bed!"
I'm a Girl – a book that busts gender stereotypes. Amardeep has it and highly recommends it.
Specs for Rex – a book that helps kids accept wearing specs in a funny manner. Quoting Amardeep:
As a parent, I felt strongly about normalising wearing glasses, and so when Neil told me that his partner in school had started wearing glasses, I knew it was time to tell him how sometimes, some people might feel awkward wearing glasses and therefore it is important to be kind to them. The book Specs for Rex is perfect for this.The story is about a little lion who needs new glasses but is worried about what his friends will say when they see him wearing it, so he finds innovative ways to hide it. However, by the end of the story he realises that the glasses are helping him to see better and his friends realise that glasses are really cool!If you are looking for a book to help your little one realise that wearing glasses will help them see better, or to help your kids be kind towards people wearing glasses, do get this wonderful book.
Amardeep has introduced us to a series by Jim Whalley and Stephen Collins. Appropriate for ages 3 and up.
Quoting her:
Sharing the books that neil has found so good, that he even dreams about reading them!There are some things that make a story book irresistible – rhyming words, hilarious storyline that makes your child roar with laughter and a thriller with a baby as the protagonist! When you realise that the book is a bloomsbury publication, and there are three books in the series (your child gently points that out from the backcover!) – you leap in joy! There's something about a baby being naughty, cleverly planning outrageous escapades and yet stealing your heart- maybe that is why neil dreams about this book!

The protagonist, Baby Frank, wanted a pet – and the three books are his adventures on what happens when his parents tell him they can't keep one. The first book in the series, Baby's first Bank heist, has him plan a bank robbery, buy exotic animals, and hide them expertly in the house. But, what happens when he realises that stealing was wrong?

The second book, Baby's first Jailbreak, has a competitor zoo opening up where the animals are not being treated well (depicts a circus really well). So, Baby Frank plans an animal rescue. The third book, Baby's first Train Robbery, shows baby franks parents taking him on a vacation, but he doesn't want to be away from his zoo! So he gets into a train, and presses some levers! Whoops! Which way is the train heading??If you, like us, are Julia Donaldson fans, always looking for books with a storyline that will engage the child and yet rhyme beautifully, this series is perfect.
Non Fiction led Story Books for the curious smallies:
BLOOMSBURY ACTIVITY BOOKS ARE VERY ENGAGING AND POPULAR AMONGST OUR KBC CHILDOOS!
My Dinosaurs Sticker Storybook (Chameleons) Amardeep's Neil loves this one! Quoting Amardeep:
Getting our children to practice writing can be difficult if writing is not made appealing and creative enough. No child wants to write the same words / lines again. I ordered this bloomsbury activity book, thinking I would show neil how to write a story. But, being dino obsessed, he wanted to write the story himself. The format of the book is superb- it gives the kids the first line, and the surrounding imagery, and thereafter the kids are free to pick 4 stickers to continue their story. This provides them with some sort of structure, but also gives them freedom to write what they want. If your child doesn't like writing, please get this book!
My Cinderella Sticker Stories (Chameleons)
My Fairies Sticker Storybook (Chameleons)
Write Your Own Princess Sticker Storybook
Write Your Own Pirate Sticker Storybook
My Puss In Boots Sticker Scenes
My Pretty Pink Ballet Activity and Sticker Book (Chameleons)
My Aliens and Monsters (Sticker Storybooks)
My Enchanted Sticker Storybook
How to Get a Grip on Grammar Achira recommends this for 6-8 years.
How to get a grip on grammar by Simon Cheshire and illustrated by Kate Pankhurst. A cute little book on all the nuances of grammar. Covers the basics like nouns,pronouns, verbs, adjectives and so on. But what I found most interesting is the punctuation part. Lovely chapters that come with many examples and exercises to practice. There is a section on grammatical errors which is short and explains the very basic errors that we often come across. The book is very concise, to the point and good to have as a handbook for grammar. The illustrations are very cute and make it fun to read.
How to Become a Snappy Speller: The only spelling book you need for home learning (Chameleons)
Non Fiction!
The fantastically great women series comes highly recommended for 5 years+. They come in product bundles as well as boxsets. Perfect for gifting!
Fantastically Great Women Who Changed the World
Fantastically Great Women Who Made History
Fantastically Great Women Who Saved the Planet
Fantastically Great Women Who Worked Wonders
There is an activity book as well – Fantastically Great Women Who Changed the World Activity Book that comes highly recommended by Shruti Jha and her daughter!
[Note from Team Kids Book Café: For your convenience, affiliate links (MARKED IN PINK) to some of the book titles & images have been added to enable you to buy the books from AMAZON, should you wish to! A very small amount of money comes to kidsbookcafe.com when you purchase a book via the amazon affiliate link provided (at absolutely no extra cost to you!). Do let us know if you need information about other children's books by writing to asha@kidsbookcafe.com.]