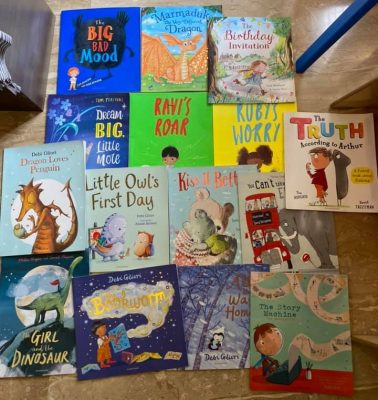 All of our kbc members and their childoos are huge fans of Bloomsbury books. They are books with heart, they gently address issues from worries to tantrums to fibbing. They make us laugh and cry. They are memorable and some of the most cherished picture books in everyone's bookshelf (some of us have dedicated sections in our bookshelf !!). They feel like a warm hug from a trusted friend. Which is why reading one Bloomsbury Book a day keeps us all happy!
We asked everyone to share their favourite Bloomsbury books. So here goes! Most of these are for 3-7 years but some heartfelt ones can be read aloud early on as well.
DEBI GLIORI'S BOOKS We could start a Debi Gliori fan club in kbc would be an understatement! Her books are all heart and make the perfect bedtime reads.
TOM PERCIVAL'S BOOKS – Tom Percival needs no introduction at all. His books serve as the best tools to address issues. Both parents and children love his books and how!
Patricia Cleveland-Peck's You can't take an elephant series is a RIOT. A laughing riot! Beautiful and funny illustrations with the most hilarious storyline – these books make awesome gifts (especially to yourself!). These books cheer everyone up!
BOOKS ABOUT BAD MOODS:
PURE HEART!
Books for the curious smallies:
[Note from Team Kids Book Café: For your convenience, affiliate links (MARKED IN PINK) to some of the book titles & images have been added to enable you to buy the books from AMAZON, should you wish to! A very small amount of money comes to kidsbookcafe.com when you purchase a book via the amazon affiliate link provided (at absolutely no extra cost to you!). Do let us know if you need information about other children's books by writing to asha@kidsbookcafe.com.]