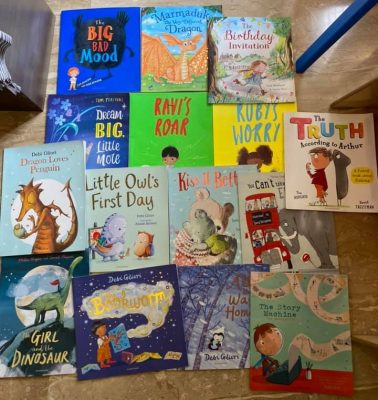 All of our kbc members and their childoos are huge fans of Bloomsbury books. They are books with heart, they gently address issues from worries to tantrums to fibbing. They make us laugh and cry. They are memorable and some of the most cherished picture books in everyone's bookshelf (some of us have dedicated sections in our bookshelf !!). They feel like a warm hug from a trusted friend. Which is why reading one Bloomsbury Book a day keeps us all happy!
We asked everyone to share their favourite Bloomsbury books. So here goes! Most of these are for 3-7 years but some heartfelt ones can be read aloud early on as well.
DEBI GLIORI'S BOOKS We could start a Debi Gliori fan club in kbc would be an understatement! Her books are all heart and make the perfect bedtime reads.
TOM PERCIVAL'S BOOKS – Tom Percival needs no introduction at all. His books serve as the best tools to address issues. Both parents and children love his books and how!
Sabah has reviewed Meesha Makes Friends and recommends it for 2.5 yrs+
Meesha Makes Friends by Tom Percival. I mean who doesn't love his books? If there is an author that doesn't try to 'fix' feelings, and instead reinforces the need to accept and cope with them, it's him! Now biggie is the silent and reserved type of person. He doesn't make friends easy. When he does, he loves fiercely, but at this tender age, its all or nothing for him, and often I see him yearning for just friends, not only a best friend. This book, was like a balm to those often unsaid wishes and wonders.Meesha loves to build. Even friends! But she struggles with communicating with people that don't understand her interests. It leaves her positively lonely. Until, one day, she finds the person that DOES find her play exciting. A tentative bond opens up the world of friendship for Meesha. And I hope, it will, for biggie too.
Had to say a big thank you to Achira Goswami Bhowmick. #KBC rocks. We love our copy of The World made a Rainbow by Michelle Robinson illustrated by Emily Hamilton. A perfect way to explain the current lockdowns to little ones.A lyrical story of a little girl who misses her family and friends due to stay at home in covid pandemic. She is sad and her mum comes up with the idea to make a rainbow to cheer up not only her but also others who see it. Making a rainbow reminds her about the things she misses. But her mother hugs her and also art has the power to heal. A wonderful book that teaches us to be patient and wait for the rainbow at the end of a rainstorm. We made our own rainbow as well!! And then we sang What a wonderful world song!!
Patricia Cleveland-Peck's You can't take an elephant series is a RIOT. A laughing riot! Beautiful and funny illustrations with the most hilarious storyline – these books make awesome gifts (especially to yourself!). These books cheer everyone up!
BOOKS ABOUT BAD MOODS/FEELINGS:
How are you feeling today?: A picture book to help young children understanding their emotions for 4-6/7 years
How Are You Feeling Today? Activity and Sticker Book (PLEASE NOTE THIS IS PUBLISHED BY FEATHERSTONE – but it was recommended along with How are you feeling today and therefore has been clubbed here). These two books have been highly recommended by Kanishka Vedi. Quoting excerpts from her review:
One day my 7 yo had a meltdown. She had this big feeling that everyone in the world have their pet with them except her. She thought it's because of some mistake she did. Kids don't have emotions balancer or controllers.. They don't even know what these big feelings are and how to handle them. She tried on her own for the whole day and gave up in the evening.. came to me and just started crying. During the day she threw tantrums, got angry about everything and what not. No amount of consoling was helping. I tried to help her by explaining her all the reasons but it wasn't enough. It was as if God's gift arrived in the form of this book – 'how are you feeling today?

We started reading this book. I asked her this question 'how are you feeling today' and showed her pictures to which she could relate to. With this book she was able to identify her big feelings. She could understand that it's completely OK to have big feelings. So we turned to the pages like angry, sad, jealous and read about what she could do with the feeling. This book has lots of options for kids to do when they feel something. Like if you are angry – draw lots and lots of clouds to help anger float away, run super fast on the spot until you are really worn out. If you are sad- find a cost and comfortable place and have a really big cry ('coz sometimes you need to), dance in a silly way to some cheerful music. Just like us..- children have bad days- they loose temper- They are tired- They get emotional for no reason. It doesn't make them bad. It just makes them human I highly recommend this book to all parents. This is one stop guide for my girl to understand and handle her feelings. Of course we help, but with this book she feels independent. There is a sticker book as well that does well along with the main book.
PURE HEART!
Books with life lessons!
"This beautiful book is about Lila who is always in her world of imagination. When her mum asks her what she is doing- her answer is always "nothing"! But in her mind she is fighting an octopus or running around with animals or chasing the giants or she is the queen of super speed!! When she meets her grandpa, she tells him she has been very busy all the time. Doing this or that! Will her grandpa be able to go into her world with her!! This is her story- Lila and her world of imagination!I just had to get this for Adu..when I read it to him he just said hmmm at different places and then he went about being the Hulk who saves the world. In a while he came back and asked me would you like to be the good guy or bad guy in my play? Am glad he is letting me be a part of his world! And am happy I understood shutting himself doesn't always mean he has a worry. He is happy in his world of pretend play. Thank you Lila! If you have a Lila or Adu at home you might just want to have this gem!"
Books for the curious smallies:
Non Fiction!
The fantastically great women series comes highly recommended for 5 years+. They come in product bundles as well as boxsets. Perfect for gifting!
Fantastically Great Women Who Changed the World
Fantastically Great Women Who Made History
Fantastically Great Women Who Saved the Planet
Fantastically Great Women Who Worked Wonders
There is an activity book as well – Fantastically Great Women Who Changed the World Activity Book that comes highly recommended by Shruti Jha and her daughter!
[Note from Team Kids Book Café: For your convenience, affiliate links (MARKED IN PINK) to some of the book titles & images have been added to enable you to buy the books from AMAZON, should you wish to! A very small amount of money comes to kidsbookcafe.com when you purchase a book via the amazon affiliate link provided (at absolutely no extra cost to you!). Do let us know if you need information about other children's books by writing to asha@kidsbookcafe.com.]