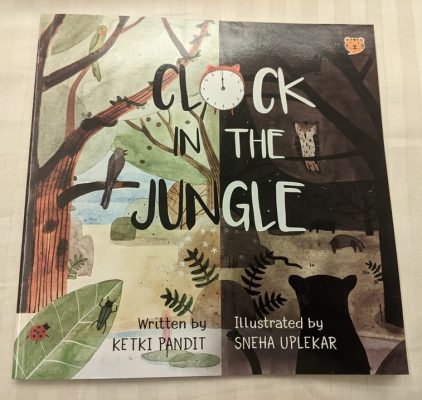 Title: Clock in the Jungle
Author: Ketki Pandit
Illustrator: Sneha Uplekar
Publisher: Talking Cub, Speaking Tiger Books
Type: Paperback
Age Group: 6-9 years for independent readers, 3 years+ for read alouds
Have you ever thought of a clock in the jungle? A timekeeping piece that actually gives you a bird's eye view of what happens during every hour of the day and night in the wilderness inhabited by a variety of animals?
Do they share their space, do they bond together, or does each tribe live their individual lives, the sun and moon as their clock? Do they have a set lunch time? Or even a bed time?
A beautiful read, Clock In The Jungle author Ketki Pandit artfully takes little readers and listeners through the time table of jungle life, particularly the lives of the animals that inhabit the Western Ghats. It isn't just time reading you learn here though she's done a wonderful job of mentioning the time in the first few pages with the clock and giving a child the opportunity to self-read the time in the latter pages; but also the activities, homes, families of different animals.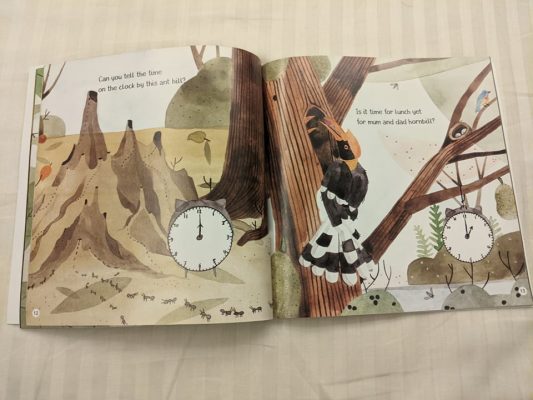 How ants walk in crooked lines, how animals flurry away when the roar is heard, and how interesting beasts like the pangolins appear after dark. The jungle truly never sleeps!
The water colour illustrations are gentle and soothing, moving from light to dark, and the rhyming verse makes a perfect read aloud for children over 3 years.
If you enjoyed this review and wish to buy this book from Amazon (kbc affiliate link),
CLICK & BUY NOW!